The particulars of any new iPhone Apple may or may not announce next Tuesday remain anyone's guess. But we can say with confidence that next week's iPhone-related Apple event will almost certainly feature an appearance by the finished version of iOS 5, the next major update to Apple's mobile operating system that's been slated for a fall release.
Of course, we're hardly going out on a limb there: Apple already previewed iOS 5 back in June, at its Worldwide Developers Conference, where it showed off a handful of new major features and alluded to dozens of smaller improvements.
New details about the OS update that we didn't see in June may get some time in the spotlight Tuesday. But just to make sure that you're caught up to speed by the time CEO Tim Cook takes the stage Tuesday at 10 a.m. PT, here's a refresher on what Apple has planned for iOS 5. (For an even deeper dive, consult our list of frequently asked iOS 5 questions from June.)
Notifications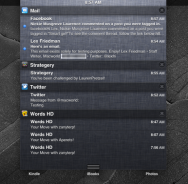 The most-hyped and most-awaited improvement in iOS 5 is probably the new notification system, which has gotten a significant overhaul since push notifications were first introduced in the 3.0 iPhone software update. No longer are you limited to those blue modal dialog boxes that pop up when you're inevitably in the middle of something important.
There are several different parts to iOS's new notification approach:
Notification Center: We've all had the frustration of trying to deal with a pile-up of notifications on our device, only to realize that we've forgotten what one of them was after we dismissed it, or had it wiped off the screen by a subsequent alert. Now, all those notifications will be collected in a single location: Notification Center. Just swipe down from your device's menu bar, and you'll get a list of notifications, sorted by the application issuing them. On the iPhone, you can even get a quick look at your current weather and how your stocks are doing.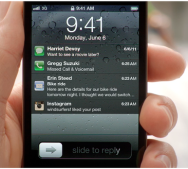 Banners: Instead of getting those pesky dialog boxes, you can now configure alerts to appear as banners. They "flip" into existence at the top of your screen, with an icon that identifies the app, and a short message. Tap on one and you'll be taken to that app—leave it alone, and it'll flip around and disappear again, leaving you to continue your game, Web browsing, or email composing in peace.
Lock screen: Instead of collecting your lock-screen notifications into one unhelpful blue blob, iOS 5 will provide you a handy list of messages you've gotten, without even requiring you to unlock your phone. Slide the icon next to any notification and you'll be launched right into that app.
iMessage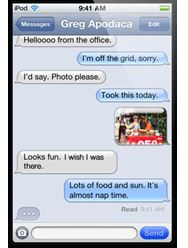 Apple's shot at creating a BlackBerry Messenger-style service is iMessage, which lets you send free text, picture, and video messages to anybody else on an iOS device. Built directly into the Messages app, iMessage works over Wi-Fi or 3G and lets you communicate via text message, for the first time, with users of iPads or iPod touches.
In addition to being free, iMessage adds some other nifty features, such as delivery receipts, optional read receipts, and the ability to see when your conversation partner is in the midst of tapping out a message (you'll see a dialog bubble with an ellipsis in it). Plus, the whole conversation is encrypted, and you can even pick up a chat you started on your iPhone on your iPad, or vice versa, without missing a beat.
Reminders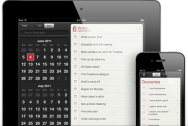 At long last, Apple will include a task-management app in iOS. As the name suggests, Reminders lets you create to-dos and check them off when you're done. You can view reminders by date, or create a list for a specific task, such as grocery shopping. Plus, the reminders sync with iCal and Outlook.
And while you can get reminded at a particular date and time, the nifty feature that Apple has most touted is the ability to get your notification depending on where you are. So when you actually go to the grocery store, your phone will remind you of all those things you wanted to remember to get while you were there.
Newsstand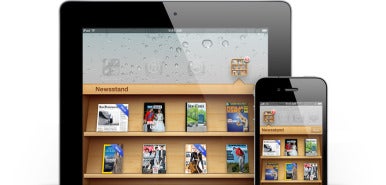 While Apple rolled out the iBookstore alongside the original iPad in 2010, providing a home for books, in 2011 the company has been focused on periodicals. Apple's controversial subscription rules surfaced in February with the launch of The Daily, and in iOS 5, Apple is putting periodicals front and center with Newsstand.
On your iOS device, Newsstand is basically a special folder where the latest versions of periodicals to which you've subscribed will appear—automatically, downloaded in the background—when they're released.
And if you want to add newspapers or magazines to your collection, you can just tap the Store icon in Newsstand to be taken to a special section of the App Store that caters to just that type of content.
Twitter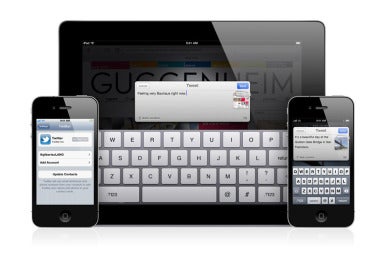 The iPhone and Twitter gained popularity around the same time, so it's little surprise that they often seem so intertwined. That special relationship is even stronger in iOS 5, thanks to system-level Twitter integration. Now you can enter your login information once and have the ability to tweet photos, links, or locations, right from various iOS apps, including Safari, YouTube, Photos, Camera, and Maps.
In addition, you can update your contacts' information with their Twitter usernames and even add pictures for them based on their avatars.
Camera & Photos
Picture-taking gets a bump in iOS 5, with a handful of much-requested smaller features. For example, you can now access the iPhone's camera from the lock screen by double-clicking the Home button and tapping the new camera button, which appears next to the lock slider. And once you've launched the camera, you can snap a picture by pushing the iPhone's Volume Up button, which should please those who like tactile feedback as well as frequent self-portrait takers.
There's also the ability to lock autofocus and exposure by tapping and holding on the part of the image you want, as well as a slider to display grid lines, which help frame your shot correctly. If you want to zoom in on part of the image, it's as easy as using the phone's tried-and-true pinch-and-zoom.
Once you've snapped a picture, you can use the Photos app's new editing tools—such as red-eye removal, auto-enhancement, crop, and rotation—to tweak it to your liking.
Mail & Safari
Two of the iPhone's staple apps get modest upgrades in iOS 5. Mail gains the ability to flag messages, rich-text formatting, rearranging addresses in the headers by drag-and-dropping, searching the full-text of an email, and adding and deleting mailboxes.
Safari, meanwhile, adds Reading List, to let you quickly track articles and pages you want to read (and, with iCloud, sync them between devices); full tabbed browsing on the iPad; and the same Safari Reader function that exists on the desktop version already, which lets you remove the formatting of a page to get to just the important part—the content. Apple's also promised improved performance for the iOS browser.
PC Free
Perhaps most important, iOS 5 will finally cut the cord—to use Apple's turn of phrase—between the company's mobile devices and the personal computer. No longer will you need to plug an iOS device into iTunes to start using it—now you can set up your iPhone, iPad, or iPod touch from the device itself. Plus, you'll be able to download iOS software updates over the air, and even backup your device to iCloud, without any need for syncing.
Hodgepodge
There's plenty more in iOS 5, of course, including Wi-Fi media syncing; improvements to Game Center, such as user photos and friend recommendations; a split keyboard on the iPad; a new week view for Calendar on the iPhone; multitouch gestures for switching apps on the iPad; and AirPlay video mirroring for the iPad 2.
Apple's also beefed up its world-class Accessibility features, adding custom vibration patterns, the ability to blink the iPhone 4's LED flash for alerts, and improvements to VoiceOver.
What devices are supported
Apple said back in June that the new iOS will run on the iPhone 3GS, the iPhone 4, the iPad and iPad 2, and third- and fourth-generation iPod touch—the same models that support iOS 4.3, in other words. Older hardware, like the iPhone 3G, get shut out.
Of course, you can expect that any new iPhones or iPod touches announced Tuesday will not only support iOS 5, but ship with it pre-installed. That assumes that Apple does announce new hardware Tuesday, which brings us right back to where we started when we began this article.
No surprises?
All of this covers what Apple has already told us about iOS 5—but could there be something more lurking in the wings? Rumors have suggested a better voice control system, perhaps even with the ability to dictate text. Naturally, Apple's keeping its customary tight lid on any news from next week's event, but rest assured that whatever announcements the company makes, Macworld will have full details and exhaustive investigations of them.