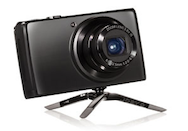 You'll never be without a tripod with Joby's latest additions to its GorillaPod lineup. The company has released three new ultra-portable GorillaPods— the Micro 250, the Micro 800, and the Hybrid.
The innovative GorillaPod Micros are designed to always stay attached to the bottom of your compact camera. The tripods feature three legs that fit neatly on the camera's underside, and can be flipped open to provide sturdy support. Like other GorillaPods, the Micro provides rubber feet that remain stable on most surfaces. You can also adjust the camera up to 36 degrees in any direction with the standard GorillaPod aluminum ball head.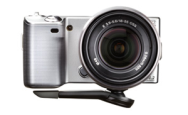 Both the Micro 250 and Micro 800 are targeted to on-the-go photographers who want a super compact tripod that they'll never forget to carry with them. The only difference between the two GorillaPod Micro models is the weight they can support: the 250 holds point-and-shoot cameras up to 8.8 ounces, and the 800 supports compact cameras up to 28.2 ounces.
Joby's new GorillaPod Hybrid provides a happy medium between the original GorillaPod for point-and-shoot cameras and the GorillaPod Focus for DSLRs and professional equipment. The Hybrid is capable of holding up to 2.2 pounds—perfect for interchangeable lens cameras.
All three GorillaPods are available for purchase on Joby's online store. The Micro 250 costs $20; the larger Micro 800 costs $30; and the Hybrid GorillaPod costs $40.