GhostGuitar, a $2 universal app from Yonac, is a hilarious and clever way for air guitarists to make real music using the front-facing camera on their iOS device. You can't create GarageBand-style masterpieces, but you can finally share the music in your head as you rock your air guitar.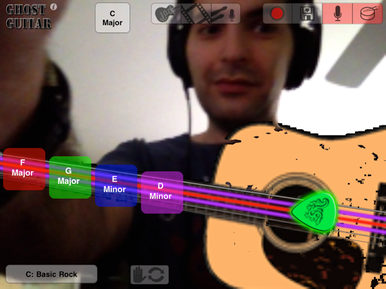 The biggest challenge you'll face before you can start rocking out is positioning your iOS device. You want the screen and the front-facing camera pointed toward you. Whenever you setup GhostGuitar anew, the app requires that you re-configure it for a moment by giving it time to identify your hands, so that it can separate them from whatever background is present.
It's at this point that you're ready to bring on the funk. Your iOS device shows you, with a large guitar superimposed over you. GhostGuitars detects the placement of each of your hands; one handles strumming, and the other can trigger one of four virtual frets to choose the chord. (You can strum a fifth chord by strumming without selecting a fret.)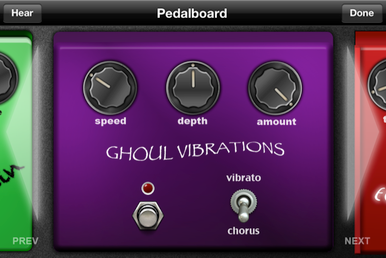 Were that all the app could do, it would be fun. But GhostGuitar packs in a surprising amount of power. First, you can pick your instrument (choose between an acoustic guitar and three electric models); they all sound good. You can also change the current key, and scroll through two dozen options for chord patterns (major, minor, blues, and the like). Even better, you can enter an advanced mode to set your own chord patterns, and save your favorites.
You can configure a variety of effects pedals for your guitar, too, adding chorus, vibrato, echo, and more. GhostGuitar smartly includes an option to sample your current guitar sound without switching back to the app's main view.
If you miss the full band experience, GhostGuitar has got you covered with a full ghost band. You can enable an automatic bass and guitar accompaniment and enable your device's built-in microphone; you configure the tempo, the drum type, the mike effect settings, and the virtual instruments play right along with you.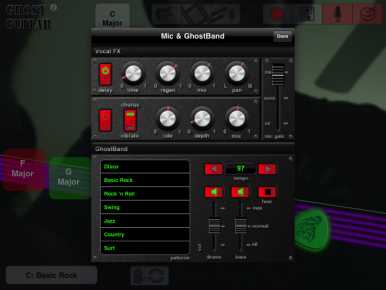 When you're finished, you can save your song, and it's here where GhostGuitar shows its main weaknesses: The saving process gets a bit wonky. The app doesn't mute the guitar (or bass, drum, and mic) when you enter the saving screen, so your hands cause all sorts of musical chaos as you type in a file name. And the save screen sports only a large Cancel button; to confirm the file name and actually save the file, you need to tap Done on the virtual keyboard instead. You can choose whether to save your musical creations in audio or video formats.
Once you've saved your Stairway to Heaven cover, you can share it in a variety of ways. GhostGuitar includes options to upload your video to YouTube, email it, and save it to your iOS device's camera roll. The app can also launch a Web server, so that you can then access your songs from a computer on the some Wi-Fi network.
You can listen to an audio file of my GhostGuitar handiwork, or watch a video of the app in action.
GhostGuitar isn't perfect. Because of the real-time work it does to superimpose the guitar and figure out where your hands are, you'll often see your hand going through the guitar. But the rough edges don't matter. You're playing air guitar and hearing the music. It's a heck of a lot of fun, and even my worst GhostGuitar tune sounds better than anything I can play on a real guitar.
[Staff writer Lex Friedman is always ready to rock.]