At a Glance
Expert's Rating
Pros
Many options for handling data
Impressive calendar
Cons
Notes lacks OCR-like feature
Can't search calendar and contacts simultaneously
Our Verdict
SOHO Organizer 9 is the latest version of the organization software suite from Mac developer Chronos. Organizer consolidates your contacts, calendar and other digital files into one large database. The Organizer suite consists of three separate yet linked programs: Organizer, Notes and Print Essentials.
You can think of the Organizer program as if the OS X Address Book and iCal programs were married into one large, overarching program. While Address Book and iCal have always been integrated tightly with each other, the Organizer program takes the concept a bit further by utilizing the same information (contacts, addresses, calendar dates) in the same program. Chances are you've used either of the aforementioned default OS X programs many times. If so, then you'll be comfortable with the Organizer suite from the get go; it performs many of the same tasks in the same way. The difference is that there are more ways to handle your data with Organizer.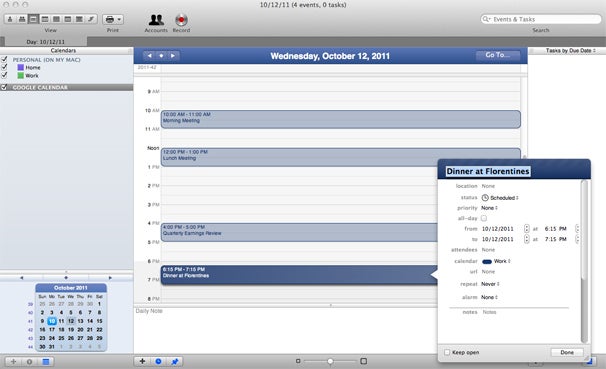 Organizer includes address book and calendar sync support with CalDAV and MobileMe (no word yet on iCloud support) so that your appointments sync automatically, create smart groups for data (you can list all contacts by business name if you'd like) and other, smaller and interesting features such as zip code lookup (enter the zip code and Organizer fills out the city and state for you). Organizer is full of smart, little touches—they're not game changing, but they are convenient.
While the Organizer calendar is impressive in its own right, the number of options a user has with the information therein is even more impressive. For example, Organizer automatically floats a copy of your daily schedule on your desktop for your convenience (which you can also disable easily). Organizer also includes options to map out addresses on Google Maps, link employee contacts to business contacts (and other employee contacts) as well as other customizable tools, like automatically repeating tasks and tasks reports.
While Organizer is a feature rich application suite in its own right, it does contain a puzzling omission for an organizational program. While the search box allows you to search contacts or calendar appointments, it cannot search both at the same time. This means that to search for all instances of someone named "Bill Smith," for example, you must search your contacts and your calendar appointments separately.
The Organizer suite ships with a 70-page PDF manual so as not to overwhelm users. I had to refer to the manual to learn how to import contacts from Address Book, as Organizer would not accept an Address Book export until I did so individually using vCards.
While Organizer marries Address Book and iCal into one large program, its Notes counterpart is very similar to Evernote or other catchall note programs. Notes supports text notes, video and audio notes, PDFs and a plethora of other information types. It does not, however, support OCR character recognition, which was a standout feature of DevonThink Pro Office, ( ). The OCR omission (or the lack of a similar character recognition feature) is disappointing, especially given how well the rest of SOHO Organizer lends itself to a paperless office.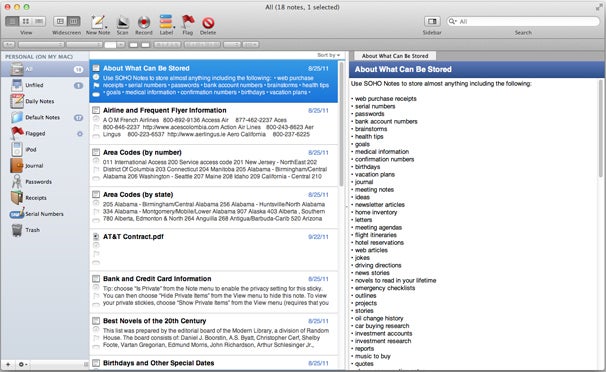 The Print Essentials application completes the Organizer suite. Print Essentials allows you to create your own mailing labels, address forms, letterheads and other assorted print templates. As with its sister applications, Print Essentials integrates with your Mac's Address Book for click-to-add addresses, even your own. This close integration makes adding addresses into the existing templates very easy. You can make changes to any of the templates or start from a blank page if you wish as well. The Print Essentials application is very easy to use and makes the tedious work of creating invoices or mailing packages hassle free.
While I found that using Organizer was largely a smooth experience, the program crashed once or twice and froze on me at dialogue box screens several over times. These incidents were minor, however, and I never lost any data because of these hiccups.
Macworld's buying advice
SOHO Organizer 9 is a useful tool for any small business looking to consolidate paperwork or information in one place. It may not include all the bells and whistles of more expensive organization software but SOHO Organizer 9 strikes a useful balance between features and easy-of-use. While Notes is a useful program, the Organizer program is really what shines here. The desktop calendar, sync support and highly customizable interface are all standout features.
[Brendan Wilhide is a regular contributor to Macworld.]