Richard Scarry's What Do People Do All Day was one of the seminal books of my childhood. There was something about flipping through page after page of anthropomorphized animals delivering the mail and riding in fire trucks and employed in other professions that captured my youthful imagination. And so I was excited when I heard that Richard Scarry's Busytown had arrived on the App Store. Not only would such an app mean that a beloved artifact of my childhood could find new life in the digital world, it would also let me pass on something I loved as a kid to my own daughter.
Unfortunately, both Busytown and its iPad-optimized version Busytown HD turn out to be the biggest disappointment to a beloved childhood institution since I learned I could never be a part of the live studio audience for The Muppet Show. Clumsy navigation, regrettable production decisions, and game challenges that prove to be anything but challenging make for a lackluster offering for kids, no matter which iOS device you're using to play it.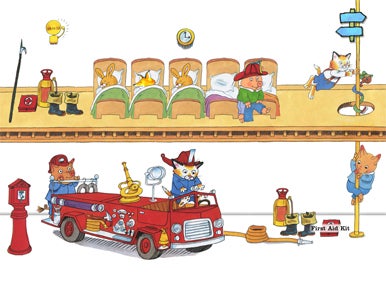 In Busytown, you must find specific objects in a variety of different settings. Select the Kitchen scene, for example, and you might be told to find a cake pan amid other scattered kitchen paraphernalia. Tap the wrong object, and Busytown simply states what you've tapped instead—a "cutting board," say, or a "rolling pin." But tap the right object, and amid a fanfare, the game congratulates you on completing the task. Some of the objects have animations that you trigger by tapping—tap the faucet in the Bathroom scene and water will start coming out. On the surface, it seems like an ideal way to keep preschoolers and kindergarteners entertained.
But before you begin hunting objects, Busytown has you pick out, name, and dress a Richard Scarry character. It's here that you get the first hint of the navigational issues that plague the game. Busytown shows three animals on the Pick A Character screen. The five-year-old with whom I tested the game thought those were her only three options. She didn't realize there were other options available with a swipe in either directions. The same lack of navigational cues occurs when it's time to dress and name your animal as well. (Speaking of names, you can only pick from the dozen options that Busytown provides; you can't supply your own name, which made my five-year-old tester very cross.)
The navigational problems don't end there. After you've found the object you're looking for, it's unclear how to move on to a new screen—the arrows at the bottom are unlabeled, and the places they take you to when tapped are not all that intuitive, especially for kids. If you want to replay the same scene you've just finished—find another object at the Firehouse, for example—it takes two taps to get back to the scene. That doesn't seem like an efficient way to navigate around Busytown, and I imagine it will frustrate many kids.
The five-year-old testing the game for me seemed to enjoy hunting down objects, though it's worth noting that she didn't exactly clamor to continue to playing Busytown. (In fact, after a while, she asked if she could stop.) The problem may be that Busytown doesn't really vary up its scenes to a great degree—some objects may be in a different place, but it's pretty easy to spot that swing on the Playground. Also, if you replay the same scene, you're likely to get asked to find the same object over and over again. I selected the Bathroom setting four consecutive times; three of those times, Busytown wanted me to find the soap dish. Finally, as much as children will enjoy the fanfare that happens when they find an object, I can't help but feel that they might enjoy unlocking achievements and earning badges more. Busytown doesn't really seem to keep a running tally of your object-finding prowess.
As delightful as the Richard Scarry illustrations and the app's occasional animations are, Busytown's audio really detracts from the experience. The app uses children's voices to ask you to find objects, but there's usually a noticeable pause in between the "Will you please help me find the" and the name of the object. Developer Night & Day Studios told me that the goal was to include voice overs from different kids of different ages, and I can appreciate that sentiment. Sadly, it doesn't change the fact that the choppy audio gives Busytown a decidedly amateurish feel.
The illustrations fill the entire iPad screen in Busytown HD, but they aren't scaled down to fit the iPhone's screen, so you'll have to do a lot of panning and scanning on that smaller device. I didn't mind so much, as I felt it added a challenging element to hunting down objects, but smaller kids may find the cramped screen a little frustrating.
To be fair to Busytown, this is a 1.0 release, and I've run into many apps that wind up ironing out the kinks in subsequent updates. (Look no further than another beloved book from my childhood, The Monster at the End of This Book. The original release was riddled with problems; several updates later, it's my daughter's favorite iPad app and played nearly constantly in the Michaels home.) Night & Day Studios promises changes in future versions to expand the missions, and that could go a long way to improving Busytown.
Those improvements are badly needed. As much as I want to like either the iPad or iPhone versions of Busytown—and share them with my daughter—the 1.0 releases just aren't up to snuff.
[Philip Michaels is the editor of Macworld.com.]