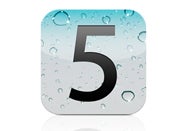 iOS 5, the next iteration of Apple's operating system for the iPhone, iPad, and iPod touch, will be released on October 12. The company announced the ship date during a press event Tuesday at its Cupertino headquarters.
Apple first unveiled iOS 5 at the Worldwide Developers Conference in June 2011, so attentive fans went into Tuesday's event already knowing plenty about the update.
Scott Forstall, Apple's senior vice president for iOS software, reminded the press assembled at the company's Let's Talk iPhone event about iOS 5's hallmark features, which include: a revamped notifications system; iMessage, Apple's service for sending free text, photo, and video messages between iOS devices; a built-in, location-aware Reminders app; system-wide Twitter integration; Newsstand, for organizing iOS magazine subscriptions; a variety of updates to the Camera app; and the "PC-Free" ability to setup and sync iOS devices without needing to connect them to your Mac. Forstall also referenced the already-announced significant updates to Safari and Mail.
Forstall said that iOS is the number one mobile operating system, with 61 percent of the market. He indicated that more than 100,000 developers are already using the iOS 5 developer betas. Echoing Apple CEO Tim Cook, Forstall announced that Apple has sold more than 250 million iOS devices. The App Store now offers more than 500,000 apps, he said, including 140,000 apps optimized for the iPad. Apple has paid out more than $3 billion to developers from App Store sales.
If you're hungry for new insights into iOS 5, though, Forstall may have left you disappointed; there was little in his presentation that wasn't discussed back in June—save for the October 12 release date. Still, we'll have more details on Apple's iOS- and iPhone-related news as they become available throughout the day.
Updated 12:55 p.m. PT for clarity and to correct the number of iOS devices sold.