This week's roundup of iOS accessories brings to mind just one word: SOO-EY! Here are a few of the new iPhone, iPad, and iPod touch add-ons—porcine and non-porcine—that caught our eye. There's even a new Apple-branded accessory for our European friends.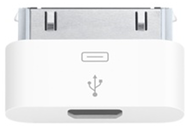 Apple: Yes, Apple. It was over two years ago that the company agreed to a standard mobile-phone charging interface based on the Micro-B USB connector. At the time, tech pundits wondered how Apple would comply without giving up its proprietary—and much more-functional—30-pin dock-connector port. The answer appeared Tuesday on Apple's UK online store: the Apple iPhone Micro USB Adapter. Available on October 14—iOS 5 and iPhone 4S day, for those of us here in the U.S.—for £8, the tiny adapter plugs into the iPhone's dock-connector port and offers up a Micro-B USB port for charging and syncing. According to Apple's site, the adapter works only with the iPhone 3G or later, and it's compatible only with "micro USB chargers in certain regions that comply with applicable mobile phone charger interoperability standards." What's not clear is whether the adapter also passes audio, remote-control signals, and other data to and from the USB cable. ( Hat tip to TUAW.)
Griffin Technology: It's no secret that the iPad is transforming education, enterprise, and even airline flying. But how's a business supposed to charge multiple tablets? Griffin's new $700 MultiDock lets you charge up to 10 iPads at one time; connected to a computer workstation, the device also allows you to sync your apps and media. An LED display offers the charging status of each plugged-in iPad, and you can link three MultiDocks together to manage up to 30 iPads. Each charging bay turns off once the iPad reaches full power; the bays are constructed so that each iPad can be left in is case.
Harman Kardon: The venerable stereo maker has launched the $600 MS 150, a high-fidelity system featuring two 30-watt, bass-reflex speakers, a CD player, an FM tuner, and a dock cradle for iPhones and iPods. You also get three auxiliary inputs to connect other audio sources, as well as a wireless remote control. The MS 150 also features an alarm, a sleep timer, and a dimmer to reduce the brightness of the display during evening hours.
iLuv: This accessory maker has come up with a new way to turn your tablet into a heavy-duty work machine. Its new WorkStation line of docks and cases transform your iPad into the center of a system reminiscent of IBM's 1980s personal computers—only cooler, of course. None of the four devices featured in this iLuv press release are yet available for sale on the company's website, but iLuv says they'll range in price from $50 to $180. The basic iMM737 model features a laptop-style keyboard and a rotating bracket for viewing the iPad at your preferred angle—iLuv says it will be available in November.
Newer Technology: If you're looking for an iPad stand that complements Apple's Bluetooth keyboard, the $60 NuStand 360 is an option. The stand has a weighted base that resembles something you'd find on an iMac, but with the added benefit of letting you rotate the tablet to portrait or landscape orientation, depending on your preference. The stand holds either generation of iPad, and NewerTech promotes the device as ideal for gaming purposes. A rear cutout allows easy access for accessory cables.
Sonoma Wire Works: Someday soon, you won't be able to make music without having an iPad or iPhone. Sonoma Wire Works' accelerates that trend with the introduction of the $149 GuitarJack Model 2. The device plugs into your iOS device's dock-connector port, allowing you to jack in guitars and other instruments via 1/4-inch and 1/8-inch (3.5mm) input jacks. You can even use both inputs to, say, record vocal and guitar tracks at the same time. The hardware is compatible with several guitar-oriented iOS apps. The first units should begin shipping in four-to-six weeks, Sonoma said this week.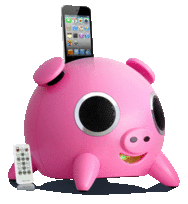 Speakal: Who among us doesn't love to mix great music and wine? Wait, did I say wine? I meant swine. Speakal knows just where you're coming from, and offers help in the form of the $120 iHog Portable iPod Docking Station Speaker System, a larger version of the company's older iPig. (The new product joins similar products such as the iPanda and the iBoo.) The device includes with a 20-watt subwoofer and 28 total watts of stereo sound. The iHog can provide up to five hours of music playback on a single charge of its lithium battery. The device includes a wireless remote that control the both the speaker system and your iPod. Speakal says the shape of the iHog is more than simply adorable: It also provides 360-degree sound, so you won't have to constantly re-adjust its position when you take it out for a visit to the farm. Barbecue sauce, however, is not included. (The company does not list the iPhone as being compatible.)
Toddy Gear: Keeping your iOS device's screen free of smudges is a never-ending chore. Toddy Gear has launched its line of Toddy Smart Cloths designed for touchscreen cleaning—and adding a little bit of design sizzle. The microfiber cloths come in dozens of designs and are priced at $10 apiece for the standard size, or $15 for the larger cloths; the latter are also usable as a pocket square for the more nattily dressed among us. The new line is available at Best Buy and Target stores.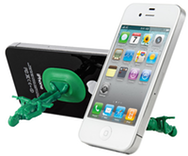 USBFever: Aging youngsters of a certain age may remember a time before posable action figures, when toy soldiers were made of a single piece of hard plastic, poses pre-ordained, for recreating the major battles of World War II. USBFever brings those soldiers back to, um, life with its new iSoldier stand for the iPhone. Just tip the $12 soldier on his back to prop up your phone in portrait or landscape orientation. When you're done, stick him in your pocket and be on your way. As should be expected, the stand comes in just one color: Green. Also new this week from USBFever is the $20 Motorcycle Handlebar Mount for iPhone 4.
(Macworld senior editor Dan Frakes contributed to this article.)
iPod touch family (fourth generation, fall 2010 and fall 2011)
Price When Reviewed:
$399.99
iPhone 4S family
Price When Reviewed:
$599
iPad (1st generation) Family