Alfred wants to help you find some place nearby to eat. And the free iPhone and iPad app from Clever Sense does a pretty solid job of it—if you're willing to take the time to teach Alfred about your likes and dislikes.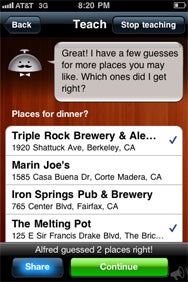 Like a plethora of restaurant finders on the App Store, Alfred taps into iOS's geo-location features to produce a list of nearby eateries. But those apps just base their results on what's nearby and maybe—if they're among the best App Store offerings—a few search criteria that you provide. Alfred—which should not be confused with the Mac utility of the same name—stands out by basing its recommendations on places you've told the app that you enjoy.
You train Alfred by answering a series of questions—your favorite place to have a weeknight dinner, for example. Once you provide an answer, Alfred pulls up a list of other eateries in the area broken down by categories like breakfast, lunch, dinner, and dessert; you tap the names of places you've enjoyed in the past to give Alfred even more information on where you like to go. (Alfred's database of restaurants is fairly impressive—it even included a nondescript hot dog stand near my house where I've been known to enjoy the occasional Polish sausage.) An individual training session usually requires about six steps of answering questions and sifting through Alfred's additional results. When you're done, Alfred tells you how much smarter it's become, with the goal of reaching 100 percent.
The problem: It can take a lot of training sessions to fully teach Alfred, and in the process, you're going to field a lot of similar questions. Alfred kept wanting to know where I like to enjoy brunch on the weekends. My knowledge of good brunch places ends after about two names, but that doesn't stop Alfred from asking the question over and over again. You can tell Alfred to ask a different question, and it will—for that training session, at least. But the brunch question will come up again, and it doesn't get any less awkward the more Alfred asks it.
Clever Sense does do a smart thing to help take some of the tedium out of training, however. Thanks to a Facebook tie-in, the restaurants you tell Alfred about on your iPad also show up on your iPhone or iPod touch. In other words, you don't have to train Alfred on separate devices, which is a real relief if you're a multi-device owner.
When it comes to suggesting places, Alfred lets you search by breakfast, lunch, and dinner, as well as specialty categories including coffee and tea, desserts, and drinks. There's also a Quick Picks feature, which produces a random assortment of nearby eateries, though Alfred is smart enough to know that if you're searching for places at 10 p.m., you're probably looking for a bar or a dessert spot. You can further filter Alfred's results by cuisine type, distance, price range, amenities like live music and free Wi-Fi, and whether it's similar to other places you've been before.
I don't know what algorithm Alfred uses to make its picks, but it seems pretty intelligent. (My assumption is that Alfred sees if people who like the places you've been to also like any nearby eateries, with price range and cuisine also factoring into the calculations.) When I've used Alfred in a places where I'm familiar with the local dining scene, its suggestions have more or less mirrored my tastes. And the app has pointed me toward a few eateries I might not have discovered otherwise.
That said, Alfred's results produce the occasional quirk. The app has no problem recommending chain restaurants, which would not be my preference at all. It also runs into problems with location—a search for coffee turned up a suggestion for a Starbucks in the next town over instead of the one just a mile from my house.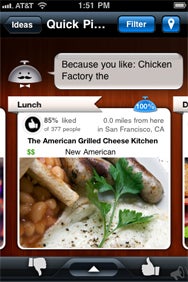 Tap on a restaurant result, and Alfred presents some basic information—the eatery's address, its hours of operation, and so on—followed by a list of diner comments. These are condensed Zagat-style blurbs—"good burgers" and "great barista," for example—with numbers indicating how many people have offered that comment. If you want more information, Alfred provides links to sites like Yahoo, CitySearch, Zagat, TripAdvisor, and the restaurant's website, if one exists.
At first, it may look like there's no way to get directions to the restaurant, but Alfred tucks that away in a tab at the bottom of the screen that can slide in and out of view. Some users may not care for how that vital information is hidden, but I think it's a sensible way of organizing information without cluttering up the screen of your iOS device.
I'm less impressed with the smattering of customer blurbs, which I find too generic to be very illustrative. I would prefer a more detailed description of the restaurant and its menu, so that I could make a more informed decision as to whether this is the place for me.
Another problem with Alfred: It uses stock photos for each restaurant listing. I'm not suggesting that the app needs to include actual image for each eatery (real photos are actually included if you drill down deep enough), but I think the stock photos can give the wrong impression about a restaurant's menu—a bad idea for an app that's supposed to be introducing you to new places. There's a lunch place near my office that specializes in grilled cheese sandwiches—Alfred's stock image for the joint inexplicably features sausage and eggs.
So Alfred produces some good results, but is it worth all the effort to train this restaurant finder to know your preferences? Certainly, the results you get from Alfred are more tailored to your likes and dislikes than what you might get from taking Urbanspoon for a random spin, but I'm not sure the results are that more targeted to my needs. And while I certainly appreciate turning to the wisdom of crowds for restaurant suggestions, I prefer a more curated experience like the one that LocalEats provides. (To be fair, though, LocalEats restricts its suggestions to major cities, so if you're outside the scope of its expertise, you're out of luck.) Others, however, will find Alfred's approach to finding new restaurants to be perfectly suitable. Just don't try training the app on an empty stomach.
[Call Macworld.com editor Philip Michaels many things, but never call him late for dinner.]