Following its preview at Apple's World Wide Developer Conference in June, iCloud has received an official debut date—October 12—at Tuesday's Let's Talk iPhone Apple event. It replaces the company's oft-maligned $99 MobileMe service, offering a central online repository for your mail; contacts; calendars; music, TV, app and book purchases; photos; documents; and backup—all for free. In addition, Apple introduced a new app called Find My Friends, for connecting with friends and family.
Eddy Cue, Apple's senior vice president of internet software and services, unveiled the service after Scott Forstall's presentation on iOS 5, also scheduled to ship on October 12. iCloud is comprised of several parts: seamless sync and backup for iOS devices; a server that pushes your contacts, calendar, mail, notes, and reminders to all your devices; and remote access to all your iTunes purchases. And for $25 a year, customers can purchase the supplemental iTunes Match service and receive access to their entire music library (up to 25,000 songs across 10 devices), including songs not originally purchased from the iTunes store.
Sync to the world
Like its predecessor, MobileMe, iCloud will offer users a free name@me.com address for sending and receiving email. Through iCloud, you'll be able to access, update, and sync your email, calendars, Safari bookmarks, and contacts across all of your devices and the Web. iOS users will also be able to sync reminders and notes from their respective apps to iCal and Mail on the Mac, respectively. There are three new sync sections to iCloud, too: Documents and Data, Photo Stream, and Past Purchases.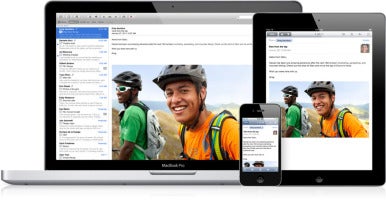 Documents and Data sync keeps your app information ubiquitous across all your iOS devices, allowing you to create a document on one device, save it, and pick up where you left off on another. This is currently only supported by Apple's iWork apps, but APIs are available for third-party developers to incorporate.
Photo Stream allows you to snap a picture from any iOS device and have it seamlessly pushed to all your other devices and computers. Images are kept for 30 days, and on iOS devices, you're only shown the last 1000 pictures, so as to preserve your iCloud storage space.
Past Purchases, which has been available in "public beta" since June, allows you to view your past purchase history for your apps, books, songs, and TV shows, and re-download them for free. In addition, if enabled, iCloud will automatically download new purchases to all your devices, no matter which one you initially purchase it on. A few caveats: Re-downloading certain items, like music and television shows, may be restricted by country; and items you've purchased in the past that are no longer available on the iTunes Store may not be available for restoration.
Operation Backup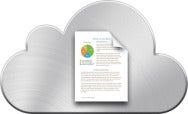 As part of iOS 5's "PC Free" initiative, you can back up your device daily to iCloud over Wi-Fi, when connected to power. Backup will store your camera roll, settings, app data, home screen organization, messages, and ringtones; if you need to restore your device, you'll be able to do so over-the-air, with Backup working in tandem with your past purchases to accurately restore your apps, books, music, and other media. (Like re-downloads, you may not be able to restore certain purchases internationally due to licensing restrictions; check your country to be sure.)
Cloudy with a chance of iTunes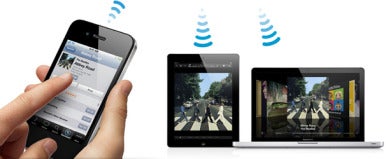 In addition to sync storage, your free iCloud account will provide you with instant access to your purchased music and TV shows (U.S. only), using the previously-mentioned Past Purchases feature. But that's not all: For $25 a year, you can unlock iTunes Match, which offers up your entire library (up to 25,000 songs) for viewing and listening on any iOS device or computer you own (up to 10).
Once enabled, iTunes Match will scan the songs in your music library and link them to the correct song in the iTunes catalog for easy downloading and streaming to your devices. If your songs weren't originally purchased from iTunes, but are available in the catalog, you can download DRM-free 256kbps AAC recordings for free; otherwise, iTunes will upload your unmatched songs to iCloud so that you can access them from multiple devices. iTunes Match will only be open to U.S. users initially, though Cue noted that they hope to open it up internationally before the end of 2011.
There's a finding app for that
Find My iPhone, previously a MobileMe subscription feature (and later opened up to anyone with an Apple ID) has been folded into iCloud, along with a component for finding your OS X Lion-equipped Mac. And to complete the "finding things" triptych, Apple has introduced a new iOS app called Find My Friends, which helps you coordinate with your companions via geo-location. Users can only access locations of those people sharing locations with them; you can perennially share your location, or create a Temporary Event, which broadcasts your location to specific people for a certain time period. Privacy controls let you enable, disable, or restrict location sharing, and all of these can be further restricted within Parental Controls.
The facts were these…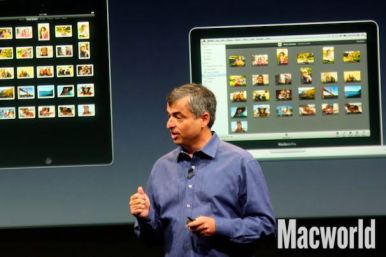 You'll be able to sign up for an iCloud account with 5GB of storage for free starting October 12, with paid storage upgrades available. Current MobileMe subscribers will be able to transfer their account to iCloud, though they can also elect to stay on MobileMe until June 30, 2012, when the service will be discontinued. The iTunes Match subscription service will be available in the U.S. by the end of October, with other countries to come by the end of 2011.
On the hardware side, iCloud requires an iOS device running iOS 5, a Mac running OS X Lion, or a PC running Windows Vista or later; Outlook 2007 or later is recommended for Windows users wishing to access their contacts and calendars on their PC.
Updated at 12:00 p.m. PT with more information throughout the article.