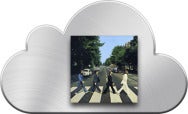 The iOS 5 pieces are are beginning to fall into place. Just a day before Apple's scheduled release of iOS 5 to the masses, the company rolled out iTunes 10.5, which customers will need to install before they can upgrade their iPhones, iPod touches, and iPads on Wednesday.
One of the hallmark features of iOS 5 is Wi-Fi syncing; coupled with iTunes 10.5, you'll be able to sync your iOS devices with your Mac or PC without tethering them via a USB cable.
But even more prominent among iTunes 10.5's new features is support for Apple's new iCloud and iTunes Match services. With iCloud, much of your Mac- and iOS- focused data—contacts, calendars, photos, and more—gets stored on Apple's iCloud servers, making it easy to both access that data and keep it synchronized between all your devices. With respect to iTunes, iCloud tracks all of your iTunes Store, App Store, and iBooks Store purchases, making them available from any device. (Interestingly, Apple says that over a third of music sold through the iTunes Store is purchased on an iOS device.) It also stores your iOS-device backups.
iCloud, like iOS 5, is set to make its debut on Wednesday.
The iTunes Match service, which will cost $25 per year, lets you also store music you didn't buy through iTunes. It uploads a database to Apple's servers that lists the music tracks in your iTunes library. It then compares that list with the music offered in the iTunes Store; anything already available from the iTunes Store becomes instantly downloadable in 256kbps AAC format. For music not available in the iTunes Store, iTunes can upload the actual tracks to the iCloud servers. The end result is that all of your music—or at least up to 25,000 tracks—is available for you to listen to and download to any of your iOS devices or computers running iTunes. Apple says that iTunes Match will be available by the end of October.
iTunes 10.5 also includes automatic downloads, a feature that can download to iTunes any music, books, and apps you purchase on your iOS devices. Minor interface changes give iTunes an appearance more in line with that of other Lion (OS X 10.7) apps.
iTunes 10.5 requires Mac OS X 10.5 or later. On the Windows side, iTunes patches a slew of vulnerabilities, including several that could allow a remote attacker to execute malicious code. iTunes 10.5 also marks the first time an iTunes installation on Windows doesn't include (or require) QuickTime.
Updated 10:45 a.m. Pacific with information on Windows-specific elements of iTunes 10.5.