You can now make the same kinds of cards you know and love from iPhoto on your iPhone or iPod touch, thanks to the new Cards app, announced at Apple's Let's Talk iPhone event on Tuesday.
The app allows you to choose from 21 letterpress 4-by-6-inch card designs; from there, you can insert your own pictures, text, and provide a mailing address for your recipient. Any card you create will be saved in your Card History, allowing you to save custom designs you like for future use, or send the same card to several different addresses.
You can also snap a picture on the spot and turn it into a card from within the app: Cards will transparently overlay the card dimensions and any text boxes so that you can frame your image accurately, and you can even add your location using GPS.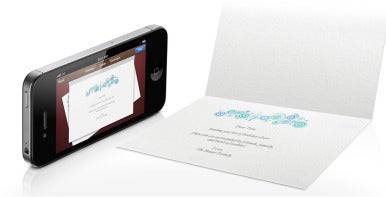 Once you're ready to send your card, you can choose from one of your contacts or type in an address from scratch. If the app can't match the address to a real-world location, it will warn you, hopefully preventing any misspelled mishaps. You can then pay for the card ($3 to mail in the U.S., $5 internationally) using the Apple ID associated with your iTunes account, and Apple will print and mail it anywhere in the world. If you're in the U.S., you'll also receive a push notification on your iOS device when the card has been delivered.
The free app will be available on October 12 for any iOS device running iOS 5.
Updated at 1:20 p.m. PT with more information throughout the article.