When iOS 5 arrives next week, improved notifications highlighted by the new Notification Center feature will be among the 200 or so enhancements Apple will deliver to your iOS device. And Abvio plans to run, not walk, to incorporate iOS 5's notification improvements into its line of iOS fitness apps.
In fact, Abvio developed version 6.0 of its Runmeter app to take advantage of Notification Center. As CEO Steve Kusmer describes it, the app's ability to graphically present GPS-based and workout data even when the iPhone's screen is turned off may not be flashy, but it will be very useful.
All of the best-selling GPS fitness apps for the iPhone already enable users to receive a variety of audio notifications. For example, even if you're already listening to music while working out, you can set up Runmeter, Nike+ GPS, iMapMyRide, and other apps to let you know your time, distance, and pace at pre-specified intervals. For example, I usually set up my GPS app to notify me of my overall time and pace as I reach each mile of my run.
However, I'm not able to visualize the data without turning the iPhone on—and if you've worked out using a GPS app, you know that turning on the iPhone while you're working out increases the risk that you'll inadvertently touch the screen, which may pause, stop, or interfere with the data collection process in some other equally inconvenient fashion.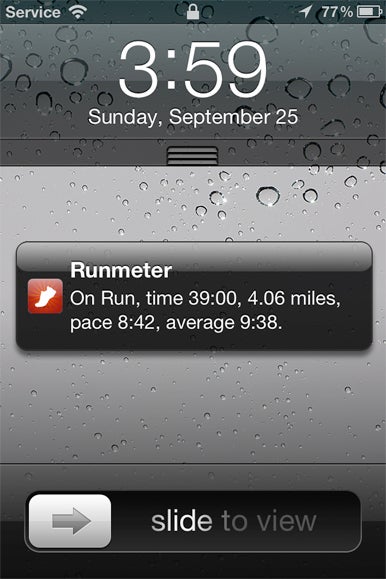 Also, if you're a serious athlete whose workouts frequently last several hours, being able to use the iPhone with most of its capabilities disabled—except those that are most necessary—can have a significant impact on your device's battery life. The screen display, especially, can quickly deplete battery power, so Notification Center's ability to turn on the screen for just a few seconds at a time could make the difference in whether the iPhone outlasts a marathoner's wobbly legs toward the end of a long run or not.
"Runmeter 6.0 enables you, through Notification Center, to view more than 70 different types of workout statistics on your iPhone's screen without having to turn your iPhone on manually and without activating the touch screen," Kusmer says.
That also goes for Cyclemeter and Walkmeter—Abvio's other apps which offer the same functionality as Runmeter but are geared toward those specific activities. "If you're a runner or walker or cyclist who is visually oriented, you can set up the app to turn the screen display on for a few seconds and view your time, distance, elevation, pace, calories burned, and so on—just about anything you want to know about your workout in progress," Kusmer adds. "It's that simple."
Kusmer says Abvio's is the first fitness app poised to take advantage of iOS 5's Notification Center when the mobile OS update is released on October 12. While he expects other GPS apps to eventually make use of the new feature, he says that Abvio, which has already released the new version in advance of iOS 5, is ahead of other developers because "we focus solely on the iPhone. We're iPhone-centric, while most of our major competitors treat the iPhone and Android phones as data collectors to push data to a Web site."
As a result, says Kusmer, "they really have to program to the least common denominator. They're not looking to take advantage of specific features (of iOS). They're not focused on the leading-edge abilities of the device, and because we focus on the iPhone, we focus on iPhone features."
In this instance, the focus on iOS 5's Notification Center is likely to put Abvio's $5 fitness apps ahead of the pack in terms of both innovation and usability, at least in the immediate aftermath of iOS 5's debut.
And this is what Kusmer works for. "We applaud Apple for making iOS the best mobile phone platform, hands down," he says. "We've tested our applications thoroughly to make sure we're offering best-in-class support for iOS 5. And with support for Notification Center, our customers will have hands-free access to data that will help them monitor their fitness in real time."