The iPhone 4S is here, and with it the inevitable barrage of new cases. Of course, if you've been watching closely, you know that the 4S looks…well, pretty much like the iPhone 4. And that's great news for people who want to upgrade while still using their existing accessories, as well as for those who plan to hang on to the iPhone 4 for a while and want to take advantage of new accessories. In either case, vendors were quick to contact Macworld to let us know about their new products for protecting our favorite handset.

Ballistic: The Universal Sports Rugged Pouch ($30) features tough construction designed to withstand an active lifestyle and the inevitable accidents that come with it. Made of a durable, black material, it features a durable belt clip, an easy-to-open Velcro flap, and the company's exclusive Soundvent opening that channels the phone's sound through the case for maximum output.
Calypso Crystal: The CalypsoCase ($119) is a handcrafted, rigid sleeve that comes in a variety of colour combinations, including Zurich Night (black and red), Cannes after Cannes (black and white), Marrakesh Spring (black and organic), and Glowing Ice (purple and red). The case features a polished Italian-leather exterior and a soft microfiber interior, with titanium-enhanced edges for added protection.

Cygnett: The Ripple (price unavailable) is made of anti-slip TPU material that hugs the contours of the iPhone and features a wave-like surface designed to feel good in your hand. It comes in black or blue.
The FlexiGel (price unavailable) features raised edges designed to protect the front of the iPhone if it falls face-down. Also made of TPU, it's available in black, purple, or red.
Finally, the SecondSkin II is a soft, slim-fitting case molded to fit your handset like a glove. Flexible but tough, it comes in black and features raised edges for extra screen protection.

iLuv: The Aurora ($30) is a silicone case that features one of three playful, glow-in-the-dark patterns. In addition to being cute, it should come in handy when you need to find your phone to figure out who's been sending you direct messages on Twitter at 4:00am.
The Festival, on the other hand, is a hardshell case that protects your handset while decorating it with a splash of colour. It's available in two different patterns.
The Regatta ($30) brings together the best of both worlds by combining a hardshell interior with a soft exterior for maximum protection and grip. It comes in black, white, blue, aqua, grey, orange, red, purple, and yellow.
Finally, the Clipper ($35) features a belt clip and a secure Velcro closure that keeps your iPhone by your hip, ready to be swung into action any time you need it. It comes in a black, wallet-like material.

Lapàporter: This German manufacturer specializes in handmade leather goods, with several models designed to bring an artisanal touch to your favourite handset. Offerings include the Ballerina (€64), available in green or crocodile; and the Tasche (€64), available in pink, Lachs, Python, and Braid.

Orbino: Hand-stitched, premium-leather cases from Italy are this Italian manufacturer's specialty, with two models designed specifically for the iPhone 4S. The Strada ($119 to $299) is a form-fitting case that wraps around your phone and features openings for its various controls and connections. The case comes in deep-red saddle, pebbled cordovan, soft pecan, brown crocodile, black crocodile, cognac ostrich, mocha ostrich, and red ostrich.
The Pantera ($189 to $309), on the other hand, features a protective flap equipped with a special magnetic closure that keeps your phone's screen safely protected but allows you to still conduct a call. Like the Strada, it's available in a variety of Tuscan-leather, ostrich-skin, or crocodile-skin models.

Tuff-Luv: The In-Genius (£25 to £33) is a slip-on case that features an extra slot in which you can safely store items such as paper money and credit cards. If your needs are simple enough, it can replace your wallet and help you carry less stuff around—not to mention that, if your credit cards are sitting next to your iPhone, you'll actually be able to use Find My iPhone to find them should they get lost. The case is available in black, pink, or purple faux-leather; black Napa leather; or brown saddleback leather.

Vers: The ShellCase ($40) is as green as a case can get without actually being dyed green. Handcrafted from solid bamboo, it features steel-pin reinforced corners for added strength; a durable UV- and moisture-resistant clear coat; and large corner radii for easy pocket access. Despite being made of wood, it weighs just 40 grams, and it is, of course, built with the environment firmly in mind—the company will actually plant one hundred trees for every one they use in making their products. The ShellCase is also available in cherry and walnut models that come with the same price tag.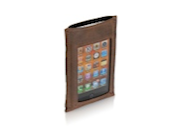 Waterfield: The iPhone Wallet ($39) features a dual-body construction that combines a case with a wallet, making it possible for you to keep all your important stuff in a single place. The case features a zipper for quick access to its contents, as well as a special window that lets your iPhone's screen peek through even when it's securely tucked away. Made of naturally-tanned leather, it comes in black or brown.
The iPhone Hint ($25) is a sleeve that also includes a special "stretchy" back pocket into which you can stuff bills and credit cards. Like the Wallet, it's built out of naturally-tanned leather and comes in black or brown.