Steve Jobs, Apple's co-founder and its CEO through a period of record growth and innovation for the company, has died. He was 56.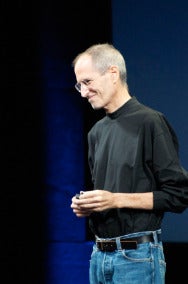 Jobs's death was confirmed by a statement from Apple's board of directors.
We are deeply saddened to announce that Steve Jobs passed away today.

Steve's brilliance, passion and energy were the source of countless innovations that enrich and improve all of our lives. The world is immeasurably better because of Steve.

His greatest love was for his wife, Laurene, and his family. Our hearts go out to them and to all who were touched by his extraordinary gifts.
According to a statement released from Jobs's family, the Apple co-founder "died peacefully [Wednesday] surrounded by his family."
"In his public life, Steve was known as a visionary; in his private life, he cherished his family," the family's statement read. "We are thankful to the many people who have shared their wishes and prayers during the last year of Steve's illness; a website will be provided for those who wish to offer tributes and memories." The family also asked that the public "respect our privacy during our time of grief."
"No words can adequately express our sadness at Steve's death or our gratitude for the opportunity to work with him," Apple CEO Tim Cook said in a letter to Apple employees. "We will honor his memory by dedicating ourselves to continuing the work he loved so much."
Jobs's passing comes after a long illness that led to him taking a leave of absence from the company in January. He resigned as CEO in August, announcing to the world the day had come "when I could no longer meet my duties and expectations as Apple's CEO." He was succeeded by then chief operating officer Cook and became Apple's chairman.
"I believe Apple's brightest and most innovative days are ahead of it," Jobs wrote in his resignation letter.
Jobs's health struggles began in 2004 when he battled pancreatic cancer. In 2009, he also took a leave of absence from his CEO duties at Apple to undergo a liver transplant. He subsequently became an advocate for improved organ donation procedures, championing a 2010 California bill that simplified organ donation status.
Jobs famously built the Apple I computer with Steve Wozniak in the garage of the former Steve's parents. That would lead the two Steves to found Apple Computer in 1976, along with a third co-founder, Ronald Wayne. The company would produce the very successful Apple II, the revolutionary Macintosh, and an ethos that personal computers should be usable by everyday people.
Jobs would leave Apple in 1985, on the losing end of a dispute with then-CEO John Sculley. In subsequent years, Jobs would start Next Computer and purchase an animation company called Pixar from George Lucas. Pixar would become a very succesful animation studio, with Jobs selling it to Disney in 2006 for $7.4 billion, while Next Computer would pave the way for Jobs's return to Apple.
Apple purchased Next in 1996; a year later, Jobs became interim CEO of the struggling company. Over the ensuing decade-and-a-half, he would oversee a nearly unbroken string of successful product launches, starting with the iMac in 1998 and concluding with 2010's release of the iPad. For more on Steve Jobs's accomplishments at Apple, read Macworld's look back at his career.
Jobs is survived by his wife Laurene Powell and four children, and his sister, Mona Simpson.
Apple has posted a memorial page for Steve Jobs and is inviting people to "share your thoughts, memories, and condolences" via email.
We'll post more information shortly.
Updated at 4:49 p.m. PT with a statement from Apple's board of directors. Updated at 4:56 p.m. PT with more information about Steve Jobs Updated at 5:01 p.m. PT with a link to Apple's memorial page.Updated at 5:09 p.m. PT with a statement from Steve Jobs's family. Updated at 5:11 p.m. PT with a statement from Tim Cook. Updated at 5:38 p.m. with more biographical information about Steve Jobs.
Agam Shah of IDG News Service contributed to this report.