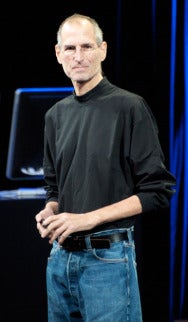 Sadly, because of his ongoing health issues, Steve Jobs's passing Wednesday was not entirely unexpected. Neither was the outpouring of grief from members of the Apple community. And "the Apple community" these days is a fairly a broad term; Jobs was mourned publicly by Barack Obama, Larry Page and Sergey Brin, Bill Gates, and countless Apple developers, customers, and fans.
Developers and analysts
Some developers and analysts shared their thoughts with Macworld directly, via email and phone. Here's a sampling of the feedback we received:
Daniel Jalkut, Red Sweater Software Steve Jobs started as an outsider not only to his industry, but to business in general. He relentlessly prioritized the humanization of his companies' products, elevating design, usability, and accessibility, without overtly obsessing on the bottom line. Under his leadership, Apple became the most valuable company in the world, proving that his unconventional approach to doing business might also be the best approach.
James Thomson, TLA Systems My entire professional career for the past two decades has been based around products that Steve had a direct hand in. I'm sad that none of the decades ahead will.
Justin Williams, Second Gear Software OS X was the first thing that made me notice computers in a different way. I was always on computers, but when I saw OS X I said 'I want a Mac now. And not only that, I want to build stuff for it.' …I wouldn't be doing what I'm doing today—I woldn't have gotten interested in software development if Steve hadn't done when he came back to Apple… We're still going to say, 'How would Steve want this? What would Steve do?' If we use that as the guiding principle, I think we'll be fine.
Bryan Duke, Acceleroto We are extremely saddened by Steve Jobs's passing. Steve's vision and drive quite literally changed our lives. He changed the world.
Ezra Gottheil, Technology Business Research [Steve Jobs] didn't just change the [PC] industry—he created the industry… It's hard to be conservative about his contribution. It was amazing. Each one of us is affected by that… He did it with the PC, he did it with the smartphone, and he did it with the tablet. He didn't do it just once, which is kind of amazing.
Greg Scown, Smile Software I'm sad. Steve has passed too young, and I feel most for those he loved and left behind… My heart goes out to them at the enormity of their loss. The world lost an icon, but his loved ones lost him… I think the best possible tribute to Jobs is for us to keep working hard to make our products the best they can be, and in doing so, to bring joy and delight to our customers.
Rich Siegel, Bare Bones Software To folks who are looking for comfort, or solace, or meaning after [Jobs's] passing, I would give you this advice: Just go out and be awesome, because that's what he would have wanted.
Craig Hockenberry, The Iconfactory Steve taught us all how to believe in a product and make it better than you think it can be. I will be forever grateful for that lesson.
Craig Kemper, Little White Bear Studios [Jobs's] passing will inspire me to continue designing things I believe in, to put that extra bit of polish on it, just because. Given how instrumental Steve was in Apple's success, I expect the switch in leadership will create subtle changes in the way things are done, but at the end of the day, they know that Steve's vision is the correct path for Apple to take.
Michael Gartenberg, Gartner Jobs invented the personal computer, redefined it, took a company on the brink of ruin, and made it the most valuable in world. He then went on to change the music and phone industries forever. He was a visionary for our times and the legacies he leaves behind are his family and the company he founded—which will continue under the management team he left in place.
Everett Katzen, Springboard Media The improvements that [Jobs] made were unreal… A couple of his attributes shine through, and they really pervade the whole company. One is the need for products to be simple and elegant… If they follow his management style and his innovation style, they'll be on the road to success for a long long time.
Michael Simmons, Flexibits Steve Jobs gave us something much more than insanely great things like Macs, iPods, iPhones, and iPads. He gave us the power to think differently. I've been extremely lucky to be part of the "Apple industry" for almost 15 years and because of Steve, it's unlike any other industry. Developers help and inspire each other, rather than compete: a perfect example of Steve's influence and a perfect tribute to his incredible life. It gives me comfort to know that we will always have his influence to help guide us in continuing to dream of and make insanely great things. I will miss him greatly.
Public statements
Various public officials and industry leaders released statements of the sort you'd expect when a head of state were to die. That so many public officials were moved to speak out on Jobs's death is obviously a testament to his worldwide reach and influence.
Barack Obama, President of the United States Michelle and I are saddened to learn of the passing of Steve Jobs. Steve was among the greatest of American innovators—brave enough to think differently, bold enough to believe he could change the world, and talented enough to do it.
By building one of the planet's most successful companies from his garage, he exemplified the spirit of American ingenuity. By making computers personal and putting the internet in our pockets, he made the information revolution not only accessible, but intuitive and fun. And by turning his talents to storytelling, he has brought joy to millions of children and grownups alike. Steve was fond of saying that he lived every day like it was his last. Because he did, he transformed our lives, redefined entire industries, and achieved one of the rarest feats in human history: he changed the way each of us sees the world.
The world has lost a visionary. And there may be no greater tribute to Steve's success than the fact that much of the world learned of his passing on a device he invented. Michelle and I send our thoughts and prayers to Steve's wife Laurene, his family, and all those who loved him.
Bill Gates, Microsoft I'm truly saddened to learn of Steve Jobs' death. Melinda and I extend our sincere condolences to his family and friends, and to everyone Steve has touched through his work.
Steve and I first met nearly 30 years ago, and have been colleagues, competitors and friends over the course of more than half our lives.
The world rarely sees someone who has had the profound impact Steve has had, the effects of which will be felt for many generations to come.
For those of us lucky enough to get to work with him, it's been an insanely great honor. I will miss Steve immensely.
Chad Hurley and Steve Chen, YouTube "It was an honor to have worked with Steve Jobs. He will forever remain an inspiration. He will be sorely missed, and our thoughts and prayers go out to his family."
G.S. Choi, Samsung Electronics Samsung Electronics is saddened to hear of Chairman Steve Jobs' passing and would like to extend our deepest condolences. Jobs introduced numerous revolutionary changes to the information technology industry and was a great entrepreneur. His innovative spirit and remarkable accomplishments will forever be remembered by people around the world. We would like to again express our sincerest condolences to Mr. Jobs' family and his colleagues.
Governor Jerry Brown, California Steve Jobs was a great California innovator who demonstrated what a totally independent and creative mind can accomplish. Few people have made such a powerful and elegant imprint on our lives. Anne and I wish to express our deepest sympathy to Steve's wife, Laurene, and their entire family.
Lieutenant Governor Gavin Newsom, California I'm saddened to learn of the passing of Steve Jobs. Steve was a true visionary who brought out the best in others. His legacy will live on, not only in technology and business but also in the way the world communicates. My thoughts and prayers are with his wife, Laurene, his family, friends and colleagues during this difficult time.
Paul Allen, Microsoft My condolences to Steve Jobs's family and friends. We've lost a unique tech pioneer and auteur who knew how to make amazingly great products.
Bob Iger, Walt Disney Steve Jobs was a great friend as well as a trusted advisor. His legacy will extend far beyond the products he created or the businesses he built. It will be the millions of people he inspired, the lives he changed, and the culture he defined. Steve was such an "original," with a thoroughly creative, imaginative mind that defined an era. Despite all he accomplished, it feels like he was just getting started. With his passing the world has lost a rare original, Disney has lost a member of our family, and I have lost a great friend. Our thoughts and prayers are with his wife Laurene and his children during this difficult time.
Mayor Michael Bloomberg, New York City Tonight, America lost a genius who will be remembered with Edison and Einstein, and whose ideas will shape the world for generations to come. Again and again over the last four decades, Steve Jobs saw the future and brought it to life long before most people could even see the horizon. And Steve's passionate belief in the power of technology to transform the way we live brought us more than smart phones and iPads: It brought knowledge and power that is reshaping the face of civilization. In New York City's government, everyone from street construction inspectors to NYPD detectives have harnessed Apple's products to do their jobs more efficiently and intuitively. Tonight our City—a city that has always had such respect and admiration for creative genius—joins with people around the planet in remembering a great man and keeping Laurene and the rest of the Jobs family in our thoughts and prayers.
Representative Nancy Pelosi, House Minority Leader Steve Jobs was a visionary who changed the way we live, an innovator whose products brought joy to millions, a risktaker who wasn't afraid to challenge the status quo, and an entrepreneur who led one of the most creative companies of our time. His sage advice was respected by policymakers on both sides of the aisle. His courageous fight against cancer brought strength to many.
I hope it is a comfort to those who loved him, especially his family, that so many grieve his loss and are praying for them at this sad time.
Stephen Wolfram It's incredibly inspiring to see what Steve Jobs was able to achieve in his small number of decades, so tragically cut short today.
Social Networks
Many celebrities, reporters, and industry leaders took to Twitter, Facebook, and Google Plus to share their thoughts. A sampling:
Andy Hertzfeld, Google (member of the original Macintosh development team) Steve Jobs was my friend and hero for over thirty years. The Apple II changed my life before I met him, and working closely with him to create the original Macintosh was the high point of my career, if not my entire life. Steve was more than the greatest business person of his generation, he was a passionate artist who poured his soul into his work. I will miss him terribly, even though he will live on in Apple's products for many years to come.
Albert Brooks, actor, author Had the pleasure of working for him and knowing him. He was our Edison. R.I.P. Steve Jobs.
Steve Case, former AOL CEO I feel honored to have known Steve Jobs. He was the most innovative entrepreneur of our generation. His legacy will live on for the ages.
Al Yankovic, musician RIP Steve Jobs. Thanks for improving life as we know it.
Ellen Degeneres, comedian He was an amazing man with an incredible vision. He changed the world.
Gene Weingarten, The Washington Post Just read the news, stood up, & for the 35th time, my breakaway Mac powercord did its job, saved the computer. Thanx, Steve.
Harry McCracken, Technologizer Pixar alone would have been a dazzling legacy.
Diane Sawyer, ABC News Some of the fire in the universe dimmed tonight. Steve Jobs, thank you for reminding us all what ambition+imagination can do #ThankYouSteve
John Hodgman, actor, author, the "PC" Everything good I have done, I have done on a Mac… Thank you, Steve.
John Perry Barlow, EFF co-founder, Grateful Dead lyricist The world just became a less interesting place.
Mindy Kaling, actress, writer Hard not to think how much Steve Jobs could've done with more years. So sad. You're the best, Steve.
Kevin Smith, director, writer Our parents had JFK, we had Steve Jobs. Edison gave us electricity, Jobs gave us the Jetsons in real life. We lost an icon today. Mourn him.
Mark Zuckerberg, Facebook Steve, thank you for being a mentor and a friend. Thanks for showing that what you build can change the world. I will miss you.
Larry Page, Google I am very, very sad to hear the news about Steve. He was a great man with incredible achievements and amazing brilliance. He always seemed to be able to say in very few words what you actually should have been thinking before you thought it. His focus on the user experience above all else has always been an inspiration to me. He was very kind to reach out to me as I became CEO of Google and spend time offering his advice and knowledge even though he was not at all well. My thoughts and Google's are with his family and the whole Apple family.
Sergey Brin, Google From the earliest days of Google, whenever Larry and I sought inspiration for vision and leadership, we needed to look no farther than Cupertino. Steve, your passion for excellence is felt by anyone who has ever touched an Apple product (including the macbook I am writing this on right now). And I have witnessed it in person the few times we have met. On behalf of all of us at Google and more broadly in technology, you will be missed very much. My condolences to family, friends, and colleagues at Apple.
Joel Mathis and Lex Friedman contributed reporting to this story.
Updated 8:57 a.m. ET to add Andy Hertzfeld's tribute. Updated 12:20 p.m. ET to add Michael Simmons's tribute. Updated 1:44 p.m. ET to add comments from Stephen Wolfram.