I never got to meet Steve Jobs. I came close a couple times, standing within a few feet of him at press events like the unveiling of the iPad. The one I remember the most, though, was at Macworld Expo 2006. It was the first Macworld Expo I'd attended since I'd gone to a Boston-based one in the early '90s, and I was there on my own dime, freshly unemployed and wide-eyed.
After watching Jobs introduce the first Intel-based MacBook Pro from an overflow room, I wandered over to the expo hall. Riding down the escalator, I caught sight of a bubble moving towards the entrance—Jobs himself, I realized, surrounded by an entourage. People flowed around them, everybody snapping pictures and trying to get a glimpse of the Apple CEO.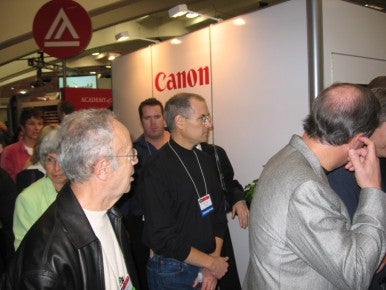 My trip down the escalator brought me within feet of Jobs and his crew, and I found myself pulled along with the crowd. I snapped a picture of my own—it seemed like the thing to do—and as he turned, we exchanged a look. He smiled at me and gave a nod, which I returned. A small gesture, perhaps, but one that meant a lot to a 25-year-old who had recently quit his job, jumping without a safety net, to find some more meaningful pursuit.
Whenever I saw him at later events, he was always surrounded; it seemed gauche and rude to interrupt. I didn't want to look like a fanboy or seem unprofessional. But with that cold clarity that hindsight brings, I wish I'd had the courage to say hello and to thank him; now I'll never have the chance again.
That said, I certainly got closer to him than most people ever did. I covered a bunch of his keynotes during the last five years…but I usually had my head down, furiously transcribing his words as fast as I could. Every once in a while I would take a break and look up, to try and watch the man in his element—just to ground myself, remind myself where I was. Someday, I figured, I might want to tell my kids I'd seen Steve Jobs speak. But over time, it began to fade into a blur of products and catchphrase-laden soundbites.
It seems like we'd just come to terms with Jobs's stepping down from the CEO role back in August—we weren't ready to lose him entirely. There was a comfort to his taking on the company's chairmanship, that his touch would still be felt, just barely outside the edge of our vision. As trusted as Tim Cook is—and I do think that Cook is unquestionably the right person to helm Apple—there was a continuity that eased the transition.
Still, it didn't make the shock any easier. I was on a plane on Wednesday, on my way back from San Francisco, where I'd been covering this week's iPhone event. Tim Cook's first presentation as Apple CEO. He'd done well, in my opinion, and I felt that Apple was in good hands—I said as much to anybody who asked, and that was that.
While walking back from the plane's restroom, I glanced at the rows of glowing seat-back TVs in front of me, only to see the headlines on every major news network. My heart sank as I made my way back to my own seat and tuned to the coverage, and as the statements rolled in: Tim Cook, Mark Zuckerberg, Bob Iger, Warren Buffett, Bill Gates, President Obama. And I didn't even have access to the Internet, where it seems as though everybody on every social network has something to share about how Steve Jobs affected them.
Like I said when he walked away from the CEO role, there was a time I thought I would be done with technology writing when Steve Jobs wasn't a part of that world. Certainly, there's a part of me that feels that far more keenly today than six weeks ago.
But really, Steve Jobs's impact will always be felt in the technology world; his legacy is that pervasive. Even as I looked around the plane, I saw more Macs, iPhones, and iPads than I could count.
I never met Steve Jobs, but I'll still feel his loss. How can I not? After all, I work here, at a publication devoted to covering the products the man developed. I use these devices every day, and have for two decades. While he was larger than life to those of us who never knew him personally, there was an inherent connection in the using of his products that made us all feel as though we did. When you mentioned Steve—on a first-name basis, as though he might drop by for lunch—there was no question who you were talking about.
Apple will survive; that much Jobs has assured through the painstaking craftsmanship that he put not only into its products, but into the company itself. Jobs's fingerprints are all over the culture of Apple, and the people who have been drawn to work there are there because of the company he has created. And because of the man himself.
Some might speculate that the next Steve Jobs is somewhere in 1 Infinite Loop right now, but in truth Apple's a company made up almost entirely of people who want to be the next Steve Jobs.
And is there really any greater testament to the man than that?