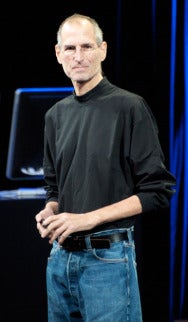 On Twitter and Facebook, in my email, and through IMs, I keep hearing a similar refrain: Why am I so sad? Why am I feeling such a strong reaction to the death of someone I've never met?
Many of us feel tremendous sadness in light of Steve Jobs's death. I can't speak for my friends about why they feel so affected by his passing, but I imagine their reasons for tearing up mirror my own.
Welcome in my home
I can't tell you the name of either one of RIM's CEOs. Though I know his name, I honestly couldn't pick Google CEO Larry Page out of a lineup, and I don't know that I've ever heard his speaking voice, either. But I know just what Steve Jobs looked like, and just how he sounded. Not every CEO can—or should—show off his company's products. But watching Steve deliver a keynote or host an Apple Event, I wasn't struck solely by his much-lauded showmanship. Part of what made a Jobs-helmed event so exciting to watch was his very real, very tangible passion for the products he was unveiling. Steve didn't just run Apple—he loved it, and you could see that love, that pride, beaming from his face.
You hear people talk about television actors as the people we don't know who we let into our homes, since they show up in our dens each night. Every Apple event, Steve showed up in my home too, wherever my Mac was. I would read the liveblog first, then watch the video as soon as Apple made it available. I've watched countless interviews with the man, too. So part of the reason I think his death hits me hard is because I really do feel like I knew him—even if he didn't know me.
What he built
Another part of it is the intimacy we feel with Apple products. We know intellectually that Steve didn't singlehandedly build the iPad, design the MacBook Pro, or invent the iPhone, but those products clearly bear the stamp of his genius. And I don't merely use my iPhone; I love it. The same goes for my Mac and my iPad. Even though it's not literally true, using Apple's brilliantly-designed products feels like using technology that Steve Jobs personally touched, personally signed off on, personally built for my benefit.
Steve—quite rightly—gets credit, along with Steve Wozniak, for inventing the modern home computer. And so while Apple's not directly responsible for the Internet, there's little chance the world would feel connected in the ways it does today if not for their vision. I can work for a San Francisco company from my home in New Jersey—heck, I can video chat with my nieces and nephews in Israel from my home in New Jersey—because of the Internet, and I believe that the Internet exists the way it does because of Steve's influence. So in part, I'm sad that Steve's gone because—again, without ever knowing me—his influence on my life was deeply personal.
And I'm sad because, regardless of how many products Apple already secretly has in the pipeline, Steve will no longer directly weigh in on the company's future. Apple will certainly continue to succeed under CEO Tim Cook, but the notion that we'll now be robbed of Steve Jobs's continued decision making on the minutiae of Apple products is tremendously disappointing.
Who he was
I've written previously about Steve's influence; his impact went far beyond technology. Logically, of course, I wouldn't be writing for Macworld today if Steve hadn't created the company. But Steve actually motivated my working for Macworld much more explicitly. It was this passage in his oft-cited Stanford commencement address that pushed me to leave one career for one that I was more passionate about:
I'm convinced that the only thing that kept me going was that I loved what I did. You've got to find what you love. And that is as true for your work as it is for your lovers. Your work is going to fill a large part of your life, and the only way to be truly satisfied is to do what you believe is great work. And the only way to do great work is to love what you do. If you haven't found it yet, keep looking. Don't settle.
I've yet to watch an interview with Steve Jobs that felt anything but inspirational; I've long loved this answer he gave at the D8 conference one year about his management style. His answer—that the best ideas should matter, not company hierarchy—wasn't a new or revolutionary idea, but the obvious sincerity in his words was moving to me.
Like all of us, Steve wasn't without his flaws. But what I'll miss most of all is his passion. He was an undeniably smart man, and his words were as inspirational as his accomplishments. I'm saddest of all because we won't get to experience more of either.
[Lex Friedman is staff writer for Macworld.]