I've been covering Apple since early 1999, when I joined Macworld as an assistant editor. My first assignment was putting together a big chart of USB-equipped devices ("Over 200 Products!") for the June 1999 cover story.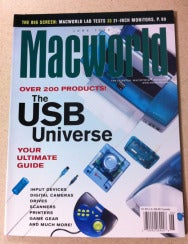 This was hot on the heels (at least as far as print magazine lead times go) of the release of the iMac, which introduced Mac users to USB—and turned out to be the product that began Apple's turnaround and as well as Steve Jobs's second wave. (Not that a 25-year-old me had any clue about any of that at the time, of course.)
A few months later, I attended my first Macworld Expo, in New York, sitting in the press section for a keynote as Steve Jobs introduced the iBook. What blew me away about the tangerine- or blueberry-hued portable wasn't just the spring-loaded handle (although that was quite cool) but this crazy thing Jobs enticed us with called AirPort. A Mac with wireless networking? Tell me more.
Then in 2001, I was sitting in the Town Hall Auditorium at Apple's Cupertino campus when Steve Jobs introduced the first iPod. The idea wasn't new—I'd used several different MP3 players from the likes of Rio already—but Jobs and Apple saw what was out there and made something better. The iPod had an actual hard drive that held 5GB of music, and used FireWire, which was much faster than USB. The MP3 player I'd been using before the iPod held about an hour of music, and I'd have to load it up with the specific songs I wanted for my run to Ocean Beach every time—and transferring even an hour of MP3s using USB 1 was painful.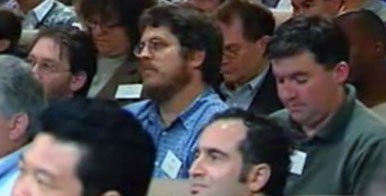 The other really smart thing Apple did that day was hand out beta iPod units to the press to take home and play with before the first model became available to the public the next month. Apple had pre-loaded each with 10 CDs worth of music so we'd all have something to listen to right away. And somewhat ironically, considering how the iTunes Store would eventually make downloadable music the norm, Jobs explained that he took music piracy seriously and so in our bags we'd find all 10 of those CDs as well. He joked about sending Apple employees all over town trying to find enough copies of all the CDs before the event.
We all know the iPod's success story—earlier this week Apple announced it has sold more than 300 million iPods to date—but even on that day in October 2001, it was clear that Jobs and his team (Apple has never been a one-man operation, let's remember) had done something cool with an existing idea that didn't even know it could be any better. Watching the launches of the iPhone and iPad gave me the same feeling.
My whole professional life to this point has had Steve Jobs as a figure looming in the background. On Wednesday, the day Steve Jobs died, I checked my email on my iMac when I woke up. I worked all day on my Mac Pro at the office. I used my iPhone to stay in touch with the office while having lunch with a visiting relative, and then to call my wife when I finally left the office at 7 p.m.. We watched a TV show on the Apple TV after we put the kids to bed, while I looked at some websites and my Twitter feed on my MacBook Pro. And I read some of the latest New Yorker issue on my iPad in bed before going to sleep. And that's a typical, Apple-product-using day for me.
Steve, I'd say that's one hell of a legacy.
[Jonathan Seff is Macworld's executive editor.]