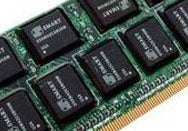 Samsung Electronics and Micron Technology on Thursday announced the creation of a consortium around a new low-power memory called Hybrid Memory Cube, which could challenge DDR3 memory in high-performance computers in a few years.
The Hybrid Memory Cube Consortium will bring together device makers and chip companies to develop an open specification around the new memory type, the companies said in a joint statement.
Hybrid Memory Cube (HMC) promises to surpass current memory technologies such as DDR3 DRAM on performance and power consumption, the companies said. The memory is initially targeted for use in markets such as networking, high-performance computing and energy, said Scott Graham, general manager of the DRAM solutions group at Micron.
Graham couldn't pin a specific date on when the memory will reach the market. But the initial specifications will be released next year, and Graham estimated mass production of the memory to begin in 2015.
HMC will deliver memory bandwidth that could speed up network performance, and pipes to drive up CPU performance in high-performance computers, according to the consortium's website. Other consortium members include Altera and Xilinx, which are known for integrated chips and FPGAs (field-programmable gate arrays) used in the high-performance computing market.
The HMC memory type was demonstrated last month by Intel working an experimental CPU to run a solar-powered computer. Intel said that HMC was seven times more power-efficient than current DDR3 memory.
The consortium on its site said "a single HMC can provide more than 15 [times] the performance of a DDR3 module." A "cube" also utilizes 70 percent less energy per bit than DDR3 memory, it said.
PCs are not one of the primary target markets for HMC, though it is hard to predict how the memory will be used in the future, Graham said. Intel and other CPU makers are not members yet, though they have been invited to join the consortium. Intel and Micron currently are in a joint venture called IM Flash Technologies to make flash memory.
DDR4 is expected to succeed current DDR3 memory, which is now going into most new computers. Analysts have said DDR4 could reach PCs and servers by 2014 or 2015.
HMC was developed by Micron in close partnership with Intel, said Mike Howard, principal analyst of DRAM and memory at IHS iSuppli. As one of the world's largest memory makers, Samsung is a crucial partner to Micron and could help drive adoption, Howard said.
The technology involves an advanced memory controller and chips connected through an emerging silicon stacking technology called Through Silicon Via. The real promise of HMC is for server customers, and one memory cube could potentially replace 10 DDR3 DIMMs in a server.
"It really makes the memory operate faster and smarter," Howard said.
Considering the initial price, it's unlikely to go into consumer products anytime soon, Howard said. However as adoption grows and costs come down, HMC could be used in PCs, tablets and smartphones, but that could be many years out, Howard said.