It may not have arrived in the summer as past iPhones did and it may not have had the version number the blogosphere was anticipating, but the iPhone 4S has made its debut. Unveiled by Apple at a Tuesday press event, the new phone bears more than a passing resemblance to the model that preceded it. But the iPhone 4S is a decidedly new device, with internal changes and software features that set it apart from the iPhones that have come before it.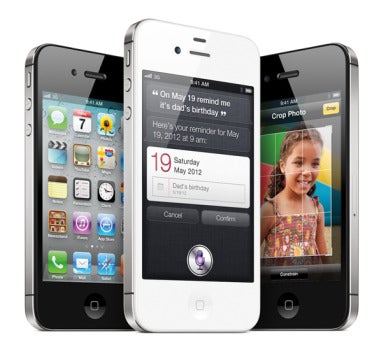 With preorders now being accepted for the iPhone 4S, we take a closer look at Apple's latest offering, answering some common questions about this new smartphone.
When can I get the iPhone 4S?
The iPhone 4S goes on sale Friday, October 14 in the U.S., U.K., Canada, Australia, France, German, and Japan on October 14. Apple expects that number to reach 70 countries by the end of 2011.
So I better start lining up now then?
Not necessarily. Apple starts taking iPhone 4S preorders on October 7. If iPhone 4S preordering works as it has for past iOS devices like the iPad, you can go online Friday, order your iPhone, and have it delivered to your home, skipping the maddening crowd outside the Apple Store entirely. Unless you particularly enjoy waiting in line, we recommend this approach.
How much will the iPhone 4S cost? What models are available?
There are six unique iPhone 4S models. That's two colors (black and white), with three different storage sizes.
In the U.S., the 16GB models costs $199, the 32GB models costs $299, and the 64GB models costs $399—each price, of course, requires a two-year service contract.
What if I don't want to sign up for a two-year contract?
Then save your pennies. Apple announced on Friday that it will be offering an unlocked version of the iPhone 4S, just as it did with the iPhone 4. However, like its predecessor, the lack of a carrier subsidy means that the unlocked iPhone 4S comes at a significant premium: $649 for the 16GB version, $749 for 32GB, and $849 for 64GB. And, an extra catch, the unlocked version won't work on Sprint or Verizon in the U.S. That means it's mainly useful for those planning on traveling overseas and popping in a local SIM in another country, or those who want to use their iPhone on T-Mobile—at EDGE speeds, since T-Mobile uses a different 3G frequency—without jailbreaking.
I've already got an iPhone. How do I know if I'm eligible for an upgrade?
We've got a complete article on upgrading to an iPhone 4S, but here are the key points about checking your eligibility: Visit Apple's website to determine whether you're upgrade eligible. AT&T subscribers can dial *639# on their iPhones to check eligibility or go to the carrier's upgrade website. Since the iPhone 4 debuted on Verizon just eight months ago, Verizon iPhone subscribers are not going to be eligible for an upgrade.
Why the iPhone 4S? Why not the iPhone 5?
Apple usually keeps the reasons behind some of its product development decisions pretty close to the vest, and the iPhone 4S is no exception. Still, the naming convention is not too big of a surprise if you take a closer look at the relatively brief upgrade history of the iPhone product line. When it came time to replace the iPhone 3G in 2009, Apple didn't name the new device "iPhone 4"; rather, it tacked on an S to make the iPhone 3GS. In that instance, the iPhone 3GS offered few changes to the iPhone 3G's case—some stylistic changes to the lettering on the back of the phone, and a oil-resistant coating for the front screen were about the only exterior modifications. In the iPhone 3G-to-iPhone 3GS transition, the biggest changes occurred to the phone's interior, and that appears to be the case with the iPhone 4S as well—hence, the name.
This phone looks the same as the iPhone 4. Are there any differences on the outside?
The iPhone 4S looks a lot like the iPhone 4—in fact, it's a dead ringer for the Verizon model of that phone. (The markings on the case of both the Verizon iPhone 4 and the iPhone 4S are slightly different from the original version of the iPhone 4, and the side buttons are shifted slightly upward.) There's one small difference between the 4S and that of the Verizon iPhone 4: a SIM card slot on the phone's right side. Since the iPhone 4S supports both GSM and CDMA networks—we'll explain what this means in greater detail below—all models feature a small tray along the right side of the frame for a GSM SIM card.
What are some of the changes on the inside?
For starters, the iPhone 4S has a faster processor—an Apple-built A5 chip, which also happens to be the processor that powers the iPad 2. It's a dual-core processor (compared to the iPhone 4's single-core A4 processor), which should mean improved performance not only for the CPU, but for graphics on the device as well.
In addition, there's a new wireless system, featuring two antennas. The iPhone 4S switches back and forth between the two when its transmitting and receiving data. Apple says the aim is better call quality and faster download speeds. It's clear that one reason Apple is trumpeting this new antenna system is the criticism the iPhone 4 received after media reports indicated that holding the phone on the bottom could attenuate the signal; in theory, this two-antenna approach means that in most cases holding the phone shouldn't have any effect on your signal. (For more on this topic, see below.)
What's more, the iPhone 4S supports a faster form of cellular data transfer. As a result, when the iPhone 4S is connected to cellular towers that support that transfer method, the maximum download speeds can be impressive. Apple claims the iPhone 4S's maximum cellular transfer speeds are 5.8Mbps for uploads and 14.4Mbps for downloads; that's the same maximum upload speed as the iPhone 4, but the rated maximum download speed on that phone was only 7.2Mbps.
So the iPhone 4S is faster than the iPhone 4?
Apple certainly says it is. At Tuesday's event, Apple senior vice president of worldwide product marketing Phil Schiller said the iPhone 4S should offer CPU performance that's twice as fast the iPhone 4, and seven times faster graphics performance. We'll have a better idea of how this translates to real-world performance once we have an iPhone 4S in hand and can run some tests.
What about battery life?
Apple is promising eight hours of talk time on 3G, 14 hours of talk time on AT&T's EDGE network, six hours of 3G browsing, nine hours of Wi-Fi, ten hours of video, and 40 hours of listening to music. The key number there is the 3G talk time—it's an hour improvement over what Apple claimed for the iPhone 4. The reason? The A5 is a more power-efficient chip, Apple says. Again, this is something we plan on testing once the iPhone 4S arrives.
I read reports about trouble with the iPhone 4's signal strength when it came out last summer. Did Apple do anything to fix the problem with the iPhone 4S?
Yes and no. You did indeed see reports about alleged issues with the iPhone 4's antenna—namely, that a measurable drop in signal could occur if you touched the iPhone in a specific spot.
Apple addressed the issue at a press event last July, explaining that all smartphones can suffer from signal attenuation when you touch them in certain spots. The company also clarified that iPhones had, until that time, displayed signal strength incorrectly, and the company issued a software update to address that issue. Apple also offered early iPhone 4 adopters free bumper cases, which alleviated the signal drop issue. In practice, though, few iPhone 4 customers ever noticed real-world problems from the supposed antenna issue—small comfort if you were one of those few, we realize.
As we've mentioned, the iPhone 4S features a new antenna design. On the original iPhone 4, touching the phone at the antenna seam on the lower left side of the device could cause the signal drop. We won't know precisely where, or if, we'll see signal attenuation is on the iPhone 4S until we get our hands all over one.
The iPhone 4 comes in CDMA and GSM versions. Is that the case for the iPhone 4S as well?
The iPhone 4S is a world phone, meaning its internals support both CDMA and GSM networks. So you can buy any iPhone 4S you'd like, and it will work on the supported network of your choosing—AT&T's, Sprint's, Verizon's, or international carriers that support those standards.
It's a significant change, particularly for world travelers. With the iPhone 4, globetrotters were inclined to purchase the AT&T/GSM-compatible model because that network standard is more prevalent outside the U.S. Now, a customer who signs up with Verizon and its CDMA-based network will be able to travel overseas more easily—when they're in a country that adheres to the GSM standard, their iPhone 4S will still be able to connect to that network and just work. (Provided you've signed up for an international roaming plan with your carrier, of course.)
So I'll be able to buy an iPhone 4S with AT&T and then switch over to Verizon later, right?
Not necessarily.
You might think that you'd be able to move from carrier to carrier since the iPhone 4S can access both GSM and CDMA networks, but it's not that simple—not even if your contract with one carrier expires. A closer look at Apple's fine print uncovers this passage: "The iPhone model you purchase is subject to your wireless service provider's policies, which may include restrictions on switching service providers and roaming, even after conclusion of any required minimum service contract."
iPhones sold with two-year contracts are "locked" to a particular carrier. There's some dispute about whether you're allowed to unlock the phone when your carrier contract lapses, but it generally is not something the carriers or Apple want to talk about. It's complicated. The short answer is, don't buy an iPhone 4S expecting that you will be able to freely move from one carrier to another. Expect to commit to a carrier and stick with it.
Are there any other carriers offering service for the iPhone 4S besides AT&T and Verizon?
Indeed. Sprint is the third U.S. carrier to get the iPhone, and in fact will carry both the iPhone 4 and iPhone 4S. Note that Sprint, like Verizon, has a CDMA-based network.
The iPhone 4 is still available? Why?
It's still a great phone. Apple now has a history of keeping previous generations of iPhones available for purchase when new models are released. You can grab the iPhone 4 (the 8GB model only) for $99 with a two-year contract. You can even get the 8GB iPhone 3GS—yes, it's not dead yet!—for free with a two-year contract. If you're looking to save some money and aren't yet on the iPhone bandwagon, both phones are fine alternatives to the iPhone 4S—though of course they lack many of its features.
What's new with the camera?
Plenty. The iPhone 4S's rear-facing camera is 8 megapixels. (The Phone 4 offers a 5-megapixel camera). The camera also boasts an improved custom lens and a wider f/2.4 aperture to allow in more light—that should provide brighter colors and better lowlight performance. Apple says you can print 8.5-by-11-inch iPhone 4S photographs, and that they'll be literally pixel-perfect.
The camera also leverages an image signal processor that's part of the A5 chip that powers the phone. Apple claims that the processor rivals the ones you might find in DSLR cameras. That processor, Apple says, should help you take pictures faster, with more vivid colors and better white balance. The processor also helps focus and balance exposure as you snap photos, with the ability to detect up to ten faces in a group shot.
What about shooting video—has that changed at all?
Yes. The iPhone 4S's rear-facing camera can now shoot HD video at much higher resolution than the iPhone 4. The previous model was limited to 720p (1280 by 720 pixels) while the 4S shoots up to 1080p (1920 by 1080 pixels), and still at 30 frames per second. Be aware that those 1080p videos will also take up a lot more room on your iPhone and computer if you download them for keeping.
Do those changes affect the front-facing camera as well?
Sadly, no. The front camera is the same, lower-resolution VGA camera that's on the iPhone 4. So both photo and video quality remain the same as before.
I keep hearing about something called Siri. What does it do?
Whatever you tell it to.
But seriously, Siri is a voice-command feature built into the iPhone 4S that responds to natural-language requests. Siri can even speak to you.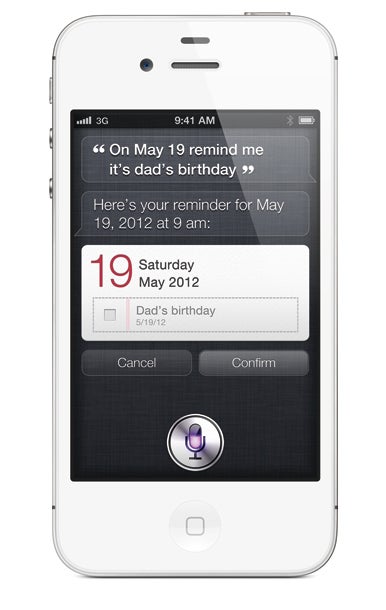 You trigger Siri by pressing and holding the Home button for a second or two. Then, you can ask Siri questions or provide instructions. It's easiest to understand just what Siri can do by reading a sample exchange that Apple says Siri could conduct:
You: Is it going to be chilly in San Francisco this weekend?

Siri: Not too cold. Maybe down to 61 degrees in San Francisco.

You: What about Napa Valley?

Siri: Doesn't seem like it. It won't get below 68 degrees.
Siri is more than just a talking weather widget, though. You can give Siri commands, like scheduling a meeting at 4 p.m.; if you've already got a meeting scheduled at that time, Siri will alert you verbally about the conflict. You can also tell Siri to remind you to do something when you get home or leave work, using iOS 5's Reminders app. Since you can tell Siri about important people or places in your life ("my wife," "work"), it can understand what contact or address you mean when you use such terms.
Siri can announce new notifications as they arrive ("New email from Dan Moren"), read those messages aloud, and transcribe (and send) a reply that you dictate, all through speech commands.
Though separate from Siri, it's also worth noting that the iPhone 4S includes transcription services anywhere you can use the virtual keyboard. Tap the new microphone icon, and the phone starts listening. When you finish speaking, the iPhone 4S quickly sends your recording out to Apple's servers, which then send the transcribed text back. The whole process takes just seconds.
If I don't upgrade to an iPhone 4S, I'll still be able to use Siri when I get the iOS 5 update for my current phone, right?
So far, Apple has said that only the iPhone 4S will include Siri functionality. You can upgrade your iPhone 4 or 3GS or your iPad to iOS 5, but for the moment, Siri is limited to the iPhone 4S. Interestingly, Apple is calling the initial release of Siri a "beta," and the company hasn't clarified whether the 4S requirement is a hardware limitation. If Siri simply requires the iPhone 4S's A5 processor, it's not hard to imagine the functionality could one day come to the iPad 2, which includes the same chip. Given that the Siri app on which Siri is based works on the iPhone 4, perhaps that model may even get the feature eventually—though we wouldn't bet on it. But we just don't know for sure.
Will my current accessories work with the iPhone 4S?
Because the iPhone 4S has almost exactly the same form as the iPhone 4, most accessories compatible with the 4 will also work with the 4S. As we mentioned earlier, the 4S appears to have the same layout for the volume buttons and Ring/Silent switch as the Verizon (CDMA) iPhone 4, so some early iPhone 4 cases designed for the AT&T (GSM) model might not fit those controls perfectly. But newer cases, as well as those designed for the Verizon iPhone 4, should fit the iPhone 4S fine. We'll be testing the iPhone 4S with other accessories, so stay tuned for further updates.
Updated at 8:30 a.m. PT with information about the unlocked iPhone 4S.
iPhone 4S family
Price When Reviewed:
$599