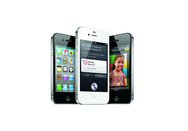 Early Friday morning, Apple revealed that if you'd like to purchase an unlocked iPhone 4S, you'll be able to do so come November.
While U.S. carriers Sprint, AT&T, and Verizon began accepting iPhone 4S preorders Friday, some customers may prefer a phone that's not locked to any specific carrier. Until Friday, Apple hadn't announced whether an unlocked iPhone 4S phone would be available. ( Apple first offering an unlocked version of the iPhone 4 in June 2011.)
An option on Apple's iPhone 4S preordering site reveals that an unlocked, carrier-free iPhone 4S will arrive in November, though Apple still hasn't given a specific date.
Apple notes that, even though the iPhone 4S is a world phone with GSM and CDMA capabilities, the unlocked iPhone 4S can only be used with GSM carriers like AT&T. While it's possible to get an unlocked iPhone working on T-Mobile—and even easier now that T-Mobile offers Micro-SIM cards—you're limited to 2G speeds on T-Mobile's network.
The unlocked iPhone 4S will cost $649 for the 16GB version, $749 for the 32GB version, and $849 for the 64GB version. As with the unlocked iPhone 4, the iPhone 4S prices are significantly higher than the $199 to $399 price range of the carrier-locked phones, since the required two-year contract with locked phones subsidizes the rest of the purchase price.

iPhone 4S family
Price When Reviewed:
$599