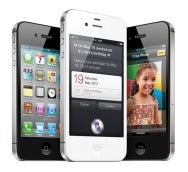 As promised, Apple began accepting iPhone 4S preorders in the wee hours of Friday morning, although the initial preorder launch suffered just the sort of snafus you'd expect.
In theory, the preorder window was meant to open just after midnight Pacific time, but the virtual Post-It note that characterizes an updating online Apple Store remained in place until at least 12:40 a.m. Once the store did become available, numerous customers—including various Macworld staffers—found themselves stuck in a Möbius loop of errors and loading screens.
Over time, those errors were smoothed out. Now, customers can preorder the iPhone 4S from Sprint, AT&T, or Verizon. If you prefer to eschew the online Apple Store, you can also go to the carriers' websites directly. (Can't decide which carrier is right for you? Macworld can help.)
When Apple's preorder process went live, the company for the first time indicated that an unlocked version of the iPhone 4S will be available for U.S. customers come November.