At a Glance
Expert's Rating
Pros
Easy RAID configuration
Great transfer speeds
Portable design
Cons
RAID tools incompatible with Lion during review
Short connection cables
Sluggish Photoshop results
Our Verdict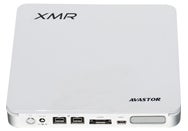 Avastor's latest RAID array, the XMR Mobile RAID Drive, offers an easy-to-carry design, multiple connection ports, and transfer speeds that closely rival other portable arrays.
Looking similar to an older Mac mini horizontally cut-in-half, the XMR has a smooth aluminum body that's covered by a white plastic top that bears the drive's name and company logo. The array measures exactly 6 by 6 inches and is just 0.9 inches tall. It weighs just a little over a pound, great for taking it with you on your travels.
All of the array's buttons and ports are on the front of the device. That includes a pair of FireWire 800 ports, one eSATA port, one USB 2.0 port, a power button, activity lights that indicate drive and array action, and power input for connecting to an electrical outlet.
Along with the array, you get a Quick Start Guide, a nifty neoprene protective sleeve, and a power adapter for when you're using with USB 2.0 or eSATA (when using FireWire 800, the drive is bus-powered). You also get all the cables you need, even a FireWire 800 to FireWire 400 cable for use with an older Mac. However, some of the supplied cables were really short. The FireWire 800 cable measured just under 1.75 feet and the USB cable about a foot, so unless you want to use the array very close to you, consider getting longer cables.
The bundled CD that includes a user manual also has Avastor's RAID Master 1.6.1 software, which is compatible with OS X 10.6.8 and earlier—the software is not compatible with the latest version of OS X, Lion. Avastor says it working on an update.
Our 1.5TB test unit contained a pair of 2.5-inch Seagate Momentus 7200-rpm hard drives, situated as RAID 0 and preformatted for OS X. With RAID Master, you can change the array setup to RAID 1 Redundancy, SPAN, or JBOD configuration (though you'll have to initialize it through Disk Utility afterwards). The software was very easy to use, so newcomers to RAID should feel comfortable changing settings, but doing so will erase any data you have in your array.
In our tests, the XMR posted competitive speeds, compared to other portable RAID arrays. In RAID 0, it bested both the CRU-DataPort ToughTech Duo ( ) and the OWC Mercury Elite-AL Pro Dual Mini ( ) in USB 2.0 read speeds, copying a 2GB folder of data back to our test bed at 37.4MBps and a 2GB file at 38.4MBps. The XMR performed even better when set to RAID 1, writing a 2GB file at 33.3MBps over USB 2.0 and 72.2MBps through FireWire 800. It then got the best AJA System test writing score of 70.1MBps via FireWire, surpassing the previously mentioned portable arrays.
The XMR didn't do so well in our Photoshop test. It took the array 90 seconds connected to USB 2.0 and 76 seconds through FireWire 800 to complete the trial in RAID 0, and 85 seconds via USB and 64 seconds when set to RAID 1. All four of those results were more sluggish that what the other array's achieved in any RAID mode. It should be noted that we usually don't see much speed difference between RAID 0 and RAID 1 in two-drive arrays.
Macworld's buying advice
Small size, easy configuration, and competitive transfer speeds—great reasons to get the XMR Mobile RAID Drive. It didn't do so great tackling Photoshop, but if you're looking for a small array to carry your information around, the XMR would be a good option for what you need, provided that you haven't made the switch to Lion yet.