Brick People, a Japanese import from Sega, is fun and frenetic—and just a little bit frustrating.
The game recreates a Japanese arcade sensation where you stack Lego-esque bricks on top of one another to help the round-headed Brick People climb upward toward out-of-reach food. The arcade version of Brick People uses actual bricks stacked up against the game's display. That's a non-starter with iOS devices, so Sega has adapted the game to have you slide bricks from the side of the screen with your finger. It's an easy-to-grasp control scheme that makes good use of the iOS platform's touch interface.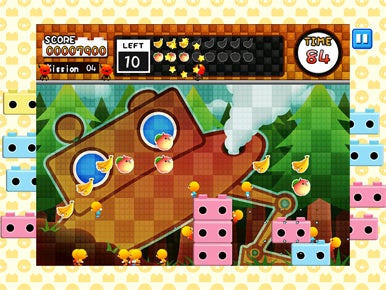 Gameplay is easy to grasp too, even if an indecipherable backstory involving the Brick People, their Brick Monster tormentors, and UFOs is not. In each stage, you stack bricks to help the Brick People munch down on food. Occasionally, you have to collect objects in order—for each pepper the Brick People eat, they then have to grab a drop of water. You're racing against the clock, but don't worry if time runs out; you can opt to continue, with the 100 seconds of added time counting against your final score. Every couple of stages, the Brick Monsters show up for a bonus game where you're forced to drag bricks to build specific objects; build the object fast enough, and you get a few welcome seconds of bonus time added back to the clock. Really, it all makes sense when you play the game.
What doesn't make sense is the fact that there doesn't appear to be a way to easily save your progress through a game. From what I can tell, once you've started a Brick People session, you've got to play every mission in a given stage to log a final score; I couldn't find a way to stop the game and resume play later, which doesn't make Brick People that appealing as a casual game option. Getting through the 10 missions and bonus stages of Easy is doable, but the 20 stages of Normal mode requires a pretty substantial time commitment. I wish Brick People offered a way to save your progress and come back to a game later on—or if that capability does exist make it easier for players to discover.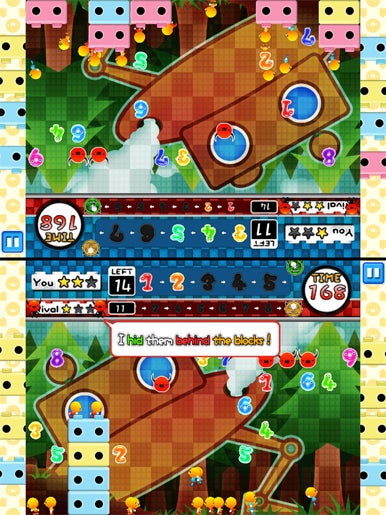 In addition to the Easy and Normal modes, Brick People offers a Hard mode, too, so that's three different levels of gameplay aimed at appealing to players of different skill. Besides this single-player mode, you can also challenge a human opponent via Wi-Fi or Bluetooth. The iPad version, Brick People HD, adds a second versus mode, in which you can face off against an opponent from the opposite site of your tablet. (For what it's worth, I also found it slightly easier to play Brick People in the iPad-optimized version, thanks to that device's larger screen, though the game is certainly playable on the iPhone and iPod touch.)
In an App Store that's increasingly becoming crowded with copycats, Brick People certainly stands out as a weirdly wonderful original. While not quite what you'd call a casual game, it's accessible to gamers of all ages and skill levels. If you've come to the conclusion that too much of the App Store's game section is becoming the same old same-old, either Brick People or Brick People HD deserves a trial run on your iOS device.
[Philip Michaels is the editor of Macworld.com.]