There was no apology for the apology. But three weeks after it announced Qwikster, the spinoff that incorporated the company's DVD rental service, Netflix on Monday morning reversed course, declaring that it would keep its DVD and streaming video services under one roof.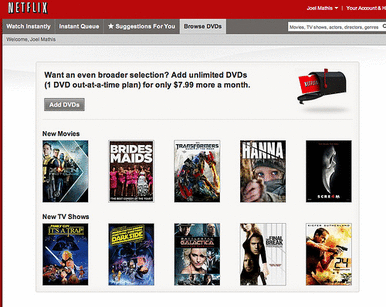 Netflix CEO Reed Hastings skipped a redux of the oft-mocked apology that was part of his September 19 announcement, instead tersely spelling out the change in a morning blog post. "It is clear that for many of our members two websites would make things more difficult," he wrote, "so we are going to keep Netflix as one place to go for streaming and DVDs."
Left unclear is the future of the game-rental service that Hastings had said would be part of the new-but-now-defunct Qwikster service. (On Monday, Qwikster's URL was re-directing to the Netflix site.) And left entirely unmentioned was whether the reversal might allow for another backtrack—enabling users of the Netflix iOS app to once again manage their DVD queues from their iPad or iPhone.
Monday's reversal is a concession to growing consumer hostility for the once-popular video service. The company announced in September that it had lost one million customers due to its initial price restructuring—and its stock price had dropped, too. The company also recently announced the impending loss of Starz content as part of its streaming video package.
Netflix officials have tried to stop the bleeding caused by the loss of Starz; Hastings wrote Monday that the streaming service has recently added "hundreds" of new movies from the major Hollywood studios, as well as 3500 television episodes from a variety of networks. For all the attention paid to Netflix's deals with movie studios, the TV additions may prove more lucrative for the company; Netflix recently revealed that viewers mostly watch old television episodes on the streaming service.
Netflix is also apparently preparing to develop its own original content, including bidding to produce new episodes of older-but-loved shows like Arrested Development and Reno 911. Reviving the much-missed Arrested Development, in particular, might revive Netflix's now-damaged reputation among customers. Until then, the Qwikster announcement—and near-immediate reversal—seem to stand a good chance of going down in corporate annals alongside such branding disasters as New Coke.