iOS 5 has hit the stage, and eager users everywhere are getting ready to upgrade their devices. If you're concerned about the upgrade process, or simply want to know all your setup options before making the big switch, let us help you upgrade your iPhone, iPod touch, or iPad to iOS 5 with this step-by-step guide.
What devices will run iOS 5?
Before we get into the upgrade process itself, you'll want to make sure you actually have a compatible device. Because of new features and enhanced graphical animations, iOS 5 may require more processing power than your device offers; as such, Apple has limited the operating system to the following models:
iPhone models: iPhone 3GS, iPhone 4, iPhone 4S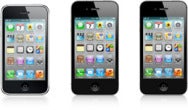 iPad models: iPad (no support for Multitasking Gestures, though), iPad 2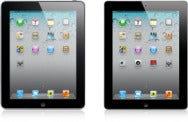 iPod touch models: iPod touch (third generation), iPod touch (fourth generation)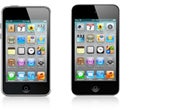 If you have an original iPhone, iPhone 3G, or first- or second-generation iPod touch, you'll have to stick with your current version of iOS. (Which, if you remember some of the hullabaloo over the iPhone 3G running iOS 4, may be the better option.)
Ready, set, prep
Now that you've double-checked that your device is capable of running iOS 5, here's what you need to upgrade: your iPhone, iPod touch, or iPad; your computer; and the latest version of iTunes. (If you don't have it, you can download it from Apple's website.)
Macworld also suggests that you make a backup of your device before proceeding: If you're doing a straight update, a backup prevents you from losing any data in case something goes wonky down the line; if you're doing a full restore of your device before you install iOS 5, you'll need a recent backup to recover your information.
To make a backup, connect your device to your computer via USB, open iTunes, select your device, and press the Sync button. This should automatically update your iTunes backup with any extra relavent information. If your device is already plugged into your computer, you can also control-click on the device in the iTunes Source List and select Back Up from the subsequent drop-down menu.
Update your device
In theory, when you open iTunes with a compatible device connected, you'll be prompted to download iOS 5. In practice, this may not appear automatically—the update may not have automatically propagated to the server your copy of iTunes checks with, or iTunes may have hiccupped. But never fear: You can force iTunes to check for an update by clicking on the Check For Update button in the Summary pane for your device.
Assuming that everything is working properly, iOS 5 should begin downloading from the iTunes server to your computer. You can do other tasks while waiting for the download to finish; once it does, your device will restart and begin installing the software.
If you'd like to restore your device—that is, do a fresh install of iOS 5 and then re-upload your backed up settings—you'll want to click the Restore button instead of Check For Update. You'll download iOS 5, like above, but instead of doing a direct update from iOS 4 to iOS 5, your device will restore itself to factory settings before installing the new OS.
The post-PC walkthrough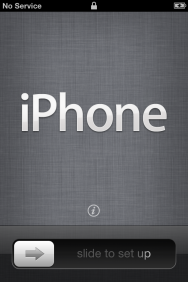 Unlike previous iOS upgrades, once the software finishes installing, you can activate and set everything up directly on the device itself—no computer intervention necessary. (Any subsequent iOS updates can even be done over-the-air, as mentioned later in this article.)
Once the update finishes installing, you're greeted with a welcome screen displaying the message "Slide to set up" in a variety of different languages. (If you need quick access to your device's IMEI or ICCID number without finishing the setup, you can tap the information button located directly above the slider.)
To begin the setup process, you're asked if you'd like to enable Location Services. This allows Apple apps (and third-party apps) to access your location via Wi-Fi networks and your GPS (Global Positioning System) location.
Following that, your device will check for any Wi-Fi networks in the area for you to connect to; if there aren't any, or if you're on an iPhone or 3G-enabled iPad and would rather use your cellular service, just tap the Next button.
Did you restore your device?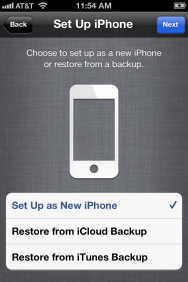 If you're updating from a clean slate, you'll need to decide whether you want to set your device up from scratch, restore it from an iCloud backup, or restore from an iTunes backup. (If you're updating from iOS 4, you can ignore this section.)
Chances are—unless you're a developer—that if you're updating to iOS 5 on launch day, you haven't used iCloud's Backup feature to keep a copy of your device's settings. And, since iOS 4 devices can't even back up to iCloud, the only way you could use this feature would be to restore your device using the backup of another device currently running iOS 5.
All that said, if you have an iCloud account, have made a backup of a different iOS 5-enabled device, and want to restore this image to your current device, you can do so by tapping Restore From iCloud Backup. Sign into your account, agree to Apple's terms and conditions, then choose which backup file you'd like to use, and tap the blue Restore button in the top right corner of the screen. (Depending on the speed of your Wi-Fi connection, this process can take anywhere from a few minutes to a few hours.)
More likely, you'll want to restore from the iTunes backup you made before downloading iOS 5. (You did make a backup, right?) To do so, tap Restore From iTunes Backup, and you'll be brought to the Connect to iTunes screen. Assuming you've stayed connected to your computer, just open iTunes (if you haven't, re-connect your device). After selecting your device, you'll see the Set Up Your Device screen, which asks if you'd like to set it up from scratch or restore from a specific backup. Choose restore, select the latest backup from the drop-down menu, and click the Continue button to proceed. (This process is significantly faster than an iCloud restore, as you're transferring data over USB, rather than via Wi-Fi.)
Associate an Apple ID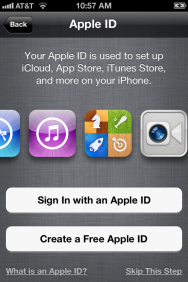 Before continuing your setup—whether you're setting up your device from scratch or doing a simple upgrade—you need to decide if you're going to associate your Apple ID with this device. You'll use your Apple ID to buy music, apps, books from the iBookstore, and associate it with iCloud (if you choose to).
What's an Apple ID?: If you've ever purchased something from the iTunes Store, you'll have signed up for an Apple ID—it's usually your primary email address. Your login information for Apple's MobileMe or iCloud service should also work when signing in.
Use your current Apple ID: Already have an Apple ID? Tap the Sign In With An Apple ID button and enter your username (usually your email address) and password. Apple will then spend a few moments linking your device to your Apple ID.
Sign up for a new Apple ID: If you don't have an Apple ID, it's easy enough to create one by tapping the Create A Free Apple ID button. You'll need to enter your birthday, name, your email address (or create a new iCloud email address), a password, a security question (in case you forget your password), and whether you'd like to receive email updates from Apple.
No Apple ID for me: If you'd rather not set up an Apple ID, you can tap the Skip This Step link in the lower right corner. You can always add or create one from the Settings app later, but note that you won't be able to buy anything on the iTunes Store or set up iCloud until you do.
To the cloud… and beyond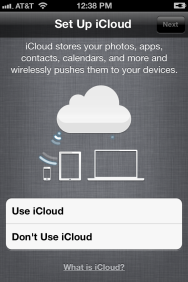 If you've chosen to set up or register an Apple ID, you can also enable iCloud on your device. iCloud is an umbrella term for Apple's collection of sync services, and allows you to sync your photos, apps, contacts, calendars, and mail across multiple devices.
Choose to set up iCloud, and you'll first be asked whether you'd like to enable iCloud backups for your device. If you do so, you can have your device back up all essential settings to your iCloud account; if you ever need to restore, you can do so over Wi-Fi without an additional computer. You can also elect to have your device back up to your computer using iTunes. Additionally, you'll be asked whether you'd like to opt-in to iCloud's Find My device service. This will enable location monitoring for your device, allowing you to find it using your Apple ID and the Find My iPhone app, should it go missing.
Once you finish the setup process, you'll be asked if you'd like to send Apple anonymous diagnostics and usage information (similar to a desktop crash report). And with that, congratulations! You're ready to begin using iOS 5.
The future of iOS updates
This may be the last time you have to go through iTunes to update your iOS device, thanks to iOS 5's new Software Update feature. With it, you'll be able to download all future software updates over-the-air.
Install updates on your device: If you've ever used an iOS device before, you're probably fairly familiar with the process of downloading app updates from the App Store app: When a little red badge appears in the upper right corner of the App Store icon, you open the App Store, navigate to the Updates tab, and download your app updates all at once, or one by one. The Software Update process for iOS 5 is remarkably similar; but instead of going to the App Store, you go to the Settings app for any system updates.
Like the App Store, your device perpetually checks for new software updates in the background. When one is available, you see a red badge appear on the Settings app; to download it, open the app and navigate to General -> Software Update. There, you see some brief information about the update and a button to install it. You can also force the system to check for an update by navigating to the Software Update pane.
Because these iOS updates are "delta updates" (they contain only the parts of the system that have changed, so you don't have to download the entire system each time there is an update), they're smaller; therefore, you can download them just about anywhere you have a decent 3G or Wi-Fi connection—on the bus, at home, walking down the street, you name it. To install these updates, however, you need to have at least 50 percent battery life on your device, or have it plugged into a power source.
And just as a friendly reminder: Even though you can install these updates anywhere, you should always (always, always) back up your device before you do. You can use Wi-Fi Sync to back up to your computer, or, if you have iCloud Backup enabled, you can use that.
Install Updates from Your Computer: Maybe you're not that adventurous, and you'd prefer to install your software update the old-fashioned way. No problem: Just connect your device to your computer and check for updates in iTunes. (If you're using Wi-Fi Sync, you can also do this by plugging your device into a power source and connecting it and your computer to the same Wi-Fi network, and then opening iTunes.)
[Serenity Caldwell is a staff editor for Macworld.]