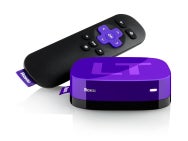 On Tuesday, Roku introduced a new entry-level model to its streaming video player lineup, and announced the imminent addition of an HBO Go channel for all Roku devices.
The $50 Roku LT is the least expensive Roku model, and comes in a special edition purple color. Like the $60 Roku 2 HD, the LT supports 720p video and has built-in wireless networking. But unlike the members of the Roku 2 family ( ), the LT forgos Bluetooth and a microSD card slot (which also means it can't enjoy the Roku 2's new gaming options). The Roku LT should be available in early November.
At the same time, Roku announced a new HBO Go channel—a service currently available via iOS app and select cable companies—that allows those who subscribe to HBO via their cable or satellite provider to additionally stream every episode of every HBO show produced for no additional charge (more than 1400 titles, according to HBO).
Older series include The Wire, The Sopranos, Six Feet Under, Rome, and Deadwood. Those looking for more recent fare will find Flight of the Conchords, The Ricky Gervais Show, Entourage, Game of Thrones, Boardwalk Empire, and True Blood. Additionally, you can use HBO Go to stream movies currently playing on HBO such as Harry Potter and the Deathly Hallows (Part 1), Get Him to the Greek, and Crazy Heart. HBO Go is expected to be available on all Roku players by the end of October.
Roku players support more than 300 channels, including Netflix, Hulu Plus, Amazon Instant Video, and several professional sports subscription options.