At a Glance
Expert's Rating
Our Verdict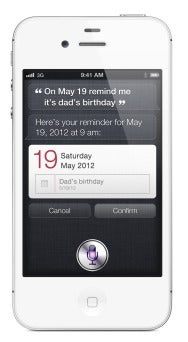 The initial reaction to the announcement of the iPhone 4S was muted.
First there's that name: It's the old phone's name with an S attached to it. As the iPhone 3GS taught us, adding an S to an iPhone's name can represent numerous under-the-hood improvements, but it doesn't send shivers down your spine like incrementing a number by one and unveiling a redesigned exterior with mind-blowing features that may or may not include anti-gravity.
Apple's never going to win a competition with the wildest imaginations of tech bloggers. But the company seems to be doing OK in the business of building phones. The iPhone 4, which remained more or less unchanged for 15 months as approximately a zillion Android smartphone models came and went, has consistently been the best-selling smartphone around.
Now here comes the iPhone 4S, which is more of a good thing: It takes the successful look of the iPhone 4 and tosses in a dual-core processor for dramatically improved speed, an upgraded camera, and some brand-new voice-command technologies.
Feels like an iPhone
It's a classic look, easily my favorite of all the iPhone designs to date. The fit and finish are immaculate; not a single thing about the iPhone 4S feels cheap. In terms of styling, the iPhone 4 feels like the most expensive electric razor ever made, or maybe like a finely-tuned luxury watch.
The same eye-popping 960-by-640-pixel screen introduced with the iPhone 4 is present on the iPhone 4S, too. Dubbed the "Retina display" by Apple, it's got a screen resolution of 326 pixels per inch, meaning that the average human eye can't even see individual pixels. The result is marvelous. Reading text is like looking at a printed page. High-definition videos and photos display tiny details.
With the exception of a micro-SIM card slot on the right side, the iPhone 4S is a dead ringer for the Verizon/CDMA version of the iPhone 4 introduced in February. Extremely precise cases designed specifically for the original iPhone 4 may have trouble fitting over the ring/silent switch and the volume buttons of the iPhone 4S, which are slightly shifted from their position on the GSM iPhone 4; precision cases for the Verizon iPhone 4 and less-precise iPhone 4 cases will have no trouble.
On the front of the phone there's a VGA-quality camera (640-by-480 pixels) that's designed to be used for video chatting, either via Apple's FaceTime technology or via a third-party app such as Skype or Google+. This, too, is unchanged from the specs of the iPhone 4.
In essence, only a Sherlockian attention to detail would allow you to differentiate between the GSM (AT&T) iPhone 4, CDMA (Verizon) iPhone 4, and the iPhone 4S. (Budding detectives: The symmetrical black lines on both sides of the phone are the sign it's not a GSM iPhone 4; if there's no micro-SIM slot on the right side, it's the CDMA iPhone 4; if the lines are symmetrical but the slot is there, it's the iPhone 4S.)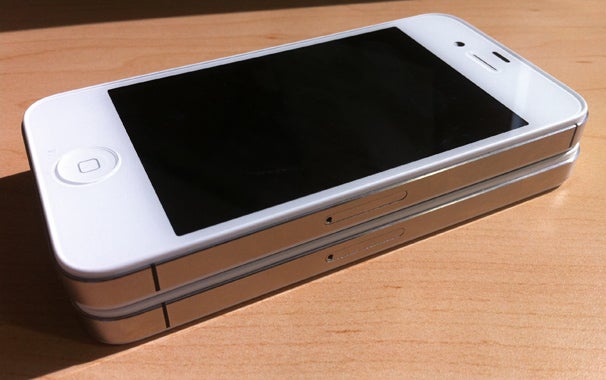 This does not mean that the iPhone 4S is essentially the iPhone 4 with the benefit of an extra letter. Because on the inside, the iPhone 4S is dramatically different from the iPhone 4.
Speedy 4S
Like the iPad 2 before it, the iPhone 4S is powered by an Apple-designed A5 processor. This is a dual-core processor that's one generation more advanced than the A4 processor that powered the iPhone 4 and the original iPad.
Two processor cores don't necessarily mean the iPhone 4S is twice as fast as the iPhone 4—that has a lot to do with how efficiently a device's software can take advantage of spreading the workload across both cores. But the 4S's upgraded processor definitely provides a large speed boost, akin to the upgrade from the original iPad to the iPad 2.
The results of my general-performance tests showed the iPhone 4S to be roughly twice as fast as the iPhone 4. Apple claims graphics performance on the iPhone 4S has been boosted even more by the graphics component of the A5, with speed gains of as much as 7x. That's a best-case scenario, but my tests with the GLBench Pro graphics benchmarking app did show enhanced graphics performance. One 3D test sequence played at roughly five times the frame rate of the same scene on the iPhone 4; another was roughly double the frame rate.
Of course, many people won't be upgrading to the iPhone 4S from the iPhone 4, due to those pesky two-year phone contracts that cell carriers insist on. But a whole lot of people will be upgrading from two-year-old iPhone 3GSes. 3GS users will see an even larger speed increase, of course. The 4S had more than double the score on the GeekBench testing app, and loaded a test webpage in a third of the time.
The only iOS device in existence that can match up—and even beat—the iPhone 4S is the iPad 2. In most of my tests, the iPad 2 was slightly faster than the iPhone 4S. (The original iPad was similarly faster than the iPhone 4, in fact.) Of course, the iPad 2 doesn't fit in your pocket, unless you have unusually large pockets or are a clown, or both.
iOS speed tests
| | GeekBench 2.1.9 | Sunspider 0.9.1 | Webpage | GlBench Egypt | GLBench Egypt High | GLBench Pro | GLBench Pro High |
| --- | --- | --- | --- | --- | --- | --- | --- |
| iPhone 4S | 625 | 2.2 | 6.6 | 59 | 58 | 59 | 50 |
| iPad 2 | 716 | 1.8 | 6 | 59 | 56.5 | 59.1 | 58.4 |
| iPhone 3GS (iOS 4) | 273 | 14 | 20 | 18.7 | 18.7 | 30.6 | 25.9 |
| iPhone 4 | 373 | 3.6 | 13 | 14.1 | 10.6 | 22.1 | 17.6 |
| iPad (iOS 4) | 451 | 3.2 | 12 | 8.7 | 6.6 | 18 | 14 |
| iPhone 3G (iOS 4) | 138 | 39 | 45 | N/A | N/A | N/A | N/A |
Apple claims that talk time on the iPhone 4S's battery is actually an hour longer than on the iPhone 4, but that Wi-Fi surfing will drain the battery an hour sooner. Apple says that the innards of the iPhone 4S have been entirely redesigned—so many components have changed, there's no simple explanation for the change in the company's battery-life claims. It seems clear, though, that some components are more energy efficient than on the iPhone 4 (I'm looking at you, cellular radio) while others eat more power (dual-core A5 processor).
The end result is a phone that offers largely the same battery life as the iPhone 4. However, I didn't get a chance to run any dedicated battery tests on the iPhone 4S. In general usage, it didn't seem to run out of battery any faster than my trusty iPhone 4.
A tale of two technologies
When Apple released the Verizon-compatible version of the iPhone 4 in February, the previously-simple iPhone product line got a little more complicated. That's because Verizon's network in the U.S. uses a different wireless standard (CDMA) than the networks the iPhone had previously supported, all of which (including AT&T in the U.S.) used the more common GSM wireless standard.
Verizon and Sprint both still use CDMA networks in the United States, but that fact no longer causes a product schism: The iPhone 4S can connect to either CDMA or GSM networks. That's a big deal for Apple, which no longer has to build two different versions of the same phone, but it's less dramatic a change for regular users.
That's primarily because most iPhones are sold as a part of a package deal that includes a two-year contract with a specific wireless carrier. The phone you get as a part of that deal is locked, which is to say it's tied to the carrier you got it from and can't easily be moved to a different one.
There is one scenario, however, in which this new phone design becomes a big deal: international travel. Users of iPhones locked to AT&T have always been able to travel internationally, since GSM is a cellular standard that is supported all over the world. Users of the CDMA iPhone 4 (the "Verizon iPhone," though that model will also now be available from Sprint) couldn't travel reliably with the phone internationally, since it only supported the CDMA wireless standard, which isn't that widely used outside of North America and parts of Asia.
With the iPhone 4S, this is no longer a problem. The iPhone 4S can use CDMA when in the U.S., but will switch to GSM when in a country without any CDMA networks. By default you'll pay Sprint or Verizon's international roaming rates and use their preferred overseas partners. But Sprint and Verizon will also let you buy and use local pre-paid micro-SIM cards, which offer much more affordable rates for overseas data and voice. It's a big advantage for Sprint and Verizon. (For more details, check out my story about the iPhone 4S as a "world phone.")
AT&T does have one clear advantage over the other carriers in the U.S., however: speed. In February I discovered that the Verizon 3G network was more reliable than AT&T's, but was also noticeably slower. Though many carriers are rolling out 4G networks in the U.S., the iPhone 4S does not support them. (AT&T has been slower at rolling out a 4G network, but it's got a very fast 3G network—and the iPhone 4S takes advantage.)
As a result, the theoretical maximum 3G download speed of the iPhone 4S is 14.4Mbps, double the 7.2Mbps limit on the iPhone 4. (In contrast, CDMA's theoretical maximum download speed is 3.1Mbps.) Still, in my tests I couldn't get download speeds above 4.2Mbps on AT&T's 3G network in the San Francisco area.
Antennas in action

And so, finally, we come to the antennas. Apple says that the antennas on the iPhone 4 have been completely redesigned. The phone constantly assesses the quality of its connection to the cellular network and dynamically switches between two antennas, both embedded in its metallic outer ring.
The iPhone 4, in contrast, could use only one of those two antennas for cellular coverage (the other was—and still remains—used for Bluetooth, Wi-Fi, and GPS reception). This led to a peculiar result: If you held the iPhone 4 just right, covering up the bottom left corner of the device, you could attenuate the cellular signal and (depending on the strength of that signal) even lose your connection altogether.
That finding turned into a huge public-relations issue, unimaginatively dubbed "antennagate." Apple called a press conference to explain the issue and offer compensation for iPhone 4 owners who felt they'd been let down. In the end, the iPhone 4 was still a huge success, despite the fact that Consumer Reports refused to endorse it over the antenna issue.
Still, you'd figure that the criticism stung Apple enough for the company to make sure it wouldn't be burned by this particular issue ever again. And you'd be right. The dynamic switching between two different antennas means that there's no way you will be able to "death grip" the iPhone 4S unless you are trying to literally strangle your phone.
In all my tests, the old iPhone 4 "death grip" had no impact on the speed of cellular downloads on the iPhone 4S, nor did a reverse grip at the top of the phone. Only when I took both hands and performed a "death grip" that covered the entire phone (or at least touched all four corners of the phone simultaneously) did I see any signal attenuation.
The iPhone 4 antenna issue probably garnered more attention than the true scope of the problem deserved. Lots of cell phones have attenuation issues. In more than a year of heavy iPhone 4 use, I've rarely changed how I held the phone in hopes of getting a better cellular signal. It happened, yes, but no more than a half-dozen times. Still, I am happy to report that it seems that Apple has eradicated this problem entirely. If you shied away from the iPhone 4 because of attenuation issues, it's safe to go back in the water.
Higher-def camera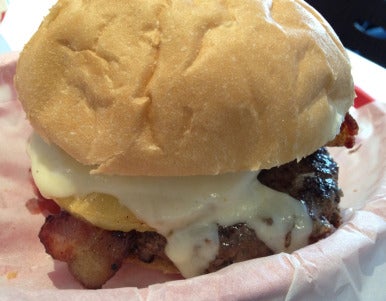 After the original iPhone and the iPhone 3G shipped with poor cameras, Apple seems to have been on a mission to improve the iPhone's ability as a picture taker. The iPhone 3GS had an upgraded camera, but it was really with the iPhone 4 that the iPhone's camera became worthy of the rest of the device.
The iPhone 4S upgrades the camera yet again, and while it's a clear improvement, it's not as huge a jump as the the one from the iPhone 3GS. The 4S offers eight megapixels of resolution (2448-by-3264 pixels) along with a bunch of improvements to optics and a wider (f/2.4) aperture. The iPhone 4S also shoots video at 1080p, quite a bit higher resolution than the iPhone 4's 720p. (This means all your video files will be larger. There's no way to tell the iPhone 4S to shoot at a lower resolution.)
To test the iPhone 4S's camera, I took still photos and video using Macworld's standard battery of camera tests and compared them to samples from four Android smartphones, the iPhone 4, and a Nikon Coolpix point-and-shoot camera. I prefered the images from the iPhone 4S, with the Samsung Galaxy S II coming in second. The iPhone 4S excelled in flash and exposure tests and looked better on our clarity tests. I also ranked it best on the low-light video test, though it was comparable with all the other smartphones at full-light video.
I also took the camera outside and took some shots in daylight in my neighborhood. The results were similarly impressive. I'll include, for comparison's sake, a representative sample so you can see how far the iPhone's camera has come since the days of the original model.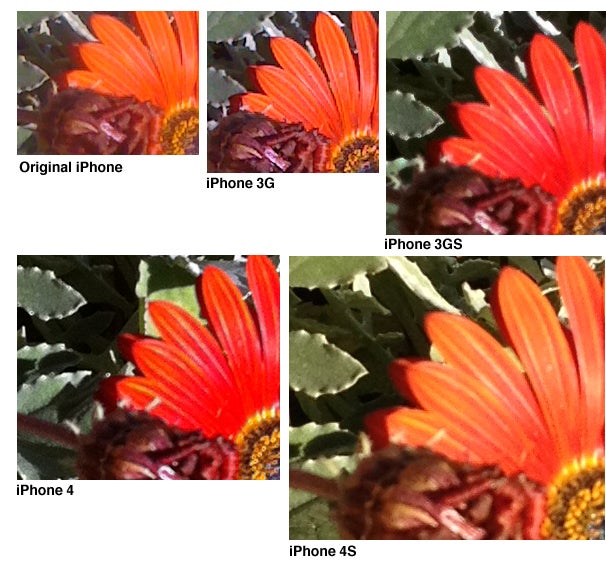 But there's more to the iPhone 4S's camera than just its physical components. Apple is also using the power of the A5 processor (and its integrated signal processor) in numerous ways: There's image stabilization of video as you shoot it and a face-detection algorithm to help ensure that your subjects are properly focused and exposed.
Most important, the iPhone 4S's speed and some changes to iOS 5 work to solve the biggest failing of the iPhone camera up until now, namely the length of time it takes to get from your pocket to the moment when you can take a picture. In the past, this could be a laborious process: Pull out the phone, slide to unlock, enter in a security code if you've enabled one, find the Camera app (which might even be tucked away inside a folder), launch it, and then wait as the iPhone wakes up its camera and finally shows you an image.
Sure, that might only be a matter of a few seconds, but it seems like forever, especially if your kid or pet or sibling or significant other is doing something cute or hilarious or incriminating.
iOS 5, the latest version of the software that powers the iPhone and iPad (and which is included on the iPhone 4S) solves the first part of this problem. Now you can just double-press on the home button to bring up a camera button, which you tap to launch the Camera app—no unlocking required. Then the iPhone 4S's hardware improvements spring into motion: That camera wakes up and shows you an image much faster than the iPhone 4 did.
The result of all these improvements: If you use an iPhone 4S to take pictures, you're going to capture a bunch of photos that you would have missed otherwise, and they'll look better than they would have, too. As the saying goes, the best camera is the one you have with you. I'd wager that the iPhone 4S will actually be the best camera in the household of the majority of its owners.
You'll talk to it
Although the iPhone 4S sports a faster processor and an upgraded camera, the feature that everyone will be talking about is Siri. Siri, which replaces the Voice Control feature introduced with the iPhone 3GS, allows you to speak commands to your phone and have it do your bidding. You even activate Siri the same way as you did Voice Control: by holding down the home button on the iPhone itself, or by holding down the control button on your wired or wireless headset. (The iPhone 4S's voice-recognition feature works by recording your voice and sending it to a server that interprets what you've said and returns plain text. If you don't have an Internet connection, Siri won't work.)
What I've described actually sounds just like Voice Control, but Voice Control's speech-recognition engine was severely limited. It required a strict vocabulary and couldn't do much more than dial your phone or play music. Siri doesn't require a strict vocabulary—if talk like Yoda even you try, it'll generally figure out what you're trying to say. That one leap makes interacting with Siri seem much more natural.
Siri's also more comprehensive than Voice Control ever was. In addition to the Phone and Music apps, it's tied in to Messages, Calendar, Reminders, Maps, Mail, Weather, Stocks, Clock, Contacts, Notes, and Safari. It's also linked to Wolfram Alpha, the "computational knowledge engine" that can provide answers to numerous factual questions, and Yelp, the directory of local businesses. And when all else fails, Siri will usually suggest that it perform a Web search for you.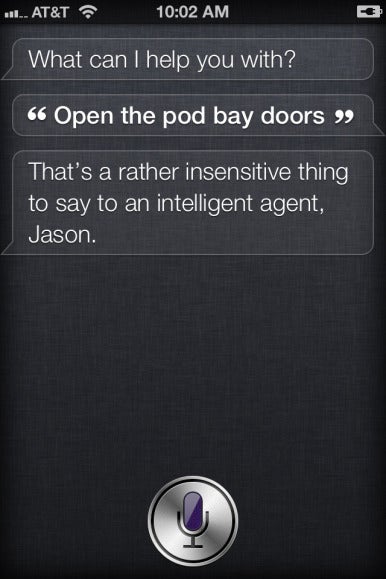 In a rare move for Apple, the company has officially dubbed Siri a "beta"—suggesting that it's being released in a not-quite-finished state. There are two different reasons for this. First, Siri currently only supports English (in U.S., UK, and Australian dialects), French, and German—and that's not enough languages for Apple and its worldwide customer base. Second, the company needs to expand the number of apps and information sources to which Siri is connected.
The truth is, once you start using Siri in earnest, you'll discover where its boundaries are. It's great at working with text messages, but not with email. It knows a lot about weather and restaurants but nothing about movie times. Apple says that understanding the words you say is the easy part, and that Siri's true genius is in figuring out what you want when you say those words and getting you the answer. If that's true, Siri needs to be tied in to many more information sources and apps. (Including third-party apps, which are not capable of tying into Siri today.)
There are two scenarios in which Siri truly excels. The first of those is when you're in a hands-free scenario, mostly likely when driving a car. (The iPhone 4S knows when you're in a hands-free situation and becomes more chatty, reading text aloud that it might not if it knows you're holding it in your hand.) When you get a text message, you can instruct Siri to read the message, and it will. You can then tell Siri to reply to the message, dictate the entire message, have Siri read it back to you to confirm that it makes sense, and then send it.
It's a major step forward, though there are gaps. Siri can tell you that you have new email, and you can use it to send emails, but it won't read your emails to you. (It'll only read text messages aloud.) And while iOS 5 adds the nifty Notification Center, which gives you granular control over how different apps notify you about what's going on, there's no option to read alerts out loud when you're in hands-free mode. A missed opportunity.
If you aren't driving, Siri can still be useful: In fact, the feature proves that some tasks can be done much faster through speech than through clicking, tapping, and swiping. It's much easier to set an alarm or timer using Siri than it is to unlock your phone, find the Clock app, and tap within the app. Just say, "set a timer for three minutes," and your phone begins to count down until your tea is ready. "Set an alarm for 5 a.m." does what you'd expect, instantly. "Remind me to record my favorite show" and "Note that I need to take my suit to the cleaners" work, too. These are short bursts of data input that can be handled quickly by voice, and they work well.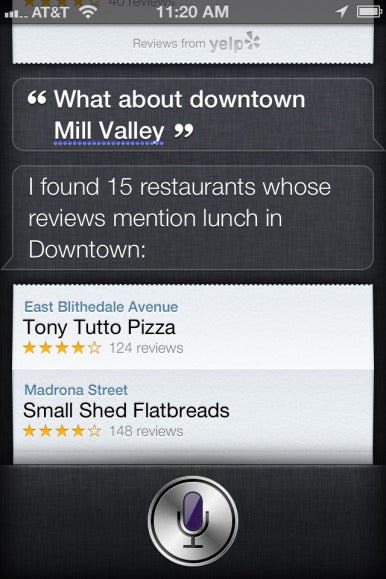 I was impressed by Siri's ability to understand the context of conversations. It didn't always work, but when it did, it was magical. I asked Siri for suggestions for places to have lunch, and it provided me with a list of nearby restaurants that serve lunch. I then specified that I wanted to eat downtown, and got a narrower list of places downtown. This was so great, I tried to repeat the task later—and could never get it to work again. (To see all of this in action, check out my video chat with Siri.)
Of course, talking to your phone is not much different from talking on your phone: It's not appropriate in all contexts. If you're quietly reading in the library and need to set a reminder, you should use the Reminders app, not Siri. And if you're out in public, well, you can use Siri, but you do risk people looking at you funny.
Apple's integration of Wolfram Alpha with Siri was a smart move. If you need answers to factual questions, like the speed of light or the number of days until Christmas, Wolfram Alpha can provide the answer. Unfortunately, Wolfram Alpha's results come in the form of images, not parseable text, so Siri can't actually read you the reply. I was also disappointed that when Siri gives up and searches the Internet, it wouldn't walk me through the search results and read their summaries. Most of my answers were in the first few search results summaries, but if I were driving they'd do me no good.
While Siri gets the bulk of the iPhone 4S feature hype, another speech-related technology may prove to be more important and a bigger boost to users' productivity: Dictation. Following the lead of Android, the iPhone 4S can now convert what you say into written text in any app.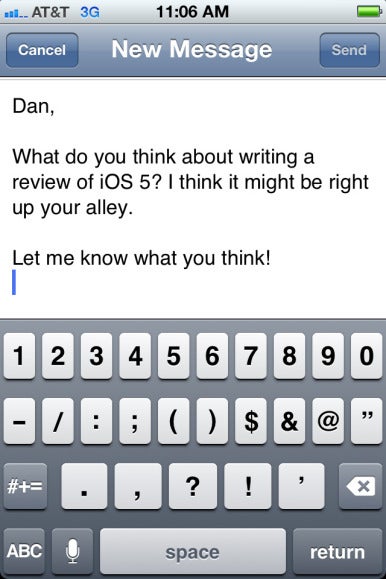 Here's how it works: On the keyboard you'll see a new button in the bottom row, to the left of the spacebar, with the image of a microphone on it. Tap this button and the iPhone 4S will transcribe whatever you say. It sends the results over the Internet to a server that analyzes your speech and converts it into text (meaning that if you're not online, the microphone button will disappear). I was shocked at just how fast the results came back, especially over Wi-Fi. And they were generally accurate. (Though careful viewing of my video chat with Siri will reveal that it performed an unfortunate translation of the phrase "iPhone 4S." Embarrassing, but easily corrected.)
To get the most out of dictation, you'll need to start thinking in punctuation. For example, to construct a decent email message, I might say, "Dan comma new paragraph What do you think about writing a review of iOS numeral five question mark I think it might be right up your alley period new paragraph Let me know what you think exclamation point." The thing is, it works.
Speech-recognition powerhouse Nuance has offered this feature in an iOS app, Dragon Dictation, for some time now. But being able to input text by voice in any iOS app, rather than just Nuance's, is a big step forward. However, the existence of Dragon's app makes me wonder why this is apparently an iPhone 4S-only feature. Older iPhones could run Dragon's app just fine. And, come to think of it, Siri was an iOS app before it was acquired by Apple.
I understand that Apple's in the business of selling iPhone hardware, and that Siri and dictation are both features that will drive sales of iPhone 4S. But I admit that I wonder if the decision to have these features work only on the iPhone 4S is rooted more in sales strategy than in technology. I can almost understand the idea that Siri might require extra processing power, but speech-to-text? That's a feature that should be available for iPhone 4 users as well as a part of the iOS 5 update.
iOS 5 and other miscellany
Although it's not an iPhone 4S-specific feature, this phone is the first device to ship with iOS 5 as its base operating system. iOS 5 is a massive upgrade that adds all sorts of features to the iPhone and iPad, but users of the iPhone 3GS, iPhone 4, iPad, iPad 2, and third- and fourth-generation iPod touch will also be able to take advantage of them.
iOS 5 adds support for a much more flexible notification system, including the pull-down Notification Center interface; support for "PC-free" operation so you can set up, back up, and even update an iPhone or iPad without ever connecting it to a computer; iMessage, a system for sending messages to other devices without using SMS; Newsstand, which gives publishers more control over pushing newspaper and magazine content to iPhones and iPads; a new Reminders app; custom vibration patterns; Twitter integration; and a whole lot more. For an in-depth look at these features and more, please read Dan Moren's exhaustive review of iOS 5.
Another feature of iOS 5 is AirPlay mirroring, which allows certain devices to display the contents of their screen on your TV via an Apple TV. This feature initially appeared to be limited to the iPad 2, since it was the only iOS device capable of mirroring its own display on an external monitor.
But guess what? The iPhone 4S has the same capability. Attach Apple's HDMI adapter to the iPhone 4S and connect it to an HDTV, and you'll see the contents of your screen played back on your HDTV. And if you've got an Apple TV, you can do this wirelessly, too.
Macworld's buying advice
In the U.S., most users get a two-year contract when they buy a new smartphone. While some early iPhone 4 adopters will likely be eligible for a new phone in the next few months, my suspicion is that iPhone 3GS users will be at the head of the upgrade line for the iPhone 4S.
For those users, the iPhone 4S will be a big deal. Sure, there's a dramatic speed boost, but for my money the best feature they'll gain is the shockingly bright and clear Retina display. There's also a front-facing camera for video chat, a dramatically improved camera with HD video recording capability, and of course the option of switching to a carrier that isn't spelled A, T, and T.
For users of the iPhone 4, the iPhone 4S's charms are a bit more subtle. There's no doubt that the iPhone 4S is faster—though the iPhone 4 is not exactly poky. The 4S camera is definitely better, but the big leap came from the iPhone 3GS to the iPhone 4. The jump from 4 to 4S is a bit more incremental. Siri is certainly intriguing, but in its beta state it's unclear just how useful it will be in the long run. Over the next few months we should get a better idea about how Siri is evolving.
If you struggle with typing on your iPhone, the new dictation feature could be a huge reason to upgrade. (Though I'm still disappointed that this feature isn't available on older models.) My father-in-law bought an Android phone about a year ago because he needed to be on Verizon and he wanted the ability to use speech-to-text; today he'd be able to choose the iPhone 4S instead.
International travelers who are also Verizon or Sprint subscribers will rush to embrace the iPhone 4S, given the flexibility that comes via the "international unlock" of the device's micro-SIM card. And of course, fans of Sprint's network and rates (including the only remaining true unlimited data plan out there) will finally be able to join the iPhone party.
In the end, the iPhone 4S follows Apple's recent trajectory of iPhone releases: It's an object of some appeal to people who last upgraded their phones a year ago, and over the next year a great many of them will find it worthwhile to upgrade to the iPhone 4S. But to all those people who've been hanging on to their iPhone 3G or iPhone 3GS, the wait is over: It's time to upgrade without any hesitation whatsoever. The iPhone 4S has speed, a great camera, some cool voice-recognition features, and the same beautiful industrial design that was introduced in the iPhone 4. It's destined to be immensely popular. The S, in this case, seems to stand for "sure thing."
[Jason Snell is Macworld's editorial director. He has reviewed every single iPhone ever. Don't you think he looks tired?]