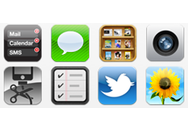 Apple on Wednesday released iOS 5, its hotly anticipated upgrade to the operating system that powers the iPhone, iPad, and iPod touch.
First previewed at June's Worldwide Developers Conference, iOS 5 arrives promising users more than 200 new features and enhancements. The update's most exciting features probably depend upon which iOS user you talk to, but long-time iPhone and iPad owners are likely looking forward to the significantly revamped notifications system that iOS 5 promises.
Under iOS 5, alerts no longer pop up the familiar, interruptive blue box; now, they float across the top of the screen as fleeting banners instead. And Notification Center—accessible with a single swipe straight down from the top of your iOS device—gathers all the alerts you receive so that you needn't fear missing one. The lock screen shows alerts since you last locked your device, too.
As for new features, iOS 5 introduces iMessage, an SMS/MMS alternative. Built into the existing Messages app, iMessage lets you send text, image, and video messages to other iOS device owners. Messages sent via iMessage won't count against your texting plan; as a result, iPad and iPod touch owners can get in on the messaging action.
A new app, Reminders, brings a built-in to-do list manager to iOS devices. Reminders triggers time- and location-based alerts to remind you of tasks you need to complete. iOS 5's Newsstand feature promises to assemble all your digital magazine and newspaper subscriptions in a single folder permanently installed on your home screen; apps that take advantage of Newsstand will be able to update themselves in the background, delivering new issues to your iPhone or iPad. iOS 5 also integrates the Twitter microblogging service throughout the system, making it easier to do things like post a picture you've shot with your iPhone's camera directly from the Camera app.
Existing apps see significant upgrades in iOS 5, too. The mobile version of Safari adopts the Reading List and Reader features found in the OS X version of the Web browser; iPad users will get to enjoy tabbed browsing as well. Assorted Mail improvements include rich-text editing and full-text search. The Camera app adds the ability to launch the camera from the lock screen, built-in photo editing features, and the option to use the Volume Up button as a shutter control. Even Game Center undergoes a modest face lift aimed at making it easier to find new friends and games and compare your scores to those of your buddies.
This version of iOS also has its head in the clouds. The update introduces a number of changes aimed at cutting the cord between your iOS device and your computer. You can now set up your iPhone, iPad, or iPod touch on the device itself without any intervention from a Mac or PC, while Wi-Fi syncing will let you connect to iTunes without a USB cable. Once iOS 5 is installed, you've even be able to wirelessly download future operating system updates. iOS 5 also adds support for iCloud, Apple's rebranded sync and backup service that also launches Wednesday.
Upgrading to iOS 5
The update requires iTunes 10.5, which Apple released on Tuesday.
iOS 5 is compatible with the iPhone 3GS, 4, and 4S; the third- and fourth-generation iPod touch; and any iPad. To install it, you'll just connect your iOS device to iTunes and—if not prompted to upgrade straight away—click on the Check For Updates button.
You'll find a complete guide to upgrading to iOS 5 elsewhere on Macworld.com. We'll also take a deeper look at many of the top changes to the operating system throughout the rest of this week.