Within Apple's new iCloud service, you can sync, back up your devices, and locate friends—but if you want to manage your music and purchases, look to the service's iTunes in the Cloud initiative: For free, you can automatically download any new purchases across all your devices, and access any past purchases (still available on iTunes); pay an extra $25 a year, and you can store and stream your music online with iTunes Match. Here's how these all work.
Automatic downloads
Both iOS 5 and iTunes 10.5 include an automatic downloads feature that lets you choose to have your device or computer automatically download any music, books, and/or apps you buy on other iTunes-running computers or iOS devices. (Note that it also works with any free content in those categories that you've downloaded.)
iTunes: To set up automatic downloads in iTunes, go to the Store tab of iTunes's preferences. At the top, you'll see an Automatic Downloads section, in which you can individually enable the downloading of music, apps, and books purchased using your iTunes ID. Click in the box next to each that you want to enable and then click OK.
iOS: On an iOS device, go to Settings -> Store and you'll see the same Music, Apps, and Books options as in iTunes. To the right of each option is a toggle switch that turns downloading on or off for each type of content.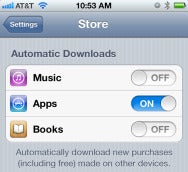 One particularly nice use of the automatic downloads feature comes with regards to books. Starting with iTunes 10.3, Apple has allowed you to browse and purchase (but not read) books from the iBookstore from within iTunes itself. Even on the iPad's large screen, an iOS device isn't the best way to look at the vast selection of books on offer, so if you set up books downloading on your device, you can find and purchase a book from your computer and then have it ready for you to read the next time you launch iBooks on your iPad.
Previously purchased content
Another part of iTunes in the Cloud is the ability to re-download previously purchased content. Previously, this was available in beta for users of iTunes 10.3 and iOS 4; with iCloud's release, it's available for all iTunes 10.5 and iOS 5 users. Apple now lets you re-download any music, books, apps (you could always re-download apps, but it wasn't an obvious process), and TV shows (in the U.S. only) that you've obtained via the iTunes Store, App Store, or iBookstore in the past. (Note that you may not be able to download content that's no longer available from Apple's various stores.)
Apple currently doesn't let you re-download movies, audiobooks, or podcasts.
iTunes: In iTunes, visit the iTunes Store and then locate the Purchased link in the Quick Links sidebar on the right side. Once in the Purchased interface, you'll see Music, TV Shows, Apps, and Books tabs across the top. Click on any of them to see the content available to you.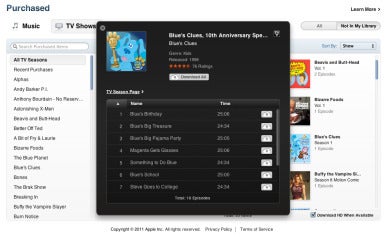 For each category, you can choose different view and sort options (viewing music by songs or albums, for example) as well as search your content using a search box on the left side of the window. At the far right, you can choose between having iTunes display all purchases, or just those not in the respective iTunes library.
To download, click the cloud icon next to a song, album, music video (found under Music), TV show, app, or book to begin the download process. You can also download all your music or individual TV show seasons by using a Download All button.
iOS: On iOS devices, the process is much more fragmented. For music, launch the iTunes Store app, and tap the Purchased button at the bottom. From there, choose between Music and TV Shows (via a pop-up menu on the iPad or from the Purchased screen on the iPhone), and the process works similar to that on iTunes. A Recent Purchases link shows you newer content, and the interface provides a few different ways to view your stuff. As with iTunes, you can choose between All and Not On This iPhone/iPod/iPad. Use the cloud icon to download.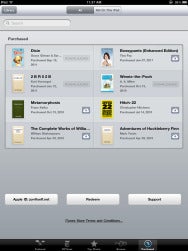 For apps, launch the App Store app. Tap the Purchased button (iPad) or Updates button and then the Purchased link at the top (iPhone) to see your previously download apps by download date (newest first). Here, too, you can see all apps or just those you haven't installed. And on the iPad, you can choose between viewing iPad-specific/universal apps and iPhone apps. Tap the icon to download.
For books, launch iBooks and go to the iBookstore. If you see your library when you launch iBooks, tap the Store button in the upper left corner (iPad) or upper right corner (iPhone). From there, tap the Purchased button at the bottom right of the screen and you'll see a list of all the iBookstore purchases you've made in the past. Tap to download.
Apple TV: One other advantage of the iTunes in the Cloud functionality is that the second-generation Apple TV can stream previously-purchased TV shows over the Internet, rather than making you keep them housed on a computer using Apple's Home Sharing feature or streaming them locally using AirPlay.
iTunes Match
iTunes Match is an optional subscription service that Apple plans to roll out to customers in the U.S. by the end of October. For $25, it offers both music storage and, in some cases, music upgrades.
It works by uploading a database of your iTunes music library to Apple's servers. It then compares that list with the 20 million tracks offered in the iTunes Store; anything already available from Apple becomes instantly downloadable to your iOS devices and other computers running iTunes in 256-kbps AAC format—even if your songs are low-quality MP3 files ripped from your CDs years ago.
For music that the service can't match up with iTunes Store content, iTunes Match lets you upload the actual tracks to the iCloud servers. The end result is that all of your music—or at least up to 25,000 non-purchased tracks—is available for you to listen to and download to any of your iOS devices or computers running iTunes.
We'll have many more details on how it works when iTunes Match is available later in the month.
[Jonathan Seff is executive editor of Macworld.]