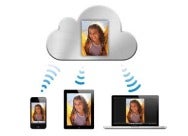 Once you have iCloud set up on your devices, you can take advantage of the service's syncing capabilities. You'll be able to access your contacts, calendars, mail, documents, photos, and more across all your devices and on the Web. The syncing process on iCloud, however, is different than the iTunes syncing process Apple users have become familiar with. With iCloud, your data is seamlessly pushed across all of your devices; you won't actively have to choose when you want to sync your device. Instead, your data is automatically stored onto iCloud, and your iOS devices and computers collectively sync to and pull information from this central server on a regular basis, keeping everything up to date.
Basic data sync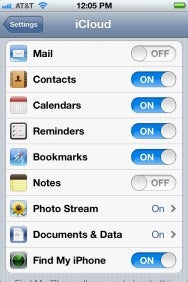 Through iCloud, you'll be able to access, update, and sync your email, calendars, and contacts from all of your devices. For instance, if you enter a new contact on your iPhone, it will automatically get pushed to your computer, and vice versa. You can also sync reminders (from iOS 5's new Reminders app), Safari and iBooks bookmarks, and any notes you've made in the Notes app.
Mac users will sync Mail, iCal, and Address Book with the Mail, Calendar, and Contacts apps, respectively; PC users can use Outlook 2007 or later. iOS Reminders are synced with your desktop calendar application by default, while your Notes are stored in your mail application. You can also access all of this information through a Web browser on any computer, just visit and sign into icloud.com. Keep in mind that all of this data counts toward your 5GB storage limit (though you can purchase more space). To choose which items you'd like to sync across your devices, go to Settings -> iCloud and tap the toggles for the appropriate selections.
Documents in the Cloud
Documents in the Cloud allows you to wirelessly work on the same project from multiple devices. This keeps your app information ubiquitous across all of your iOS devices and computers, allowing you to create a document on one device, save it, and pick up where you left off somewhere else. Accessing documents between iOS devices is seamless. Say you started a Numbers spreadsheet on your iPad; you could start entering in information, save that spreadsheet, and open it up later on your iPhone to do some tweaking. Your projects are automatically accessible across your iOS devices, so file sharing or emailing copies to yourself isn't necessary.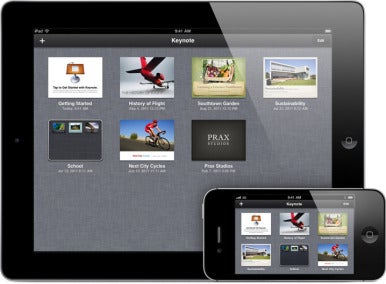 Working on documents between a computer and an iOS device requires an extra step. To access your iOS documents from your computer, you will need to use a web browser and go to icloud.com/iwork. Once you sign in with your iCloud login information, you'll be able to see all of your iOS documents; click a document to download it onto your computer. (You can choose to download documents in either iWork '09, Microsoft Office, or PDF format.) To share a document from your computer to your iOS devices, you'll need to drag and drop the document (which can be in either iWork '09 or Microsoft Office format) from your computer into one of the iWork apps on the web browser. The document will then automatically appear on all your iOS devices.
Currently, the only apps that work with Documents in the Cloud are Apple's iWork apps, which includes Pages, Keynote, and Numbers. However, Apple has released an API to third-party developers who want to incorporate this into their own apps, so we'll hopefully see more iCloud compatibility in the future. Since third-party apps are currently not available for document syncing, it is unclear whether sharing documents between a computer and an iOS device for third-party apps will also need to use a web browser. It will most likely, however, be a similar process.
Photo Stream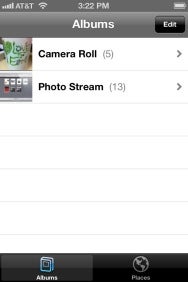 With Photo Stream, you can snap a picture from any iOS device and have it pushed to all your other devices and computers. Photo Stream also auto-imports any newly added photos on your computer to your Photo Stream-enabled iOS devices. The service works with the Photos app on iOS devices, and on iPhoto and Aperture on Macs. (If you use a PC, you'll need to choose a folder on your hard drive that you want to use as your Picture Library.) Photos are stored in the cloud for 30 days; you can view those images on your iOS devices, computers, and even Apple TV. Your iPhone, iPod touch, and iPad will sync a maximum of 1000 photos in order to save space, while the number of photos a computer can sync is unlimited.
On your iOS device, the Photo Stream photos will appear in a separate Album, titled Photo Stream. You can edit these images from your Photos app, but any changes you make must be saved to your camera roll, not to the Photo Stream album itself. (You can also save original images to your camera roll and edit them from there, or in third-party apps). Deleting photos from the Photo Stream album on your IOS device is not possible, though you can go to icloud.com and opt to reset your Photo Stream, which will delete all of the images. Unfortunately, the option to delete individual photos is not available.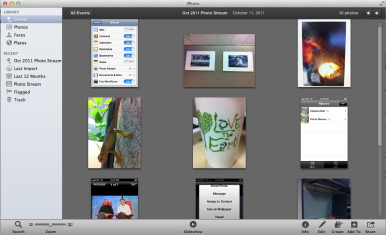 Your iCloud-enabled computer imports all of your Photo Stream photos to your chosen photography program, or to your designated photo library folder. In iPhoto, the photos appear under Events, with a default name that includes the month and year, along with Photo Stream. You can, however, change the Event name.
If you have an Apple TV, you will also be able to enjoy your Photo Stream images directly on your HDTV. The Apple TV can access and stream your photos from iCloud to display on your television screen, though it will only display your most recent Photo Stream images. The feature is only compatible with second-generation Apple TVs.
[Alexandra Chang is a staff editor for Macworld.]