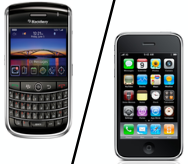 With the release of iOS 5 upon us and the iPhone 4S coming imminently, Information Appliance Associates has announced the release of BerryMover, an app that can perform a brain transplant from a BlackBerry to an iPhone, right on the iOS device itself.
BerryMover copies the data from your BlackBerry contacts, emails, text messages, notes, calendars, and tasks—but first, you must manually transfer your BlackBerry backup file to your iPhone. You can do much the same with Mac software such as Mark/Space's Missing Sync for BlackBerry, which roundtrips your data through your Mac applications, or with a (non-"i") cloud sync through Google, but BerryMover appears to be the first untethered method of accomplishing this task.
One major caveat: If your BlackBerry has been issued by your company's IT department, there's pretty much no limit to how much of the device's functionality has been locked down to protect that vital corporate data. So if you found yourself thinking "BlackBerry backup file? What BlackBerry backup file?", then you should probably get in touch with your friendly Preventers of Information Services and ask whether your proposed handheld migration is deemed kosher. You'll need access to a BlackBerry iPD backup file to use BerryMover; if your BlackBerry is solely backed up to your corporate Exchange server, you may be out of luck.
BerryMover is $10 from the App Store, and requires a device running iOS 4.2 or later. Compare that with $40 for the Mark/Space solution, or the free solution of using Google Sync cloud services. These have the added feature (or bug, depending on your situation) of syncing your data with your Mac applications using Mark/Space (and optionally with Google Sync), or setting up an ongoing three-way or four-way ongoing synchronization between your handhelds and your Mac through Google's cloud. BerryMover provides you an easier option for doing a one-time migration and performing future updates by hand, but doesn't offer ongoing automatic synchronization.