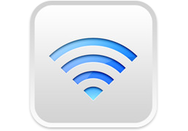 Early Wednesday, Apple released AirPort Utility for iOS. The app requires iOS 5, which is due to be released sometime later in the day. You can install it from the App Store as per usual, and Apple also helpfully provides a button linking to the app from within the Wi-Fi section of Settings (labeled Manage This Network) when you're looking at a compatible device.
AirPort Utility lets you manage your Wi-Fi network and AirPort base stations—including AirPort Express, AirPort Extreme, and Time Capsule—from your iOS device. The app allows you to configure base station and network settings, including advanced features like security modes, wireless channels, and more. It also provides a graphical overview of your network, a list of clients, and information about your external Internet connection.
In addition, you can restart base stations, update their firmware, update passwords, and manage DHCP reservations and port mappings. The app seems to be yet another prong in Apple's PC Free arsenal, letting users get by with just an iOS device, instead of having to rely on a computer.
AirPort Utility is free and works with any iPad, iPhone, or iPod touch that's compatible with iOS 5.
Updated 12:33 p.m. ET to mention that iOS 5's Wi-Fi screen in Settings provides a direct link to the app.