Can you find me now? Apple on Wednesday released Find My Friends. The app, which requires iOS 5, lets you find your friends by geolocating their iOS devices—presuming your friends have granted you access to that data.
When you first launch Find My Friends, you log in with your Apple ID. (If you haven't already, you'll need to agree to the iCloud Terms of Service, too—all 18 pages of it.)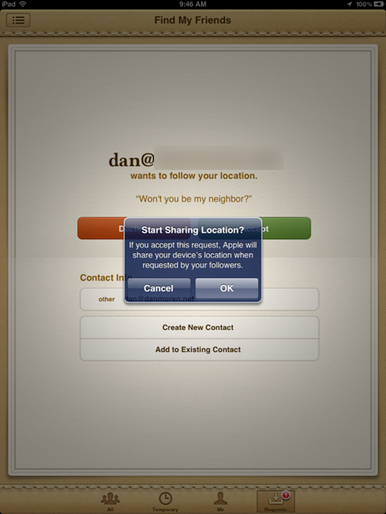 Once those details are out of the way, Find My Friends shows you a world map. You can choose among the standard default map, a satellite map, or a hybrid view. But looking at where you are is kind of boring, since really, you could just launch Maps for that—the real fun begins when you start connecting with friends. (You'll be extra motivated to add some friends since, otherwise, a large "No Friends" banner humiliates you across the bottom of the app.)
You invite friends from your address book, but there's no indication which friends are using iOS devices that support Find My Friends. You're limited to inviting just four friends at a time, and you can't select multiple names at once: You add one, go back into the contacts list, add the second, and continue. You can also manually enter email addresses of friends you'd like to invite.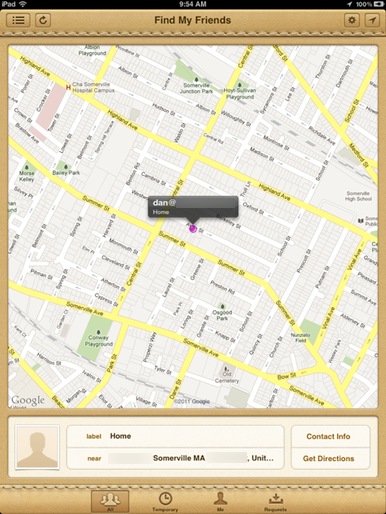 Once you are connected with friends, you can find them—quite literally—on the All tab. Friends appear as differently colored dots on the map; tap any of them to see more details about their exact location, get directions to them, or review their contact information. You don't message friends from directly within the app, though it can take you to the Phone, FaceTime, or Mail apps as desired. From the Temporary tab, you can invite friends to see your current location, but include an end date for when you'll stop sharing that info. This is especially good for taunting serial killers who are more than a few hours away.
Find My Friends lets you and your buddies label distinct locations—if it can geolocate those spots precisely enough. Senior associate editor Dan Moren, using an iPad with 3G (and thus GPS) was able to label his home address as such; my Wi-Fi-only iPad couldn't confirm my address with enough certainty to permit me to do the same. (In truth, though, it did locate my exact address with Wi-Fi positioning alone.)
Find My Friends is free and runs on any iPhone, iPad, or iPod touch compatible with iOS 5.