Ever since the Find My iPhone service debuted as part of the iPhone 3.0 software in mid-2009, Apple's iOS device location offering been a popular feature. By using your iOS device's location—determined using GPS circuitry or wireless activity (or both)—Find My iPhone lets you locate, and even track, your iPhone, iPad, or iPod touch, via the Web or a dedicated Find My iPhone app. Assuming the device has recently been on (and, in the case of Wi-Fi-only devices, awake) and connected to a mobile or Wi-Fi network, you can actually see its location on a map, as well as send a message to it, play a sound on it, remotely lock it, or even securely erase its contents.
While Find My iPhone was originally designed as a way to recover—or, worst-case scenario, erase—your iOS device if it's lost or stolen, it's also become popular for other uses. More than a few iPhone users who've misplaced their iPhone at home have used the Find My iPhone sound to reveal the phone's location under a jacket next to the sofa. And my wife and I occasionally use the service to see each other's progress during weekend errand runs.
While originally limited to MobileMe subscribers, Find My iPhone was eventually made available to anyone with a supported iOS device who signed up for a free Apple ID. The service is now free for anyone with a free iCloud account, and now it can even find your Mac using a new feature of the newly released OS X 10.7.2 update called Find My Mac—a nice bonus for tracking your MacBook if it ever wanders off. In addition, Apple has also debuted a complementary iOS-app-based service called Find My Friends.
Here's a look at setting up and using these services.
Get set up
If you've been using a MobileMe account or an Apple ID with Find My iPhone, you can continue using the service with those accounts. You can also use an existing Apple ID with Find My Friends once you've converted that ID to iCloud. (This happens automatically when you sign in to iCloud under iOS 5 in the Settings app, or under Lion on your Mac via the new iCloud pane of System Preferences or by visiting iCloud.com in a browser.) However, you won't be able to use Find My Friends with your MobileMe ID until you migrate that MobileMe account to iCloud.
If you don't yet have an iCloud account or a MobileMe account you'll be migrating to iCloud, you can create an iCloud account either when updating your iOS device(s) to iOS 5, or on the iCloud.com site on your Mac. iCloud requires Mac OS X 10.7.2 (Lion) and iOS 5.
Once you've got a valid iCloud account or Apple ID, you simply use that name and password to sign in to the Find My iPhone iOS app, the Find My Friends iOS app, or the iCloud website (where you click the Find My iPhone button).
Use Find My iPhone and Find My Mac
On each device you want to be able to find using Find My iPhone (or, as the case may be, Find My iPad or Find My iPod), you'll need to enable the service: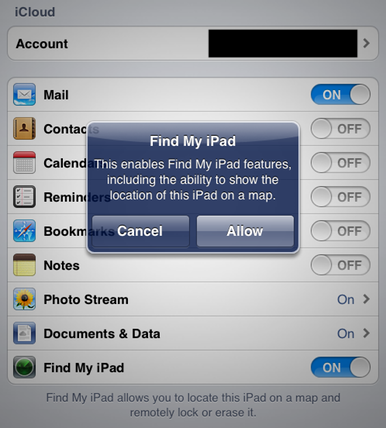 To use Find My iPhone with iOS devices without upgrading your MobileMe account or Apple ID to iCloud Go to the Mail, Contacts, and Calendars screen of the Settings app on each device; tap your MobileMe or Apple ID account, then make sure Find My Device is set to On for each. (If you've never set up your Apple ID for Find My iPhone, go to Mail, Contacts, and Calendars; tap Add Account, and enter your Apple ID and password. Then make sure Find My Device is set to On)
If you've got an iCloud account: iOS devices Go to the iCloud screen in the Settings app on each device, and then make sure Find My Device is set to On. (If you just created a new iCloud account, enter your ID and password in the iCloud screen in Settings. Once the account is verified, set Find My Device to On.)
If you've got an iCloud account: Macs Open the iCloud pane of System Preferences (which exists only under OS X 10.7.2 or later) and enter your iCloud ID and password. Once the account is verified, check the box for Use Find My Mac, click Next, and then click Allow to allow Find My Mac to use the location of your Mac. (Note that your OS X user account must have administrator access to enable Find My Mac. Also, Find My Mac requires the Recovery HD partition created by the Lion installer—Find My Mac's computer-locking and -wiping features are handled by software on the Recovery HD partition.)
Once you've set up your devices, you can use the Find My iPhone iOS app or the iCloud website to find them. To use the app, launch it on any iOS device, and then sign in using your Apple or iCloud ID and password. To use the website, log in to iCloud.com and then click the Find My iPhone button.
The Devices list displays every device—iPhone, iPad, iPod touch, and Mac—associated with your account (and, of course, with Find My iPhone or Find My Mac enabled). You'll find this list in the upper left corner on the iCloud website's Find My iPhone page, or by tapping the Devices button in the iOS app. A green dot next to a device means it was located; a red dot means it could not be found. The status of each device—how long ago it was located, or that it wasn't located—is displayed just below its name.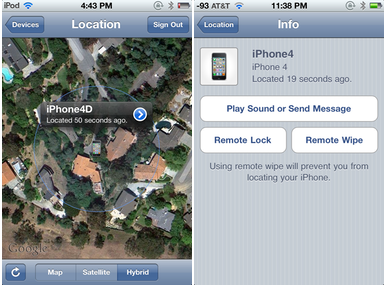 Tap a device to view its location on a Google map. As with the Google Maps website or app, you can zoom in our out, and you can switch between Map, Satellite, and Hybrid views. Unfortunately, you can't track the location of a device over time—the service shows only the most-recent location.
Tap the blue i button for a device, and you get several options. Play Sound Or Send Message lets you send a textual message that appears on the device's screen, play a loud sound on the device (even if the device is muted), or both. Remote Lock locks the device, iOS or Mac, with a four-digit passcode. In the case of an iOS device, it uses your usual lock code, if you have one; otherwise, it asks you to provide one.
If you opt to Remote Lock a Mac, once the Mac receives the lock command, it actually shuts down. The next time you attempt to start up the Mac, it boots into Lion Recovery and asks you to enter the passcode; if you opted to display a message, that message is displayed on the same screen. Once you've entered the correct passcode, the Mac reboots normally.
The final option is Remote Wipe. As I explained when this feature debuted, Remote Wipe lets you completely erase—securely—all data and settings from your phone. In the case of a Mac, it also sets a four-digit passcode that lets you access your Mac if you ever recover it. Of course, you should use the Remote Wipe option on any device only as a last resort. (This is also a good time to remind you to have good backups of your devices.)
For any of these options—Play Sound Or Send Message, Remote Lock, and Remote Wipe—you also receive a confirmation email when the message or command was received by the device.
If a device associated with your Apple ID can't be found, its options screen in the Find My iPhone app or on the iCloud website gains an Email When Found toggle. Switch this to On, and the next time that device connects to the Internet, the iCloud service will send you an email noting the specific date and time the device was located (and directing you to the app or the iCloud website to perform any Find My Device actions).
Use Find My Friends
For anyone who, like me, has used Find My iPhone to find a spouse or other family member, iCloud's Find My Friends feature will seem like an obvious progression. Available only using the new Find My Friends iOS app, not the iCloud website, Find My Friends uses the same technology as Find My iPhone to let you locate friends by finding their iOS device—assuming they've given you permission, of course.
Launch the Find My Friends app on your iPhone, iPad, or iPod touch, and you'll be asked to enter your Apple ID (your iCloud account name) and password. Tap Sign In, confirm that you want to share your location, and you'll see either (on the iPhone or iPod touch) a list of your friends or (on the iPad) a map showing the location of any friends you're following. (On an iPad in landscape orientation, the friends list appears on the left; in portait orientation, tap the list button in the upper left to see your friends list.) On first launch, your list will taunt you with a banner that reads, "No Friends."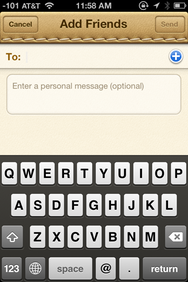 Add friends and accept requests: The first thing you'l want to do is add some friends to follow. Tap the Add (+) button; type a friend's Apple ID or, to choose an existing contact, tap the Add Contact (+) button (you can send a request to multiple people at once); and, if you like, enter a custom message. (If you don't enter a message, recipients will simply get a generic request.) Unfortunately, the app doesn't provide any indication of which friends are using Find My Friends, or, for friends with multiple email addresses, which is their iCloud account. Tap Send and you'll see a message explaining that you'll be able to follow them after they accept your request. Once the friend has approved your request, he or she will appear in your friends list.
Note that if your request is approved by your friend, that just means that you can see their location. If they want to similarly follow your location, they'll need to send you a separate request, which you must then approve. In other words, a follow request is unidirectional, not reciprocal.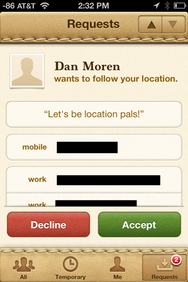 Similarly, if a friend wants to follow your location, they'll send you a request. Unless you happen to be using Find My Friends when the request arrives, it will appear as an iOS notification. Tap it, or open the Find My Friends app and switch to the Requests screen, and click Accept to allow the person to follow you. If you aren't already following them, tap the Ask To Follow button to send a reciprocal request.
If you want friends to be able to send requests to one or more email addresses other than your Apple ID, you can add those addresses in your account settings at appleid.apple.com: On the Name, ID, and Email Addresses screen, just click Add Email Address.
Locate your friends: You can view the locations of your friends—the people you follow—in several ways. Tap the All Friends item in the friends list, and you'll see the aforementioned Google Mac displaying (in purple) the location of every friend currently allowing their location to be tracked; your location is displayed in blue. Tap a person's map pin, and you'll see their name and a description of their location. On the iPad, you'll also see, at the bottom of the screen, detailed information such as the person's photo (if you've added it to their contact), the actual address of their location, and buttons to view their contact information and directions (in the Maps app) from your location to theirs. On the iPhone or iPod touch, you can view similar details by tapping the blue i button next to the person's name on the Find My Friends map.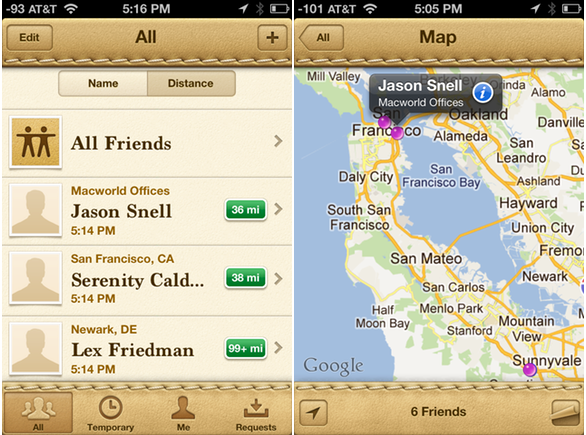 Alternatively, you can tap a friend's name in your friends list to view just the location and details for that person. The friends list also displays a general name for each person's current location (for example, a city or point of interest, or, if the location matches a location in the person's Contacts entry, just Home or Work), as well as the distance, up to 99 miles, between you and that person. If you tap Label for a friend's location, you can give their current location a more-useful label, such as Macworld SF Offices. (Note that the label will be displayed only at that particular location. If their location is, for example, a street number off, it won't display your chosen label.
However you view a friend's detailed information, you can tap the Send Message button to send a text message, the FaceTime button to initiate a FaceTime connection, an email address to send an email, and so on; doing so switches to the appropriate app.
Create temporary events What if you want to share your location with particular individuals temporarily? This could come in handy, for example, if you're meeting friends for dinner, or if you're in a group visiting an amusement park together and you want to keep track of each other. Find My Friends allows such sharing by creating a temporary event. Tap the Temporary button at the bottom of the screen and then tap Invite Friends (on a portrait-orientation iPad, hidden in the list popover—tap the list button in the upper left). Add people to invite, give the temporary event a name, and tap the Ends field to choose a date and time for the event to end—in other words, the time at which the listed people will no longer be able to locate each other (unless, of course, some of them are following each other independent of the temporary event).
Tap Send, and your invitation is sent. Note that if you send an invite to someone who isn't already using Find My Friends, they'll receive the invite via email, with information on downloading the app, instead of as an iOS notification. What's unique about temporary-event invitations is that when friends accept that invitation, the location sharing is automatically multi-way—for the duration of the event, everyone can follow everyone else, without each person having to exchange two invites with every other person.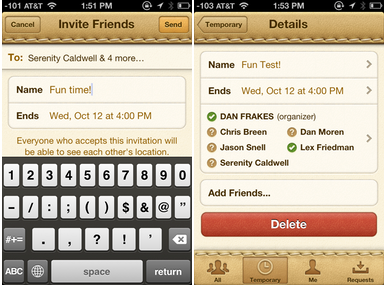 At any time, you can view the Temporary list to see a list of temporary events and their participants. For any event, you can tap View Map to view a map with each person's location marked; or tap Send iMessage to send a message, using the Messages app, to everyone in the group. (For the latter action, the Messages app must be configured with the Apple ID you use for Find My Friends.) You can also tap any participant to view their details. If you created the event, you can tap the event name to view a summary of the event, as well as to edit the event name and end, to remove or add participants, or to delete the event. For events you didn't create, you can tap an event and then tap Leave Event Name to leave it.
Prevent someone (or anyone) from following you: If you decide you'd rather not let a particular person or group of people follow you, you have several options for preventing it. If the person is only following you because you're both members of a temporary event, and you created the event, you can simply remove the person from the event; if you aren't the event creator, you must leave the event. If the person is officially following you, you'll need to remove them from your following list. Tap Me at the bottom of the screen to view the list of your followers, tap the person's name, and then tap Remove From Followers.
You can also temporarily disable location sharing to prevent anyone from being able to see your location. In the Me screen, simply switch the Hide From Followers setting to On. Switch the setting back to Off to resume location sharing. While hiding, so to speak, you can still send and receive Find My Friends invitations. Unfortunately, there's no way to selectively hide—for example, so your spouse can view your location but not your coworkers.
Use multiple iOS devices with Find My Friends: If you've got an iPhone and an iPad, to use a common example, you can sign in to Find My Friends on both devices using the same Apple ID. However, your friends will be able to view the location of only one device. To choose which device will locatable, tap Me at the bottom of the screen, then tap Account, then tap the desired device under Active Devices. You'll still be able to use the Find My Friends app on any of your iOS 5 devices, but only the selected device's location will be visible to your followers.
Other settings: The Me screen displays information about you. For example, tap the Near field to view your current location on a Google map. Just as you can assign a more-meaningful label to a friend's location, you can rename your own current location—the location that appears to your followers. Tap Label, and then choose from one of the stock labels (Home, Work, School, Gym, or None) or create your own custom label. This is also where, as noted above, you can remove followers.
Tap Accounts on the Me screen to access a number of account-related settings. In addition to the aforementioned setting for choosing a device to be tracked, you can choose whether or not to receive friend requests; choose which of the email addresses you've configured on appleid.apple.com appears in the requests you send to friends; and view Find My Friend's Help documentation.
Finally, if you manage the iOS device of, say, your child, you can use iOS's Restrictions settings (in the General section of the Settings app) to prevent any changes to Find My Friends settings, as well as to the current friends list. Just enable restrictions (if they aren't already enabled); provide a four-digit passcode, if necessary; scroll down to the Allow Changes section and tap Find My Friends; and then tap Don't Allow Changes.
Creepy but fun
It's a little disturbing to know that your precise location is visible to anyone you allow to follow you. At the same time, in my limited testing of Find My Friends, I've found it to be fun—with the right group of people—and even, in situations such as keeping track of family members, quite useful. The good news is that it's entirely optional, but easy to set up and use.
[Dan Frakes is a senior editor for Macworld.]
Updated 10/13/2011, 9:55am to include note about the Email When Found option, and to note that Find My Mac can only be enabled by a user with administrative access. Updated 10/18/2011, 9:27pm to note that Find My Mac requires a Recovery HD partition.