It took some time for push notifications to arrive on the iOS platform; they didn't become a feature until the June 2009 release of what was then called iPhone 3.0. And it's fair to say that, up until now, the feature hasn't really been worth the wait. Push alerts—those notifications that pop up to inform you when it's your turn in Words With Friends, your spouses birthday, or that someone messaged you on Twitter—have gone from minor annoyance to constant interruption.
With so many apps looking to notify us about so many things, the blue notification pop-up boxes demanding your attention have increasingly frustrated many iPhone and iPad owners. Sometimes you inadvertently swipe to unlock before reading your alert—and the message is then forever lost to the ages. Other times, so many alerts stack up, you're not sure what you've missed.
These notification nuisances may be at end with iOS 5's arrival. The mobile OS update aims to fix notifications so that they're far less intrusive—and considerably more helpful.
Banner alerts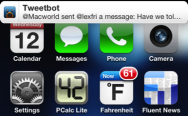 In iOS 5, the default notification style employs what Apple calls banners. Rather than displaying an attention-demanding big blue box when a new alert arrives, banners get superimposed along the top edge of your iPhone, iPod touch, and iPad, rotating into view with a 3D effect. The banners remain on screen for about five seconds. While a floating banner is on display, you can tap it to launch the notifying app (such as Twitter, Messages, or Mail). Let's say you receive a banner notification because someone mentions your name in a tweet: Just tap the notification, and your Twitter client of choice launches to show you the tweet in question.
If you don't want to attend to a banner immediately, you can ignore it and keep working away in whatever app you're using. Banners float on top of the screen for several seconds, and they vanish on their own.
Notification Center
If you don't tap a banner in time, or want to see your past notifications, you can access Notification Center whenever your iPhone and iPad are unlocked. Swipe down from the menu bar at the top of your screen; you'll head right to iOS 5's new repository for notifications.
Notification Center groups your past notifications by app; you can sort those apps by time or sort them manually. (You can configure the order you'd like in the Settings app.) Each will group your notifications by app, with the most-recent app notification listed first. You can clear out accumulated notifications per app with a pair of well-focused taps: Tap the tiny X next to the app's name, and then tap the tiny Clear button that appears.
You can choose the number of alerts a given app can show in Notification Center, though the controls are a bit limited. For example, you can choose how many upcoming Calendar events are displayed, but you can't choose which calendar iOS pulls those events from.
Notification Center for the iPhone offers you two optional widgets to stick at the top of the section: Weather and Stocks. You can enable or disable either widget in the Settings app. If enabled, the Stock widget will display a scrolling ticker of any stocks you've configured from the Stocks app, and Weather will provide current conditions and a forecast for your current location. Third-party app widgets are not supported.
Customize Notifications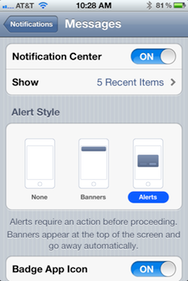 To define precisely how Notification Center and alerts work, on an app-by-app basis, head to the Settings app and tap Notifications. You choose which apps notify you, and you can configure all sorts of behaviors. For each app, you can set whether notifications should appear in Notification Center at all; how many items can be displayed there; whether there should be an alert, and if so, which type (the new banner or the old-school pop-up alert); whether to use an icon badge to signify alerts; whether new alerts should include sounds; and whether notifications should appear in your lock screen.
Lock Screen Notifications: Although lock-screen notifications existed in prior incarnations of iOS, they were limited to one blue pop-up alert at a time; iOS 5's lock screen can stack all notifications received in the order that they arrived, with the newest on top regardless of which app it's from—an option that's not available for Notification Center itself.
From the lock screen, you can swipe to unlock your iOS device as you always have, but there's a new wrinkle, too: You can swipe an individual notification to directly launch the app associated with it. Note that when new alerts arrive while your iPhone or iPad is locked, the standard swipe to unlock still launches the app associated with that just-arrived notification.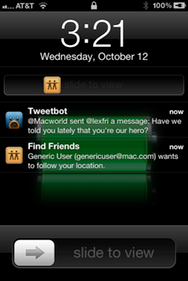 When a new notification arrives while your device is locked, it gets special treatment: The alert gets centered in the middle of the screen, a bit like the notifications of old. But other, previously arrived lock-screen notifications are still accessible. A small gray handle appears at the top of the lock screen when other notifications are temporarily hidden from view; drag it down (with a gesture much like the swipe to get to Notification Center) to expose them.
[Put iOS 5's new notifications feature to the test by mentioning Macworld staff writer Lex Friedman on Twitter.]