The iOS version of Safari has always been one of the best—if not the best—of the mobile browsers on the market. And when the iPad version of Safari debuted in early 2010, it brought several desktop features, such as a Bookmarks bar, to Apple's mobile offering. But with iOS 5, Apple has added even more features inspired by the Mac version of Safari, and while the result still doesn't match the full-featured experience of a desktop Web browser, you no longer feel as though you're sacrificing quite as much when moving from your Mac to your iPhone or iPad.
Reading List
As with Safari in Mac OS X Lion, the marquee feature of the iOS 5 version of the browser is Reading List. This feature lets you save interesting articles for later reading. (More accurately, you save the URL—more on that later.) If you come across an article or webpage that you want to read later, you tap the Share button (the one that looks like a rectangle with an arrow), and then tap Add To Reading List; the article is added to your list.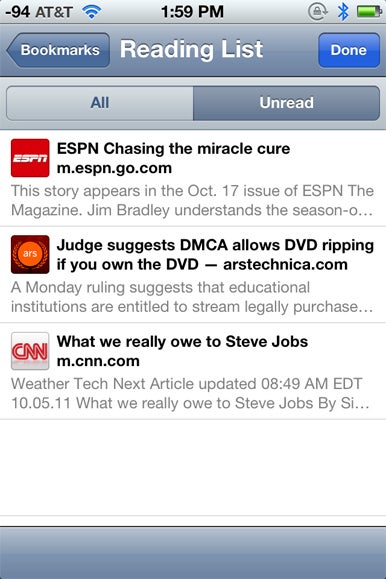 When you want to view your list, you tap the Bookmarks button and then tap Reading List. (It's at the top level of your bookmarks; if you're not at the top level, tap the left-facing Bookmarks button at the top of the bookmarks list until you get there.) Your saved articles are listed, newest at the top, with each entry displaying the website's favicon (Web icon), the article's title and website URL, and a two-line preview of the article's contents. The All button displays all articles in your list, and the Unread button filters the list to show only those articles you haven't visited from within Reading List; when viewing the All list, the titles of previously viewed articles are displayed in gray type, rather than bold black. To remove an article from the list, you simply use the familiar swipe-to-delete gesture.
You can also add a link on a page to Reading List without having to visit that link first. Just tap and hold the link until a menu appears, and then tap Add To Reading List in that menu. On the iPad, if you're already viewing your list and you decide you want to add the currently viewed webpage, you can tap the plus-sign (+) button at the top of the list. This adds the current webpage to Reading List without requiring that you dismiss the list, tap the Share button, and then tap Add To Reading List. On the iPhone and iPod touch, the plus-sign button isn't available due to the smaller screen size of those devices.
Once you've set up an iCloud account on all your Macs and iOS devices, your Reading List will be automatically synchronized between those devices. So if you add an article to Reading List on your iPhone, it will appear in Reading List in Safari on your Mac or iPad.
Tap an article to load it in the current Safari window or tab. If you don't have an Internet connection, however, you won't be able to read the article, because unlike read-later services such as Instapaper and Read It Later, Reading List doesn't save the actual article; it simply saves the URL for the article. Which means that, like Reading list for OS X Safari, Reading List in iOS Safari is essentially a list of bookmarks.
However, whereas I was critical of the Mac version of Safari for this shortcoming, I've found Reading List on iOS to be useful even though it doesn't save the contents of articles. For example, when browsing on my iPhone or iPad, I often come across articles or sites that I'd rather view on my Mac, with its much larger screen, full-featured browser, and support for Flash. Prior to Reading List, I would typically email the URL to myself, but now I can just add the URL to Reading List and then open it from Reading List on my Mac. (Conversely, if I'm on my Mac and I find a site that's optimized for Mobile Safari, it's easy to "send" the URL to my iOS devices.)
Still, until Reading List can store articles for offline viewing, it's a lot less useful than it could be. And it's no match for a service like Instapaper, which does not only that, but also reformats articles for easier reading, lets you organize and share articles, works in any Web browser, and more.
Reader
No matter how good your mobile browser is, the smaller screens of mobile devices mean that ads, cluttered layouts, and small type make reading Web articles less pleasant than it could be. Which is why you may find the new Reader feature in mobile Safari even more useful than Reading List. Like the Safari feature in OS X that inspired it, Reader in iOS lets you view any article in a format optimized for reading: stripped of ads, devoid of messy formatting and page layout, and with larger, more-legible text.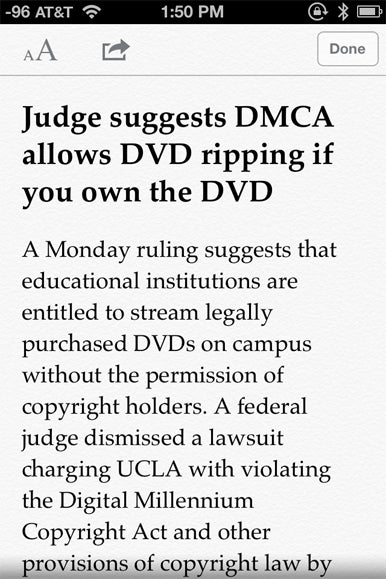 Similar to the Readability Web service, and available in OS X's Safari for some time, Reader is easy to use: Once a webpage has fully loaded, tap the gray Reader button that appears in Safari's address bar. The page is reloaded with text, images, and other pertinent content preserved, but with ads and messy layouts removed. You get a single, page-wide column of text with necessary formatting—headers, italic and bold characters, links, and the like—maintained. Tap the font-size button (the one with two sizes of the letter A) in the upper left corner of the page to decrease or increase the size of the text. To go back to the standard version of the page, tap the Reader button again (on the iPad) or tap Done (on the iPhone and iPod touch).
Reader doesn't always work flawlessly, and on the iPhone and iPod touch, it's sometimes not available if a site uses a mobile-optimized layout. But it usually works well for Web articles, and it certainly makes reading articles on the iPad and iPhone less frustrating.
Browser tabs and background loading
Previously, whenever you wanted to open a new browser window in mobile Safari, or whenever you tapped a link from within another app, Safari created a new page—mobile Safari's equivalent of a window. You'd navigate and manage these pages by tapping the pages button (the one that looks like two tiled windows and sports a badge indicating the number of pages currently open).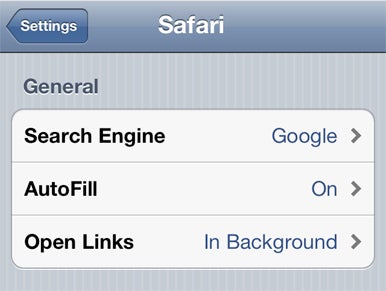 In iOS 5, a new Safari setting lets iPhone and iPod touch users choose whether new pages—ones opened because you tapped a link in another app, or because a website has coded the link to open a new window—open in the foreground or in the background. (The latter option lets you continue to view the previously opened page until you're ready to switch to the new one.) Also, when browsing in Safari, if you tap and hold a link, the options that appear now include an Open In Background command.
This is a relatively elegant way to handle multiple browser windows on a small screen, but many iPad users have wished for something closer to the tabs in OS X's Safari. After all, the iPad's screen is actually large enough to accommodate a tab bar.
As it turns out, Apple agreed, and browser tabs is the other big new feature in iOS 5's Safari—at least on the iPad. When browsing a webpage, you'll now see a tab bar in between the Bookmarks bar and the page-viewing area. Each tab displays the title of the current page—or as much as will fit. You add another tab by tapping the plus-sign (+) button on the right side of the tab bar (which opens a blank page—you can then open a bookmark, type a URL, or perform a search); by opening a link from within another app; or by tapping and holding a link on the current webpage and then tapping Open In New Tab to open the link in a new tab. (You can choose in Safari settings whether new tabs opened using the last two methods are opened in the foreground or background.)
Just as you would in OS X's Safari and other desktop browsers, you close a tab by tapping the X button along its left edge, and you rearrange tabs on the tab bar by simply tapping and dragging to the left or right.
You can have up to nine webpages open on the iPad. (The iPhone and iPod touch are limited to eight.) However, note that once you have more than four or five pages open—especially in portrait orientation—the tabs in the tab bar become so narrow that they often no longer display a meaningful amount of each page's title.
Other options
Apple has rearranged Safari's preferences (in the Settings app), and all of Safari's settings remain the same save one—Clear Cookies and Clear Cache are now a single item, Clear Cookies And Data. However, the Developer screen has been renamed Advanced and has gained a list of websites that have stored data locally, as well as the amount of data stored by each. You can delete the data for a particular site by using the familiar swipe-to-delete gesture, or delete all locally stored website data by tapping Remove All Website Data.
Also new in iOS's Safari is a Private Browsing setting that mimics the feature of the same name in OS X's Safari. With Private Browsing enabled, cookies are automatically deleted when you leave a site; your Web activity isn't added to your History list; your searches aren't added to the search field's history; and information you enter on websites isn't saved for the AutoFill feature.