The publishing industry has been viewing the iPad as a potential savior even before Apple announced its tablet. But strangely, the iPad has lagged behind other mobile products—most notably Amazon's Kindle—when it comes to one key feature: the ability to automatically download new issues of magazines and newspapers when they're available.
On the Kindle, your newspaper is delivered overnight and is available as soon as you turn it on in the morning. Before the introduction of iOS 5, getting a paper on an iPad or iPhone required you to launch an app and then wait while the content downloaded to your device.
With iOS 5, though, when you open your iOS device on the train for your morning commute, your favorite periodicals will be waiting for you. It's thanks to a new feature called Newsstand, which lets publishers create apps with some special powers.
Meet Newsstand
All iOS 5 devices include a new folder, called Newsstand, that's permanently installed on your home screen. Any apps you download from the App Store that have been designed to work with Newsstand will automatically appear in this special folder. (You can't move them anywhere else.)
Newsstand apps have some special powers: First off, they don't show a regular app icon. Instead, they show a thumbnail image of the cover (or, in the case of newspapers, front page) of the most recent issue of the publication. Newspaper apps will look like the top half of the day's paper, complete with a fold at the bottom. Magazines will show their latest covers. Whenever a new issue is available, you'll see its new cover image as well as a special blue sash containing the word "new" over the cover's top right corner.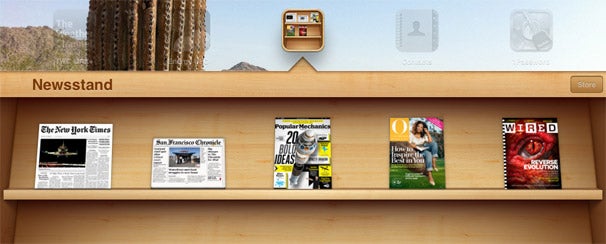 Newsstand apps can also update themselves in the background, bringing that Kindle-style functionality to the iPad and iPhone. Publishers can send updates to their apps as often as once per day. Once a publisher tells its app to download a new issue, the app begins downloading that issue in the background. By the time you wake up your device, all the content should be waiting for you.
Not all newspaper and magazine apps will work with Newsstand right away, though presumably most of them will eventually be updated to support the new features. Apps that don't appear in the special Newsstand folder can't take advantage of background downloading and custom cover icons.
[Jason Snell is editorial director of Macworld.]