At a Glance
Expert's Rating
Pros
Automatic Downloads convenient
Wi-Fi syncing welcome
iTunes in the Cloud nice way to re-download media
Cons
No features added to streamline iTunes
Our Verdict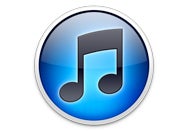 You can set your iPod nano's clock-like interface by it: When Apple ships a major update to iOS, you can bet that an updated version of iTunes is also on the menu. Such is the case with iOS 5 and its companion, iTunes 10.5. (As is Apple's custom, you need the latest version of iTunes to use a new iOS update.)
The basic features of iTunes 10 ( ) haven't changed at all. Media is organized just as it was before, iTunes contains the same hodgepodge of media tools and features, and Ping remains a weak social networking effort. Rather, what's most exciting about iTunes 10.5 is that—thanks to iCloud and wireless syncing of iOS devices—you should have to sit down in front of the application far less frequently.
Syncing sans wires
One reason that you may see iTunes less often is wireless sync, a feature of iOS 5 that allows you to sync your iPhone, iPod touch, or iPad with iTunes 10.5 without the aid of wires—at least after the first time you sync your device. For this to work your device must be using iOS 5 and your Mac need only be running Mac OS X 10.5 or later—Lion isn't required.
In order to enable wireless syncing, you must first plug your iOS device into the computer you wish to sync with. You then select the device in iTunes' Source list, click the Summary tab, and then within the Options area enable iTunes' Sync With This iPhone/iPod/iPad Over Wi-Fi option. Click Apply and iTunes will sync with the connected device.
You can now unplug your device from your computer. Its name will remain in iTunes' Source list as if it were physically connected to your Mac. To sync it later, just tap Sync Now in the Wi-Fi Sync setting screen or select the device in iTunes' Source list, make any changes you like, and click Apply. The new content will be synced to the device wirelessly.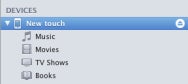 With iTunes Wi-Fi sync enabled, the device will also automatically sync when you plug it into a powered cable, provided that iTunes is up and running on the computer you're syncing with. Regrettably, Wi-Fi Sync doesn't have the power to auto-launch iTunes when you initiate syncing. One additional regret: You can't make changes to the content you're syncing from your iOS device. For example, if you want to sync a particular album or movie that wasn't synced before, you must do this from within iTunes.
Your device will remain in iTunes' Source list even after you've quit and restarted iTunes or rebooted your Mac. However, if you unmount the device by clicking on the Eject icon next to it, you have to physically tether it to your Mac to mount it again. Once you do, it will remain in the Source list until you specifically eject it from within iTunes. This is somewhat confounding when you first try it, but it makes sense. Suppose you've attached your iPhone to your iMac and set up wireless syncing. A few weeks later, you decide that you'd prefer to sync the phone with your MacBook Air. By ejecting it from the iMac's copy of iTunes, you've freed it to establish a syncing relationship with another computer.
And, of course, there's data syncing. If you have an iCloud account and have switched on iCloud Backup within iCloud's Storage & Backup screen (which requires that you be running OS X Lion on your Mac) or in iTunes' Summary, much of your data is backed up to the cloud, meaning one less trip to iTunes. This is another automated option. Just plug your device into power, connect it on a Wi-Fi network, and lock it by pressing the Sleep/Wake button. It will back up your camera roll, accounts, documents, and settings. Alternatively, you can tap the Backup Now button in the Storage & Backup screen to do just that (you don't need to connect the device to power for this to work).
I made my initial attempt to back up my iPhone's data (approximately 4GB) on the day iCloud was first activated and it was very slow going. My phone suggested it would take 14 hours to back up my data over a network that supports an unimpressive upload speed of around 600 kbps. The next day I tried again and the estimate was a far more reasonable three hours.
More flexible download options
Downloads are another area where Apple is helping you to spend less time with iTunes. First is the Automatic Downloads feature that people with iOS devices will love. The idea is simple. When you buy music, apps, or books from one of Apple's online emporiums, that purchase can be automatically downloaded to your other devices—iOS-based or iTunes-running. To make it happen on a device running iOS 5, just tap Settings -> Store, and slide the Music, Apps, and Books switches to On. On your Mac, open iTunes' preferences, select Store, and enable whichever of the Music, Apps, and Books options you want in the Automatic Downloads area. Subsequent purchases from the iTunes Store, App Store, and iBookstore will automatically download to any computers and devices configured to take advantage of Automatic Downloads, regardless of where you make the purchase. For those who have an iPhone, iPod touch, and iPad, this makes for far fewer trips to the iTunes Store, App Store, and iBookstore or to the copy of iTunes on their Mac.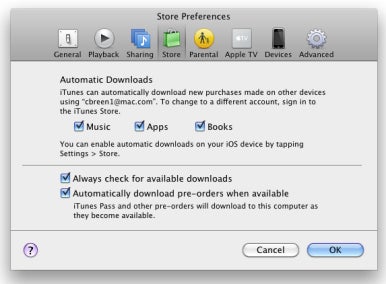 iTunes in the Cloud is the other big download improvement. Within iTunes, click on the iTunes Store, navigate to the store's home page, and then tap the Purchased link in the Quick Links sidebar. This takes you to a page where you can re-download any music, music videos, TV shows, apps, and ebooks you've purchased. You can download items singly, by album or season, or—in the case of songs, apps, and books—all in one fell swoop. This feature is great for adding content on an iOS device that has limited storage when you're out and about, but it's a convenient thing to have with a laptop as well. If you're on the road and the hotel TV delivers nothing more than the day's Pilates schedule, you can re-download some of the TV episodes you haven't had a chance to watch at home.
On the horizon
The one shoe that hasn't yet dropped is iTunes Match. This is a $25-per-year service that will let you access the music in your iTunes library on other computers and iOS devices. Unlike services such as Google Music and Amazon Cloud Player, with iTunes Match you don't have to upload your entire library—it will look at a database of your music and allow you to download (but not stream) 256-kbps AAC copies of that music if it's in the iTunes Store's 20-million-track catalog, even if the original files were encoded in a lesser format. If the music isn't in the store's catalog, you can upload those tracks in their native format. You're limited to storing up to 25,000 tracks, but iTunes purchased tracks don't count against that total.
iTunes Match sounds like a great idea if you have a lot of music ripped at unimpressive bit rates or if you simply want access to the bulk of your music library from anywhere with a decent Internet connection. Of course, if you have a strict data cap from your ISP or on your iOS device, iTunes Match may not be an ideal match.
But we can only speculate about iTunes Match at this point: The service is slated to go live in the coming weeks. Once it does, you can bet we'll take a closer look at how it works and whether it delivers on what sounds like a promising idea.
Macworld's buying advice
The latest version of iTunes works hand-in-hand with iOS 5 to bring many cool new features to your iOS devices. It's easy to give "buying advice" for an application that's free, helps untether your iOS device from your computer, and is required if you hope to have a chance of running the latest version of the iOS at its best on your iPhone, iPod touch, or iPad.
[Christopher Breen is a senior editor for Macworld.]