Many iPhone, iPad, and iPod touch users have mixed feelings about iOS's Mail app. On the whole, it's one of the best mobile email clients, making it easy to read and reply to email. But it's also missing many of the features you've come to expect from email clients on the desktop. We obviously shouldn't expect the same level of functionality from a mobile app as we do from a Mac app, but the fact that we use iOS Mail so much makes it an easy target for criticism.
The good news is that iOS's Mail keeps getting better. In iOS 4, the Mail app received a number of updates that significantly improved its utility. In iOS 5, Apple has continued the trend by adding a number of features that users have been requesting. Here's a quick look at the major improvements.
More formatting and quoting options
Prior to iOS 5, messages you created in Mail were limited to plain text. In iOS 5, we finally get some basic formatting options, though it's not obvious where to find them. Select a word or a block of text, and a popover appears; tap the right-facing arrow at the end of the popover, and you get several new options. The button labeled BIU gives you three formatting options: Bold, Italic, and Underline. Tap one to apply it; you can apply multiple options—say, bold and italic—by tapping each. To dismiss the formatting options, just tap anywhere outside the menu.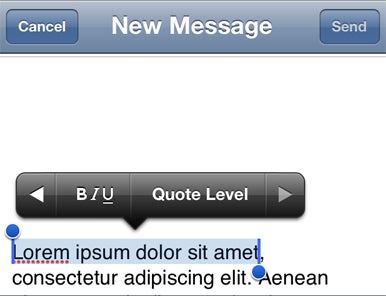 Another welcome formatting option for outgoing messages is that you can now manually increase or decrease the quotation level—the number of indentations and quote-level indicators—for any line of text (where line means any block of text uninterrupted by a paragraph break, a carriage return, or a hard return). As with the aforementioned text-formatting options, this feature is a bit buried. Tap and hold or double-tap anywhere in the target text, and then tap the right-facing arrow in the popover that appears. Tap Quote Level and then tap Decrease or Increase as many times as is necessary to achieve the desired quote level. (Even if you've tapped or highlighted text in the middle of a line or paragraph, the quote level will be applied to the entire line or paragraph of text.)

If you prefer to never increase the quote level of existing text when you reply to or forward an email message, you'll appreciate the new Increase Quote Level setting, which you can disable in the Mail, Contacts, Calendars screen of the Settings app.
Search More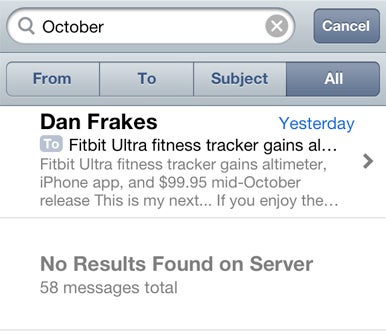 You've long been able to search the From, To, and Subject fields of messages in iOS's Mail. But iOS 5 lets you search the body of messages, as well. When using the search field (which you access by scrolling up past the first message in any mailbox), just type your search term and choose the All option. Messages that match the search appear in the list below; Mail even searches messages on the mail server. However, in our testing, the feature didn't work with every email account; for example, it worked well with MobileMe and Yahoo email accounts, but not with Gmail accounts.
Message flagging and status
We've long wished for the capability to flag messages for later action. In iOS 5, Apple has at last added support for viewing and toggling message flags, although the feature isn't yet on a par with the expanded flagging features of Mail in Lion.
When viewing a received message with the header details visible—if you see a Details link to the right of the From field, tap the link to view the detailed header—tap Mark, which is to the right of the message date and time. You'll see a popover listing Flag and Mark As Unread (or Read). Tap Flag and a standard mail flag is applied to the message. The message will now display a small, red flag next to the Mark link when viewing the message, and to the left of the message in any message list—in both iOS's Mail and OS X's Mail, as well as in other desktop and Web email clients that support flags.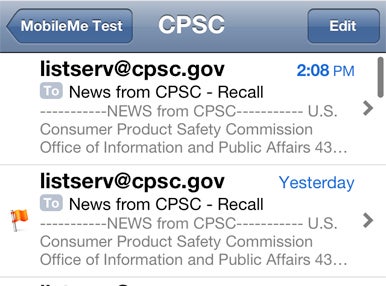 However, while Lion's version of Mail lets you apply one of eight different flag colors, iOS 5's Mail supports only a single flag type. If you're using Lion's multiple flags, our testing shows inconsistent results when viewing such flagged messages in iOS 5: When you apply a flag to a message on your iOS device, that message shows up with a red flag in Lion Mail. But when you apply a flag other than red in Lion Mail, sometimes the message will display a red flag in iOS Mail, and sometimes it won't display a flag at all. We suspect this is an issue Apple will be ironing out in a future update to iOS 5.
The other welcome feature, related to both flags and message status, is that you can now change the read status of multiple messages, and flag and unflag multiple messages, simultaneously. When viewing any message list, tap the Edit button and then tap each message for which you want to change status; a white-on-red checkmark appears next to each message you select. Tap Mark, and you can then tap Flag (or Unflag) to change the messages' flagged status, or tap Mark As Read (or Unread) to change the messages' read status.
Mailbox management
Another welcome feature iOS 5 brings to Mail is basic mailbox management for IMAP and Exchange accounts. When viewing the mailbox list for an individual account, tap the Edit button at the top of the list. You immediately notice a New Mailbox button at the bottom of the list. Tap this button, and you can give the new mailbox (folder) a name; you can even decide where in that account's mailbox hierarchy—at the root level, or inside another mailbox—the new mailbox should reside. Tap Save and the new mailbox immediately appears in the account. Tap Done to exit Edit mode.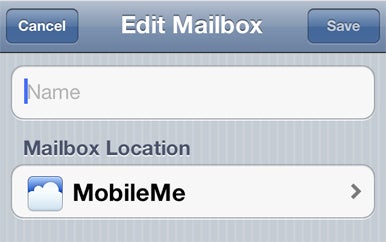 But you can also edit existing mailboxes. While in Edit mode, tap a mailbox and you get options to rename the mailbox, move it to a different location within the account (you can't move a mailbox between accounts), or delete it (along with all messages it contains!). Tap Save when you've finished, or Cancel to cancel the changes.
Miscellaneous changes
Among the minor-but-useful features sprinkled around iOS 5's Mail is the capability to drag recipients between the To, Cc, and Bcc fields when addressing a message. Just tap once in any of these fields to turn recipients into blue capsule-like items (Apple calls them tokens), and then tap and hold a recipient's name to make it draggable. You can then drag the recipient's name between fields, or even just to a different location within the same field.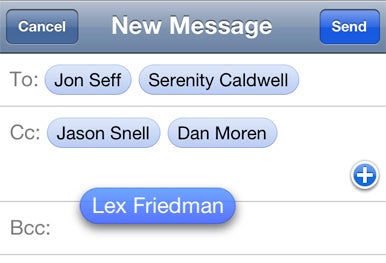 Mail also now includes an Archive Messages option for MobileMe and iCloud accounts. With this option enabled, deleted messages are saved to an Archive folder within each account. Previous support for archiving messages in Gmail accounts remains, as well.
Also new in iOS 5's Mail, Contacts, and Calendar settings (in the Settings app) is a My Info option for choosing your own contact record. Although we haven't yet figured out all the uses for this setting, we have discovered one: When creating a location-based reminder, your home and work addresses are automatically filled in based on the info in the contact you choose here. As for other minor changes, the Advanced settings screen for an email account now includes a new security option (under Authentication) for Apple Token, as well as an option to set S/MIME to On or Off.
System-wide improvements inherited
Mail also benefits from a few system-wide features new to iOS 5. Perhaps the most significant is iOS 5's new notifications system. You can now be notified of new email messages using any of iOS 5's alert styles, and those notifications can include message previews.
Mail also inherits a few system features that are available whenever you're working with text. For example, if you want to see the definition of a word, just double-tap the word to select it, then tap the right-facing arrow button that appears; tap Define and you get a popover displaying the iOS dictionary's definition. (Unfortunately, you don't get a thesaurus option, as you do in Mac OS X—an option that would be useful when composing email.)
[Dan Frakes is a senior editor for Macworld.]