Back when it just made Macs, Apple had an attitude toward gaming that veered toward indifference. That changed with the arrival of the iPhone. With its touch interface, built-in accelerometer, and eye-catching screen, Apple's phone—and indeed, all of Apple's iOS devices—made ideal portable gaming systems.
Realizing the importance of games to the iOS platform, Apple introduced Game Center with the iOS 4.1 update last fall. The service, which allows you to match up with friends for iOS gaming, has been a success by the numbers—Apple said at least week's iPhone press event that 67 million users have signed up for Game Center.
Still, Apple's ambivalent attitude toward gaming can be found in the first iteration of Game Center—linking up with friends hasn't been as easy as it could be, and even if you have a bevy of Game Center buddies, there aren't a lot of ways to interact with them.
iOS 5's version of Game Center looks to change that, by making it easier to find both friends and games while also adding some of the social elements that other online gaming services have implemented to great effect.
Social activity
iOS 5 gives you a chance to personalize your Game Center presence by adding a photo to your previously spartan profile. The first time you launch Game Center in iOS 5, you are prompted to select a photo—you can choose one from your library or shoot an image with the front-facing camera from within Game Center. Don't feel like the image has to be perfect; you can always change it later by tapping Change Photo from the Me tab in Game Center.
Speaking of that Me tab, it displays new information in iOS 5. Previously, the tab showed how many friends you had on Game Center (in red), how many Game Center–supported games you own (in yellow), and how many achievements you unlocked (in blue). The Friends and Games flags remain, though they're now blue and red, respectively. Achievements has been replaced by a Points flag—that is the number of points you've racked up by unlocking achievements.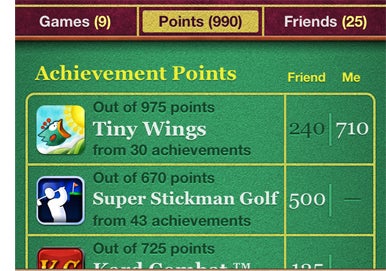 Those points also make an appearance in the Friends tab, as Game Center looks to encourage a little friendly competition in iOS 5. Tap on an individual friend, and the Points view on the ensuing page shows a side-by-side comparison of how many achievement points the two of you have racked up in commonly played games. Game Center also lists points your friend has accrued in games you don't own—a not-so-subtle prod to maybe download those apps and take your competition to the next level.
Find friends
In addition to showing point comparisons and the games your Game Center friend plays, the Friends tab also now lets you view your friend's friends. It's one of the ways Apple is hoping to help you connect with more people on Game Center in iOS 5.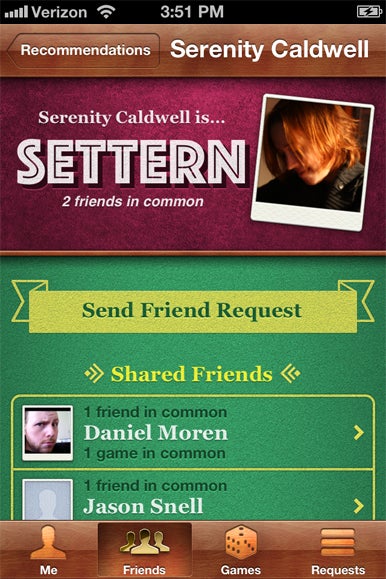 Finding friends, after all, had been a shortcoming of Game Center in previous versions of iOS. Before iOS 5, adding a friend in Game Center meant tapping an Add Friends button in the Friends tab and then sending a request to either an email address or to someone's Game Center nickname. Both methods had their limitations—the person you were emailing may not even use Game Center, and if you didn't know another user's Game Center nickname, that was your hard luck.
The Friends view in the Friends tab first lists shared friends—that is, other people you've befriended on Game Center. But below that, you can see an entire list of your friend's friends—using their full names and not their Game Center IDs—with details on how many friends and games you have in common with this would-be companion. Tapping on the name of someone in the Friends list brings you to a screen showing common friends in more detail; there's also a button for sending a friend request.
There's an even easier way to add friends in Game Center, however. When you tap on the Friends tab, the first thing you see, above even the list of your current friends, is a Recommendations button. Tap it, and you're taken to a list of potential Game Center buddies, which is pulled together based on friends and games you have in common. Sending a friend request on the Recommendations list is as simple as tapping on the person's name and then tapping the Send Friend Request button.
Find games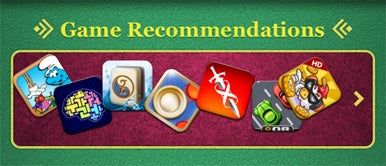 Game Center in iOS 5 doesn't just want to help you find new friends; it also wants to make it easier to add games to your iPhone, iPod touch, and iPad. The Games tab adds a Game Recommendations button on top of your list of Game Center–supported Games. The ensuing list of recommendations includes a mix of apps your Game Center friends play and popular App Store downloads.
Tap on a game in the Recommendations list, and you'll get more details on which of your friends play the game. Separate tabs also show leaderboards and achievements for the game.
If you like what you see, you don't have to leave Game Center to purchase the app. Simply tap the price of the game, listed underneath its title. Doing so takes you to an App Store–like view that Apple has built directly into Game Center. From there, you can buy the app just as you would if you were in the mobile App Store app.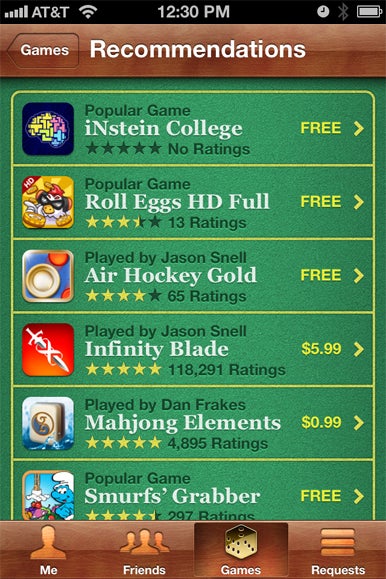 You can also find and buy apps directly from your Game Center friends' list of games. In prior versions of Game Center, tapping on a game in that list would take you to the App Store. Now, you get the leaderboard and achievement views, along with a list of which friends are playing that particular game. As in the Recommendations list, tapping on the price of the game takes you to an App Store–like page within Game Center, where you can download the app. It's a great way to add Super Stickman Golf, which your friends are always babbling about.
Note that Game Center doesn't clearly distinguish between iPhone and iPad apps when it lists friends' games. But iPhone owners shouldn't worry about inadvertently purchasing an iPad-only game that won't work on their device. If you try to buy an app that only runs on the iPad from your iPhone, you'll be taken to a page that tells you the game only works on the iPad, along with options for learning more about the game itself or the iPad.
iOS 5's version of Game Center retains the Find Game Center Games button at the bottom of your list of games. Tapping it takes you out of Game Center to the App Store app, as it did in previous versions of iOS.
More to come
iOS 5 introduces other changes to gaming, some of which include developer tools that most end users will never see—at least until they're put to work building a new generation of iOS games.
One of those developer-side tools will add OS-level support for turn-based games. (Think Words With Friends, where you get a notification that it's your turn to play in a game with a remote opponent that goes at a pace you and your opponent determine.) Tools for turn-based games will mean support for asynchronous gaming, better notifications, and improved ways to find opponents. We'll have to wait until games built using these APIs hit the App Store to gauge the full impact of these changes.
[Philip Michaels will take on all comers in Tiny Wings any time, except when he's busy being editor of Macworld.com.]