In iOS 4, there was a toggle-switch that let you turn Notifications off and on. (If you're still running iOS 4, that's in Settings -> Notifications.) But with iOS 5's Notifications overhaul, there's no longer an obvious means of disabling all notifications on your iPhone or iPad.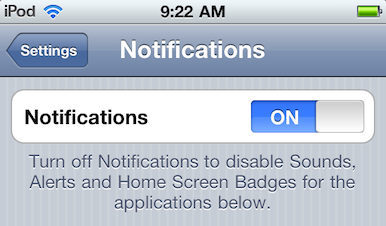 So what do you do if you don't want to disable your notifications one app at a time, but you still want to be free from them once in a while? The answer depends upon your particular situation.
If your goal is a quiet night's sleep while your iPhone charges on your nightstand, the answer is simple: Airplane Mode (which, of course, offers a quick way to turn off Wi-Fi and 3G). To turn it on, launch Settings and slide the Airplane Mode switch to On.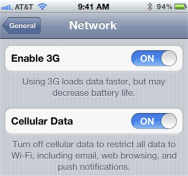 That gives you some immediate quietude at night, but it also makes it impossible to receive emergency phone calls at night. Another option, then, is to leave Airplane Mode off and instead disable both Wi-Fi and Cellular Data. Doing so will leave your device unable to connect to the Internet, but still capable of receiving phone calls. For this option, turn off Wi-Fi from Settings -> Wi-Fi, and turn off cellular data from General -> Network -> Cellular Data. That's not as convenient as the Notifications toggle of old, but it gets the job done.
But what if you're sitting down to stream a movie with the Netflix app and don't want even iOS 5's less invasive banner notifications interrupting your enjoyment of, say, The Larry Sanders Show? Turning on Airplane Mode or disabling Wi-Fi and Cellular Data would stop the streaming too, since those options shut off your device's Internet access.
The short answer is: There's no good answer. In this situation, your only option is to disable notifications for each app, one at a time, inside the Notifications settings. That's hardly a solution, particularly if you allow more than just a few apps to notify you. Perhaps a systemwide Notifications toggle will return in iOS 5.1.