Erin Mathews didn't want to miss out on the chance to jump to the iPhone.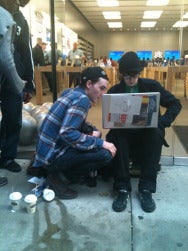 The 25-year-old has been a Sprint customer, spending the last three years using a BlackBerry Pearl. "It's not a very smart phone," she said of the BlackBerry. But with the iPhone 4S now available to Sprint customers as well as to AT&T and Verizon subscribers, "There is incentive (to upgrade) now."
Mathews was in the crowd queued up outside the Apple Store on Philadelphia's Walnut Street Friday morning, waiting for a chance to buy the iPhone 4S. Apple's latest smartphone went on sale across the U.S. on Friday; it's also available in Canada, Australia, U.K., France, German, and Japan, with plans to sell the phone in 70 countries by year's end.
The iPhone 4S is available in either black or white in three capacities: a 16GB model ($199), a 32GB version ($299) and a 64GB offering ($399).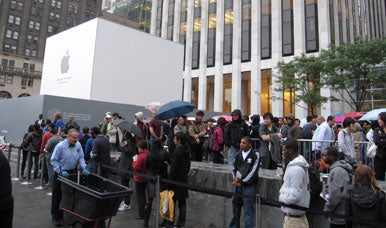 At the Walnut Street store in Philadelphia, around 100 people were in line an hour before the store opened its doors. Katlynn Gaynor, a 21-year-old digital film and video production student, was the first person in line after arriving at 5 p.m. on Thursday. Fewer than a dozen people camped outside the store overnight, with the line picking up mass around 4 a.m.
"There were only five or six of us out here," Gaynor said. "There were like nine of us who made it through the rain. There was some lightning in the sky."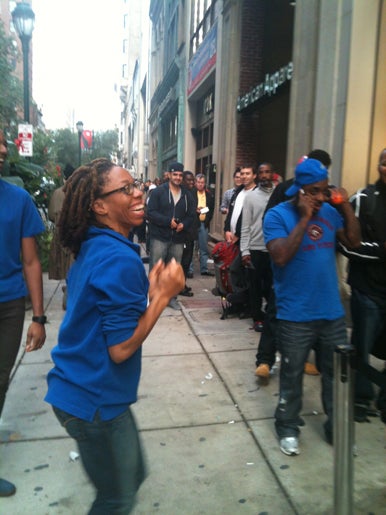 Overcast skies and periodic drizzles—and a fierce lightning storm overnight—also kept the lines short in front of Apple's flagship store on New York's Fifth Avenue. By 8:30 a.m., customers were able to stroll up to the line and get into the Apple store within about half-an-hour. They were greeted by tired-looking store employees, who lined the entrance clapping and cheering with all the enthusiasm they could muster. Free coffee was offered to everyone in line, courtesy of Apple.
More than foul weather may have kept people from joining the line. Apple made the iPhone 4S available for presale a week ago— it recorded 1 million preorders last Friday—so some shoppers had already bought their new phones and avoided the line. In previous iPhone launches Apple had allowed people who preordered their phones to pick them up at the Apple Store; that wasn't an option for the 4S release.
"This seems really controlled and light," said Ryan Wing, who was waiting in line for the phone at Apple's flagship retail store in San Francisco. And he would know better than most—he was a one-time Apple Store employee at the company's Portland, Ore., outlet.
"The [previous] launches were chaotic," Wing added. "They're learning from each launch. I remember the 3G launch was painful." Nearby, a San Francisco police officer handling crowd control agreed that Friday's iPhone launch was running smoother than previous releases.
Still, why stand in line when you could have ordered the phone online a week ago? Duncan Fraser, the first person standing in line at the San Francisco Apple Store, gave online ordering a try, but ran into troubles placing an order. "By the time I got online to pre-order it said there would be a one to two week wait," Fraser said. "I had the time to wait in line, so I though, what the heck."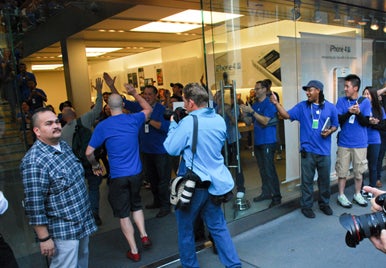 Fraser, the founder of a wallet design company, showed up at the San Francisco store at 5 p.m. on Thursday. "When I got here I saw that nobody was in line, so I decided to wait," he said. By the time the doors opened at San Francisco's Apple Store on Friday, about 300 people were waiting to get in.
The iPhone 4S figures to be an upgrade for Fraser, who once owned an iPhone 3G before it got stolen: "I really need a good camera, and the iPhone 4S has an 8 megapixel camera… I'm really looking forward to the A5 chip and faster processing speeds. The voice assistant seems cool too."
Further down the line in San Francisco, Dan Goldenberg was waiting for an Apple smartphone for the first time. Switching from an early Android model that was at the end of its technological life, Goldenberg was ready to give Apple's approach to mobile devices a try.
"I like tinkering on my computer, but in a phone, I just want it to work. I have a lot of little problems with my Android, and I just want to be able to make a call. I think there are better Androids available now, but I just really like the iPhone," Goldenberg said. His friend, Max Salzberg, chimed in: "There are better games on the iPhone."
On New York's Fifth Avenue, Mark Thompson, a 52-year-old cardiologist, was on vacation from North Carolina, but stopped by the New York store to pick up a birthday surprise for his son. "I'm excited about the speed and also curious to see how Siri turns out," he said."
Siri and camera improvements were driving Michael Vizovic, a 21-year-old doorman to upgrade from his iPhone 4. "There's a more exciting feeling about getting the phone today in my hands," said Vizovic, explaining why he braved the weather and the crowd. "You never know how quickly it will ship when you order it. Plus, I sold my old phone today, so I need a new one now".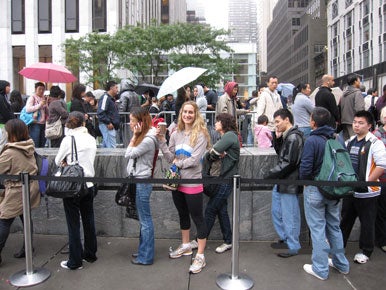 Mary Ciscinao, a physician, was eager to upgrade from her old NV Touch: "I'm excited for the easy use, the apps, and the working touch screen and Internet—my phone is broken now, so this will be nice." It was Ciscinao's day off, but she was happy about stopping by the Fifth Avenue store to pick up an iPhone 4S for another reason. "I'm excited to be the first person in my office to get it, and I'm going back to work today just to show that I beat all the guys who ordered it," she said.
In Philadelphia, those braving the line ranged from longtime iPhone addicts to first-time buyers. Campbell Montiello, a 31-year-old graphic designer, has owned every iteration of the Apple phone. Friday morning was his first time standing in the launch line, however. He sold his iPhone 4 two hours before Tim Cook unveiled the latest model last week. Montiello said he was particularly intrigued by the new voice-activated Siri personal assistant app on the new phone.
"I tried to get the pre-order, but I couldn't get online, so I had to come here," Montiello said. "I've never done this before. But I'm a tech nerd, kind of a geeky guy, like bells and whistles."
Mathews, the Sprint customer switching from a Pearl to the iPhone 4S, was also drawn to Siri: "It looks very easy to use, whereas [with] a lot of similar technology, you have to say the right thing," she said. "This one seems more natural."
A little further back in line, James Oe—a digital media student at nearby Drexel University—was waiting in line for his first iPhone. Until Friday, he had been the owner of a Droid 2.
"I made my first dip in the water with the iPad. I liked how clean the design was and how easy the apps were to use. And I just imagined it on my phone," he said. Android "is more customizable, but you also have to spend more time with it. With an Android [device], you get as much as you put into it. Apple tells you what you want."
Up near Boston, lines were short at the Apple Store in the Cambridgeside Galleria in Cambridge, Mass.—about 40 people at its peak. Lines were even shorter at the AT&T, Verizon, and Sprint stores also housed in the mall. But that suited the people lining up for their iPhone 4S just fine.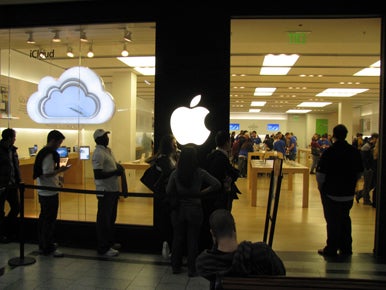 "I was expecting people to be camped out in tents," said one woman, who had driven up from Great Neck, N.Y., with her husband to purchase a phone for their son, a student at Harvard. Self-described "Apple fanatics," the couple praised the Apple Store employees for the way they handled the early iPhone 4S adopters. "Everyone has been absolutely delightful," the woman said. "The peace and the calm of the way they handled it all has been phenomenal."
Dwight Fairbairn, a 25-year-old student, was reading a book to pass the time in line as he waited to replace his current iPhone. It wasn't an impulse upgrade—that phone had been cracked when a car ran over it. "It amazes me it still works," Fairbairn said of his soon-to-be-replaced iPhone. "Durable phone."
At the Freehold Raceway Mall Apple Store in Freehold N.J., one store employee estimated that the initial line had reached 75 people, though there was no line left after noon. Still, the store remained crowded, though it continued to have iPhone 4S models in stock. So did a nearby AT&T store in the mall—a store rep said it was the biggest new iPhone shipment it had ever received.
Across the globe in Tokyo, hundreds lined the streets to be the first in the world to get their hands on the iPhone 4S. In fact, customer demand temporarily crashed the registration servers at mobile operator Softbank.
Softbank held a sidewalk countdown in front of its flagship store to mark the start of sales at 8 a.m. local time, blasting silver streamers into the air as the doors opened for business. Several hundred customers, many of whom had been waiting since early Thursday evening, lined up and patiently waited their turn inside.
As with previous iPhone launches, it was a celebratory event, but the death of Apple co-founder Steve Jobs cast a shadow. Fresh flowers were laid out in front of the Apple Store in Tokyo's hip Shibuya district.
"This phone is more of a work of art by Steve Jobs than a product," Softbank CEO and chairman Masayoshi Son told the dozens of reporters assembled outside the flagship store for the opening ceremony earlier in the day.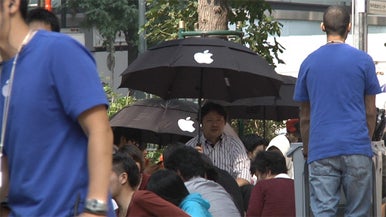 As the lines lengthened at that store, employees handed out water and black umbrellas with the company logo to customers."There was some trouble at the store I went to, but they said they would iron it out today, and I'm still excited to get my phone," said Yuichiro Takahashi, a Tokyo resident getting his first iPhone.
Outside the Apple Store on Regent Street in London, a line of shoppers snaked down nearby Hanover Street and Hanover Square as people started to gather in greater numbers. Craig Fox and Daniel James, the organizers of the MyGreatFest jailbreaking festival were first to get their hands on the iPhone 4S in Regent Street. The duo had been camping out at the Regent Street Apple Store since last Friday.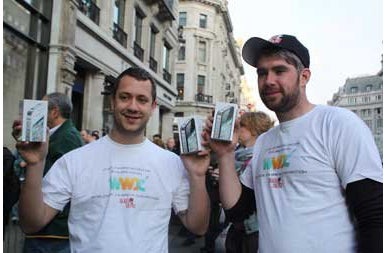 For others, the queue moved slowly, but the early risers were rewarded by Apple staff who moved down the line taking orders from people and handing them white tickets bearing the code for the iPhone model that they were after.
At another Apple Store in London's Covent Garden at least 700 people were queuing from early this morning.
Updated at 8:43 a.m. PT to include reports from the New York Fifth Avenue Apple Store, and again at 8:51 a.m. PT to add photographs from that store. Updated at 10:55 a.m. to include reports from Cambridge, Mass., Freehold, N.J., and London. Updated at 12:48 p.m. PT to include a report from San Francisco. Updated at 2 p.m. with an IDG News Service video from Japan.
Macworld contributor David Dahlquist contributed to this story from New York while contributor Jason Tocci reported from Cambridge, Mass., and staff writer Lex Friedman reported from Freehold, N.J. Jay Alabaster of IDG News Service contributed to this article with reporting from Tokyo. Michael Burns of Macworld UK contributed to this report from London.