First introduced with iOS 4.2 last November, Apple's AirPlay technology lets you wirelessly stream audio and video from a computer or iOS device to an Apple TV, an AirPort Express, or a compatible third-party hardware device.
Any iOS device running iOS 5 can send audio or video via AirPlay. To enable AirPlay, you first must select the media you wish to play back, and start it playing. Then tap on the AirPlay icon and select an AirPlay-compatible device. (Devices capable of only streaming audio are signified with a speaker icon; those that can do video, with the picture of a TV set.)
iOS 5 expands on those capabilities with wireless AirPlay Mirroring for the iPhone 4S and the iPad 2. Thanks to this new feature, you can stream whatever is on your iPhone 4S or iPad 2 to your HDTV via the second-generation Apple TV—ideal for presentations or just sharing with others in the room.
Mirroring via AirPlay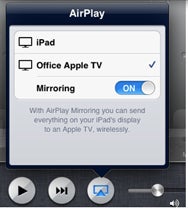 To activate AirPlay, double-press the Home button on your iPhone 4S or iPad 2 to bring up the multitasking bar, and then swipe to the right to find the AirPlay icon. Tap it, and you'll see your device on top, with any Apple TVs in range listed below. Select an Apple TV, and a Mirroring toggle should appear below it. Enable mirroring, and you'll be able to broadcast anything on your iOS device to your TV. (Note that AirPlay mirrors the exact aspect ratio as your iPhone and iPad, so it won't fill the TV screen. You can rotate your device to change orientation, however, which will be reflected in what you see on the TV screen as well.)
While in mirroring mode, an AirPlay icon will appear to the left of the battery percentage icon in the menu bar, which turns solid blue.
Stream Web video via AirPlay
In the past, websites needed special code to be AirPlay-compatible, but now, any HTML5 video that plays in mobile Safari can be streamed via AirPlay to your TV. If you happen to be mirroring your iPhone 4S or iPad 2's display, but want a local or embedded video to play full screen on your TV, you can go to the Videos app and tap the AirPlay icon, or tap the AirPlay icon that appears next to a Web video, to enable traditional AirPlay streaming.
[Jonathan Seff is executive editor of Macworld.]