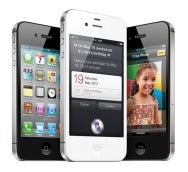 I'll happily admit it: I'm a fan of Apple products. Ever since I got my hands on the original iPhone, I've never strayed outside of the Apple zone for my smartphone needs. Previously, I was a Nokia man—I even owned an N-Gage for a while, more fool me—but Apple's tech blew everything away, even limited as it was in the very beginning.
Now we have the iPhone 4S—which, yes, I am now in possession of—and iOS 5. A short while back, we had the iPad 2. Between these three things, gaming is about to get a very big shakeup—Sony, Nintendo and Microsoft would do well to keep a close eye on how things are about to unfold.
One of the most significant developments to come out of iOS 5 and Apple's two newest devices is the wireless AirPlay facility, allowing you to stream 720p video from an app to a TV without having to mess around with cables. Okay, you still need an Apple TV hooked up to your television to make this possible but, if I'm not mistaken, this sort of thing is exactly what the Wii U is promising, albeit with fewer buttons.
We're already starting to see games support this functionality— Firemint's Real Racing 2 was one of the first. Even more impressively, though, Firemint's title features the facility for one (4S or iPad 2) device to act as a "host" and then broadcast four player split screen gameplay on to an HDTV. That's seriously impressive, and the sort of thing we're likely to see a lot more of in the coming months. Not only that, but some of the less ostentatious features in iOS 5, like iCloud's ability to sync save games between devices, means that gaming both on the go and at home—on the same game—is a distinct possibility.
We're also starting to see developers drawing a line in the sand and saying "our games will only support these devices." Amanita's excellent point and click puzzler Machinarium is one—it'll only run on an iPad 2—and Rockstar has announced that this fall's port of Grand Theft Auto III will only work on iPhone 4S and iPad 2. This is a bold, brave step for developers to take as it locks out a potentially large proportion of the iOS market who are still on iPhone 4, 3GS or even 3G in some cases. To look at it from another angle, though, a lot of those people who don't want (or feel they "need") the latest and greatest in technology will probably be playing less demanding games like Angry Birds and Bejeweled. It'll become like the difference between those who spend over $1,000 on a gaming PC, and those who just play Facebook games on their netbook — not necessarily a bad move, but it somewhat diminishes the potential for the latter audience to "bleed" into the former, which is a shame.
One big thing is still holding iOS gaming back from true greatness, however, and I've already touched on it (no pun intended) above. It's been said before and will doubtless be said again.
Buttons.
Touch and tilt controls are great for certain games, but there's a degree of tactile feedback you get from a button which is impossible for a touchscreen to emulate. Many iOS developers have struggled to get a console-style control scheme to work effectively on the small screen of the iPhone, which explains why so many new games adopt either a "one button" approach, or go the whole other way into full-on tilt controls.
What Apple needs to do if it wants to really leverage the potentially powerful position iOS devices hold in the gaming market is to come out with an official controller accessory. Sure, we have products like the iCade for the iPad and the iControlPad for the iPhone, but until we have an official, standardized accessory that works with all new games, we're going to be stuck with the imprecise nature of touch controls—or shallower games with more simplistic control mechanisms. And that, right there, would be enough for Nintendo and/or Sony to run away with the "core" handheld gaming market—and, just as importantly, its developers and publishers—leaving only the Angry Birds players behind. This would be a missed opportunity for Apple to become a major player in the field of games.
Is Apple a company too stubborn to re-embrace physical controls after extolling the virtues of touch for so long? Time will tell, and the market will decide what the end result will be. I know I'd rather have just one device in my pocket rather than having to carry around two or three handhelds.