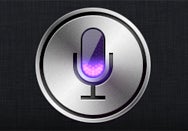 Siri, the new voice command feature on the iPhone 4S, is a handy new feature that's pretty amazing. But it could also be used by someone to play a rather mean trick on an unsuspecting person.
Macworld contributor Scott McNulty observed on Twitter that Siri lets you send texts and emails while the iPhone 4S is locked. So, of course, we tried it ourselves, and yes, it's true. While your iPhone 4S is locked—even with a passcode—you can hold down the Home button to activate Siri, compose an email or text, and send it.
A nifty time-saving feature, right? Right. But Siri isn't tuned to a single voice, which means that Siri can be used by someone other than you to send an email or text from your phone. For example, we had a PCWorld editor pick up my locked iPhone 4S, activate Siri, and compose a resignation letter that was sent to my Macworld email address. (We didn't send it to my boss, just in case he decided to actually accept my resignation.)
Siri options with a passcode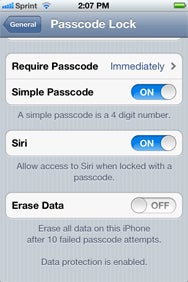 What can you do to prevent Siri access on a locked iPhone? As pointed out to Macworld by Chris Nuccitelli via Twitter, you need to use a passcode lock. Then, once you set a passcode lock, you can then turn off Siri access in the passcode lock settings (Settings -> General -> Passcode Lock).
In this case, when you hold down the Home button, nothing happens. No fake resignation letters are sent to your boss, no demands for a divorce are texted to your spouse. Siri can be used once the passcode is entered on the phone. You miss out on convenience, but for some people, that's worth sacrificing for a little bit of security.
iPhone 4S family
Price When Reviewed:
$599