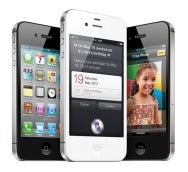 Apple on Monday announced that it sold more than four million of its new iPhone 4S since the device went on sale on October 14. The company also announced that more than 25 million customers already upgraded to iOS 5 in that operating system's first five days of availability, and more than 20 million customers signed up for iCloud.
Apple announced just a week ago that it received more than one million iPhone 4S perorders.
The iPhone 4S is already available in seven countries, and will be on sale in more than 70 countries by the end of the year.
iCloud is Apple's new syncing service that connects Macs, PCs, and iOS devices; it includes document and data syncing, mobile backups, and more. iCloud is built into iOS 5 and Mac OS X 10.7.2.
The iPhone 4S is available in black and white, in three capacities: 16GB, 32GB, and 64GB. For the first time, customers have the choice of three major U.S. carriers at launch: AT&T, Verizon, and Sprint. An unlocked iPhone 4S will go on sale this November. iCloud for Lion and Windows is available for free, with 5GB of storage.
iPhone 4S family
Price When Reviewed:
$599