Longstanding UK-based publisher Elite Systems has been slowly reviving the classic games of the '80s thanks to its iOS apps, including a selection of ZX Spectrum titles and, more recently, a range of renowned C64-era games. Now, the publisher has confirmed the details of the "Elite Collection" iOS apps for iPhone, iPod touch and iPad.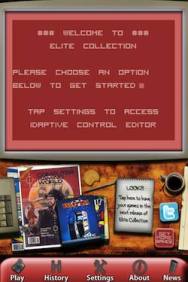 The Elite Collection will be available in late October for a price which has not yet been confirmed, and purchasing the app will also provide you with 12 bundled games. These include action adventure Black Magic; multiplayer strategy game M.U.L.E.; open world RPG Alternate Reality: The City; platformer First Samurai; shooter Uridium; racer Buggy Boy; excellently-titled shooter Enforcer: Fullmetal Megablaster; soccer management sim Bundesliga Manager 2.0; R-Type clone Denaris; board game adaptation Battleships; Punch-Out clone Frank Bruno's Boxing; and Arkanoid variant Batty.
Some of these apps are already available in $1 standalone format, but the Collection app will bundle them together for a value price and subsequently offer additional titles for purchase within the app itself. At launch, around 12 additional titles are expected to be available for purchase, with over a 100 joining the lineup over time. The full list will be confirmed along with the price shortly.
Elite's intending on updating the Collection apps with new titles every couple of months, and also adding support for Apple's Game Center service along with external devices such as the iCade. The company's priority is, at this time, in signing the very best in computer games from the '80s and early '90s.
Watch out for the Elite Collection apps later in the month.