Apple's new Cards app lets you send photo postcards in the mail, using only your iPhone—and your wallet. The idea is nice, but the execution strikes me as just a smidgen less brilliant than you might expect from the folks in Cupertino.
Perhaps it's not fair to Cards, but I spent a lot of time comparing it with Postage ( ), an app I adored when I first reviewed it almost two-and-a-half years ago. On the surface, the apps are similar: Each allows you to choose a theme, add a photo, customize text, and send your finished creation off to someone else. Cards, however, is limited to sending letterpress cards through the mail, while Postage instead focuses exclusively on sending e-cards via the Internet. That's not the only massive difference, though: Postage, as I wrote in 2009, feels like Apple developed it. Cards doesn't.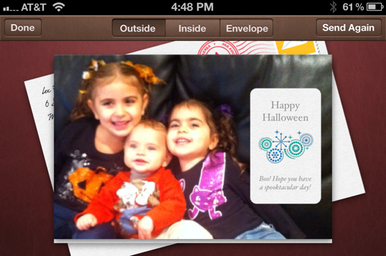 Cards only works in landscape mode, unless you're reading the Help text. To create a card, you begin by choosing a template. You choose among six categories: Thank You, Holiday, Baby, Birthday, Love, and Travel. Oddly, the additional All option lists only 21 choices, and at first glance doesn't seem to include all the templates from the individual categories. That's because many of the templates get reused in different categories; only the pre-suggested text changes. (For example, "Thank You" on one template becomes "Happy Holidays" on another; otherwise, it's an identical design.)
The theme options strike me as very limited, especially because I know how much more Apple can do. iPhoto offers not just letterpress cards, but folded and flat prints as well, and with oodles more design options—including many that are frankly far superior to those included in Cards.
Once you choose your theme, it's time to customize it. Each theme shows three tabs: Outside, Inside, and Envelope. In a clever touch, you can also tap on the envelope peeking out behind the card, or swipe up on the outside of the card to expose the inside, instead of navigating via the tabs.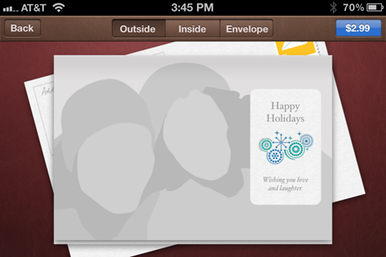 Tap on the front of the card to add a photo. You can choose from your iPhone's saved photos, or snap a new picture. If you do take a new photo, Cards shows a ghosted indicator pointing out where the card's design elements will appear; that way you know where to position Baby Joey's face to avoid seeing it masked by "Happy Holidays!" later. While you're in photo editing mode, you can zoom and pan the image to position it just the way you'd like. (You can't rotate it, though.)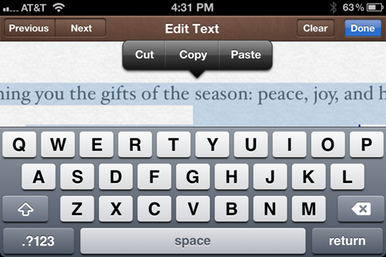 You tap on the card's text to put in your own words. The text editing process occasionally got a bit funky for me; Cards would zoom into the wrong spot, so I couldn't see the text I was typing unless I panned around a bit. Sometimes, even though Cards correctly zoomed in on the text, it zoomed in so tight that I couldn't see all the text I was editing. It's annoying, and it's an obvious flaw you can spot within seconds of using the app. And don't forget that in landscape mode—again, the required mode when editing a card—the virtual keyboard takes up half the screen, so you don't have a lot of space to work with even if the zooming wasn't such a problem.
When you edit the envelope, you only tweak two fields: the from and to addresses. You can choose either from your contacts, or type one in manually. Cards warned me that it couldn't verify my address, but given that I live here, I feel pretty good about it. (Entering addresses suffers from the same zooming issues as entering text elsewhere.)
Sending a Cards card costs $3 in the U.S., including the stamp. (International cards cost $5 to send.) Checkout was frustrating; for some reason, the login form to use my Apple/iTunes ID didn't autopopulate my email address, which it normally does. The login form looked a bit cramped, too.
After I logged in and confirmed my credit card's CVV code, I was finished. Apple says that cards should arrive in between five to seven business days domestically, and nine to 16 business days internationally.
Cards saves your old cards, so that it's easy to reuse or duplicate them. And after you send a card, the app asks you if you'd like to send your card to another recipient, too. Disappointingly, though, Cards offers no bulk sending discounts. Sending a single holiday card for $3 is fine; sending 20 for $60 is less so, in my view. It's certainly more than competitors like Shutterfly charge, though Apple's cards are printed more fancily and on thicker stock. As I mentioned earlier, though, even iPhoto offers numerous cheaper options in addition to letterpress; it's a shame Cards doesn't. Still, since most of these cards will end up on refrigerators for a few weeks and then in the recycling bin, I wish cheaper options were available.
The one big advantage that Cards lords over Postage is that Apple prints and mails your finished creation. (Other apps—namely Bill Atkinson PhotoCard—let you send finished prints through the mail, and Bill Atkinson PhotoCard handles the job for less money than Cards does.) Lack of printing aside, Postage is easier to use, offers more and better designs, and feels more Apple-like. Cards feels like the 1.0 app it is, and needs a lot more options to earn a permanent place on my iPhone. And an iPad version wouldn't hurt, either.
[Drop staff writer Lex Friedman a line on Twitter.]