Digital comics look gorgeous on the iPad—and, as a result of several announcements made at New York Comic Con this weekend, now you can get even more of them on the same day as their printed counterparts.
At the convention, comics publisher DC revealed that several titles from its Vertigo line would be going day-and-date. Each title will be available on the iPad the same day as the printed issue, beginning with this week's Sweet Tooth. Subsequent launches (which include the new Spaceman mini-series in addition to The Unwritten, iZombie, The Unwritten .5, Fables, American Vampire, and Hellblazer) will be staggered throughout the rest of the year to provide proper entry points for new digital readers.
DC's move comes on the heels of the company's same-day digital launch of its New 52 series and redesigned DC Comics app, which uses the Comixology engine to provide readers with access to their digital comics on multiple platforms. The company has sold more than five million comics in digital and print since the New 52 launched in late August.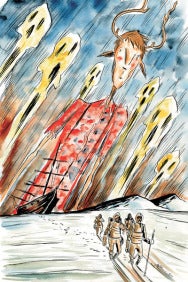 DC wasn't the only one at the convention with digital comics plans: Viz Media unveiled a plan to release weekly digital anthologies of selected English-translation manga, delayed a mere two weeks in publication from the Japanese originals; while Marvel announced that its Season One line of standalone graphic novels would be simultaneously released in print and digital versions. Other major publishers, too, continue to expand their digital offerings: IDW recently put out a series of fixed-format graphic novels, some published day-and-date with their print companions, and Disney has released its own digital comics app for classic and newer series.